Last Stop Before New York: Winston-Salem and New Haven Previews

In the last week before the US Open, most of the leading contenders head to New York to refine their game on practice courts. But some of the dark horses and plenty of Americans will see live action during the last week of the US Open Series. An ATP 250 event in Winston-Salem and a WTA Premier event in New Haven set the stage for New York.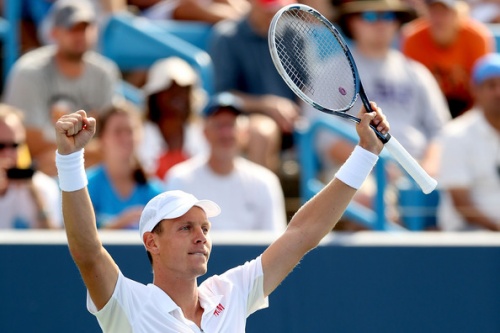 Winston-Salem:
Top half: One point short of claiming the Winston-Salem title last year, Tomas Berdych returns to settle that unfinished business. The top seed brings a career-high ranking of No. 5 from a semifinal run in Cincinnati that included a victory over Andy Murray. Berdych can look forward to some relatively pedestrian opponents in his first few rounds, such as faded prodigy Ricardas Berankis and Martin Klizan, whom he defeated at Wimbledon. Two Americans hope to salvage their US Open Series in this section. Wildcard Mardy Fish will appreciate a draw that allows him to settle into a tournament more gradually, while Sam Querrey will aim to avenge a Miami debacle against Berdych. Querrey defeated the Czech at the US Open five years ago but has dropped their last four meetings.
Defending champion John Isner brings even more momentum than Berdych does to Winston-Salem, fresh from his second Masters 1000 final in Cincinnati. Isner's upsets there over Novak Djokovic and Juan Martin Del Potro confirmed his status as one of the US Open's most intriguing dark horses. A heavy schedule may take its toll on a man who has played every week during the US Open Series, however. In the third round, Isner could meet fellow summer sensation Dmitry Tursunov, who upset David Ferrer en route to the Cincinnati quarterfinals after losing to Isner in Washington. Two Americans at opposite ends of their careers also look to leave their marks. While James Blake could build on his victory last week over Jerzy Janowicz, Jack Sock may have taken confidence from extending Milos Raonic to three sets. Local fans will enjoy Blake's opener against rising American talent Rhyne Williams, after which the winner would face flamboyant Frenchman Benoit Paire.
Semifinal: Berdych vs. Isner
Bottom half: Returning to hard courts for the first time since the spring, Fernando Verdasco might show off the revived form that took him to a Wimbledon quarterfinal. Another surprise star of that fortnight, Adrian Mannarino, squares off against Lukas Rosol as the Czech giant-killer continues to cope with the death of his father. A shot-making spectacle could unfold between Verdasco and Gael Monfils in the quarterfinals, which would mark their first meeting since 2010. First, though, Monfils must shake off the rust on a hard-court game that has lain dormant since February. A deep run for him would require knocking off fourth seed Tommy Robredo, who halted the Frenchman at Roland Garros in a memorable five-set comeback.
Clay specialists populate the fourth quarter in Winston-Salem, from Andreas Seppi to Juan Monaco. Awaiting the latter of those men is Nicolas Mahut, one of the summer's most compelling stories. Loser of the longest match ever, the veteran Frenchman won the first two titles of his career this summer. Both of those came on grass, where Mahut's serve-volley style reaps greater rewards, but he still may bring more confidence into this week than the slumping players around him. The quirky Alexandr Dolgopolov plunged out of the top 30 when his Washington title points dropped off, and Pablo Andujar has plummeted back to earth since his startling Masters 1000 semifinal in Madrid.
Semifinal: Verdasco vs. Monaco
Final: Isner vs. Verdasco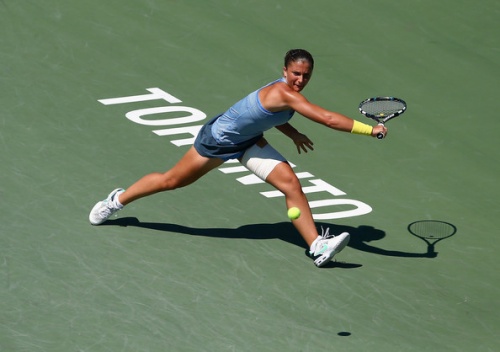 New Haven:
Top half: Back in the top five this week, Sara Errani concludes her preparation for defending semifinal points at the US Open. The small Italian could open against an opponent also accomplished in doubles, aggressive lefty Ekaterina Makarova. Unfortunately for Errani, her countrywoman Roberta Vinci awaits her again early in the draw. Their quarterfinal would give Vinci a chance to record a third straight victory in the all-Italian rivalry, following wins in Palermo and Cincinnati. Summer sensation Simona Halep poses the strongest unseeded threat as she seeks her fourth title since June, first on a hard court.
Always a fan favorite in New Haven, Caroline Wozniacki won four straight titles there during her prime and even afterward. The former No. 1 recovered from a Wimbledon injury to post a strong effort in Cincinnati, including a mini-upset of Petra Kvitova. Back in familiar territory, Wozniacki will face Peng Shuai in the first round for the second straight week. Two of her chronic nemeses clash with each other in the first round. Julia Goerges stunned Wozniacki when she still held the No. 1 ranking, while Bojana Jovanovski upset her twice this year. Taking a wildcard into the event, like Goerges, second-ranked American Sloane Stephens will gain more experience shouldering the pressure on her at American tournaments. She will arrive emboldened by a landmark victory over Maria Sharapova in Cincinnati.
Semifinal: Vinci vs. Wozniacki
Bottom half: Defending champion Petra Kvitova aims to blast her way past a series of fellow sluggers, some of whom have shone in the last month. Two-time Washington champion Magdalena Rybarikova strung together a solid run at the Rogers Cup, where Sorana Cirstea backed up a Stanford semifinal with her first Premier Five final. Cirstea threatens less Kvitova than Sabine Lisicki, however, who still must prove that she can win on surfaces other than grass. An early Cincinnati loss drained some of the Wimbledon runner-up's momentum. Lisicki has extended Kvitova to three sets in their last two meetings, as many players have this year.
The slumping second seed Angelique Kerber shares a section with Stanford champion Dominika Cibulkova, one of the streakier women in the top 20. Kerber dropped a rollercoaster three-setter to Cibulkova in Canada, a symptom of her decline this year. Having edged through most of her tight matches during her rise to the top, the German has started to struggle in that area. Other than Cibulkova, though, the fourth quarter looks like the weakest in the draw.
Semifinal: Kvitova vs. Cibulkova
Final: Wozniacki vs. Cibulkova