Kyrgios Defeats Nakashima To Reach Wimbledon Semis

Twenty-seven-year-old Nick Kyrgios is into the quarterfinals of Wimbledon. The Australian defeated twenty-year-old American Brandon Nakashima 4-6, 6-4, 7-5 (2), 3-6, 6-2 in three hours and 11 minutes on a packed Centre Court on the Fourth of July.
Nakashima is one of four American men to reach the round of 16 here this year—alongside Taylor Fritz, Tommy Paul, and Frances Tiafoe. It is the most American men to reach the round of 16 at Wimbledon since 1999—when Andre Agassi, Jim Courier, Todd Martin, and Pete Sampras all reached the last 16 here. It is also the most American men to reach the round of 16 at a Grand Slam since the 2011 US Open—when Mardy Fish, John Isner, Andy Roddick, and Donald Young all reached the last 16.
Last year here, as a qualifier on his Wimbledon debut, Nakashima fell to Taylor Fritz in the first round.
By reaching the round of 16 here, Nakashima has recorded his best Grand Slam result.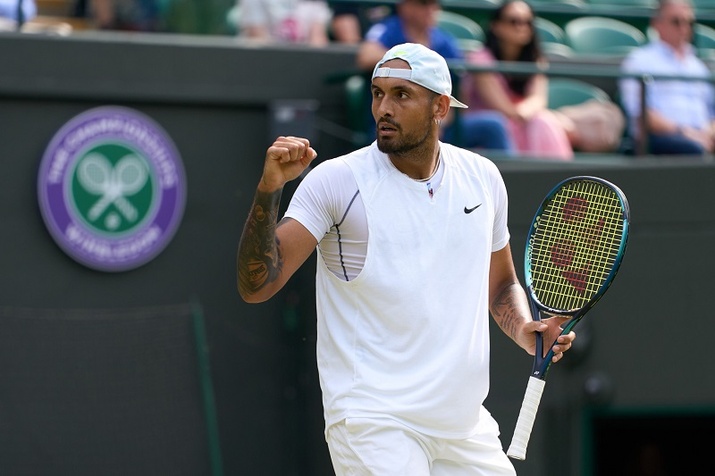 Peter van den Berg-USA TODAY Sports
Of his loss against Kyrgios, Nakashima, in his press conference, said: "Yeah, I mean, obviously it was a lot of fun playing out there on Centre Court for the first time. I feel like Nick played a really good match. I think both of us played a high level throughout the whole match.
"Yeah, I mean, look, it was a good week here, making the second week of a Grand Slam for the first time. Yeah, a lot of positives to take away from it.
"Yeah, I mean, walking out there I was definitely a little bit nervous at the beginning. Maybe didn't show. I was able to stay focused right from the beginning. You know, was able to hold serve pretty easily in the first set.
"You know, I think Centre Court Wimbledon, of course I think anyone playing out there for the first time is going to be nervous a little at the beginning, but I think I handled it pretty well from the beginning."
Nakashima said of Kyrgios: "Yeah, I mean, I think everyone knows how talented he is out there. You know, he can serve really well at times, come up with big shots.
"You kind of know how talented he is, but you don't really know, like, you know, when it's going to come out of him. So I think for me it was just a matter of focusing on myself, trying to play point by point out there. You know, just try to take every opportunity I can from him.
"It's tough to read his serve when he tosses the ball up. Obviously, he could hit all the spots out there, different speeds, different spins.
"Yeah, it's a little bit tough to read sometimes, but I felt like today I was returning pretty well for the most part when I got a racquet on it and creating some opportunities on his service games."
Kyrgios served 35 aces and only three double faults, while Nakashima served 10 aces and nine double faults.
The Australian hit 79 winners and 42 unforced errors. The American hit 37 winners and 32 unforced errors.
In his press conference, Kyrgios said: "I was really impressed with just Brandon today. Honestly, I didn't watch too much of his matches before today. Obviously, I looked at the draw. Looked at some of the people he beat. Shapovalov, he won juniors here, so I knew that Nakashima was going to bring a pretty good level today.
"I just felt so many areas of his game were impressive for me. Second serve was unbelievable. I wasn't able to attack it. His backhand was so good. Any time he got on a return, I felt like he pushed it back in play.
"For me, I knew from the get-go I wasn't playing as well as I would have liked. I wasn't feeling the ball like I was against Tsitsipas or Krajinovic. I knew I had to keep my head down and just battle today. It was a good mental performance.
"At the end of the fourth, complete rope-a-dope tactic. I just threw away that service game. I knew he was in a rhythm. He was starting to get on top of me. I kind of just wanted to throw him off a little bit. It worked."
Kyrgios said: "Yeah, people often forget this is almost my 10th year on tour. I kind of feel like I was the first guy who broke through young, like at 19, beating Rafa at Wimbledon. I feel like I was the first young guy to kind of show all the other guys, like Zverev and Thiem and stuff, that they were able to do it, as well. I feel like I was the first one to break the mold.
"You look at guys like Alcaraz, Sinner, who are absolutely fearless. I don't know, I think a lot of players think, like, Federer, Djokovic, Nadal are almost gods and you can't, like, hurt them. I feel like I showed that one of them was human that day.
"I definitely feel like I've been around for a long time. People don't really realize, like, I'm 27 now. I was playing here. I played juniors here as well, 16. I've been here so much. So I feel comfortable here.
"But I definitely feel like a bit of a veteran now."
Meanwhile, Taylor Fritz is the only American left in the men's singles draw. Next, in the quarterfinals, he will play two-time Wimbledon champion Rafael Nadal.