Korda Sweeps Past Medvedev To Advance In Melbourne

At the Australian Open, on the ocean-blue court of Rod Laver Arena, 22-year-old American Sebastian Korda got the biggest win of his career, outplaying former world No. 1 and seventh-seeded Daniil Medvedev, 7-6(7), 6-3, 7-6(4), to reach the Round of 16.
"It was an unbelievable match," said Korda in his on-court interview. "I kind of knew what I had to do. I stuck with it even when I was going up and down with the emotions, but I'm thrilled right now. I played amazing, and it was an unbelievable match from me."
Korda won the Australian Open juniors in 2018. His father, Petr Korda, won the title here in 1998. His mother, Regina Rajchrtova, also played professional tennis and reached a career-high of No. 26, while his sisters, Nelly and Jessica, are professional golfers on the LPGA Tour, who reached No. 1 and No. 13, respectively.
"I love playing in Australia," Korda said. "My family loves playing in Australia."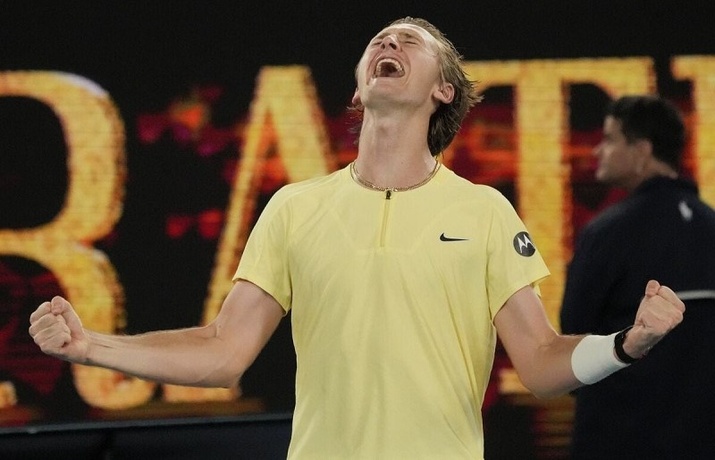 Sebastian or "Sebi" is six foot five and glides around the court. Whether he wins or loses a point, his demeanor hardly changes. He may give a subtle fist pump in celebration or softly close his eyes in disappointment.
He has easy power, with timing so precise that it looks like the ball shoots off his racquet effortlessly.
He has a big serve, so perfect in its technique that it's only going to get better. He has a powerful forehand. He already has one of the best two-handed backhands in the game. He closes well at the net. He can feather a dropshot.
In his match against Medvedev, Korda broke in the long opening game and remained a threat in return games, converting five of ten break points. In the tiebreaks, he stayed calm and composed, sealing the victory with apparent ease.
Most impressive were the young American's tactics. He didn't give Medvedev any rally rhythm.
He hit soft slice backhands, short crosscourt, and then would speed up with a drive backhand down the line to surprise Medvedev.
On the forehand, when he got in trouble, he lifted the ball higher down the line, so Medvedev had a harder time to attack it. He didn't go punch to punch with him.
Sometimes he threw in a serve-and-volley, always keeping the Russian guessing.
The strategy of Korda disrupted the game of Medvedev.
Korda was the more aggressive of the two players, hitting 49 winners and 50 unforced errors to Medvedev's 20 winners and 25 unforced errors.
Medvedev returned so far back that he was difficult to ace. Korda, though, served three aces and five double faults. Medvedev served nine aces and three double faults.
With his two-hour, 59-minute win, his first time to defeat a Top Ten player at a Grand Slam, Korda rises to No. 28 in the ATP Live Rankings.
Next up for Korda is tenth-seeded Hubert Hurkacz.