Korda Shows Peak Form In Miami

On Thursday evening, in the first round on the Grandstand, as the sun was beginning to set, the sky a light orange haze through swaying palms, 20-year-old American Sebastian Korda, world No. 87, made his Miami Open debut.
Korda defeated 31-year-old Moldovan Radu Albot, world No. 77, by a scoreline of 6-3, 6-0 in one hour and 14 minutes.
Korda hit 24 winners, 16 off his forehand side. He came to the net 19 times and won 12 of them. He served two aces and had no double faults.
On the Tennis Channel, Andy Roddick said: "I'll say it in no uncertain terms. This is our best American prospect in a long, long time.
"It's a unique talent to be able to hit the ball as big as he does with very, very simple motions and techniques. I am bullish on Seb Korda."
Korda has smooth easy power, with a solid serve, so perfect in its technique that it's only going to get better. His forehand is spectacular. He already has one of the best two-handed backhands in the game.
For a guy who is playing in just his eighth ATP Tour-level event, Sebastian Korda looks like he belongs.
Though he is subtle. He's six foot five and glides around the court. If he wins an important point, he gives the subtlest of fist pumps. He never looks like he's in a hurry.
His groundstrokes are so natural and his timing so precise that it looks like the ball shoots off his racquet effortlessly. He can cut off angles, has soft hands at the net, can feather a dropshot.
In the first set, at 2-all, Korda fought off two break points, taking the game with a crushing forehand down the line and a scintillating serve out wide.
With Albot serving at 2-3, Korda broke with two beauty shots: a backhand that angled off the corner of the service box and forehand hit inside-in down the line.
Korda held for 5-2 with a backhand down-the-line winner. Albot held for 3-5 with an inside-out forehand winner.
For a moment, at love-30, after Korda missed a backhand long and forehand wide, Albot looked hopeful, though a bit fidgety.
Korda remained cool. He held to take the set, made a slightly stronger fist pump and a soft roar.
In the second set, Korda played near-flawless tennis. Albot fell apart.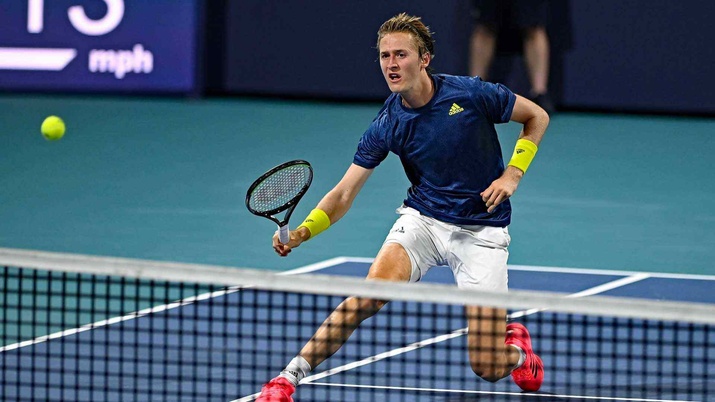 Understandably frustrated, Albot smashed his racquet twice, his red frame mangled on the ocean-blue court. He got a warning for racquet abuse and never won another game.
Korda celebrated subtly, clapping his hand to his racquet, thanking the smattering of fans, as if this was any match at any tournament and not his Miami Open debut where he'd just beaten a higher-ranked veteran player.
Seb Korda makes it all look so easy.
He did not seem surprised by his victory. Coming from a family like his, winning must seem somewhat ordinary.
His father, Petr, reached world No. 2 on the ATP Tour; his mother, Regina, reached world No. 26 on the WTA Tour. His older sisters, Nelly and Jessica, are pro golfers on the LPGA Tour.
Next up for Korda is the tenth-seeded Italian Fabio Fognini.