Korda Serves His Way Past Pospisil In D.C.

At the Citi Open, an ATP 500 hard-court event in Washington, D. C., 21-year-old American rising star Sebastian Korda defeated 31-year-old Canadian veteran Vasek Pospisil in straight sets, by a scoreline of 7-5, 6-4.
The 12th-seeded Korda, who has a smooth all-court game, served especially well, hitting ten aces with only one double fault.
Pospisil, who is known for his big serve, only served four aces. He had two double faults. This was mostly due to the excellent returning of Korda.
Pospisil served well, and many times his serve saved him. It was just that Korda was able to read it well enough, to at least get a racquet on it or to get the ball into play to have a chance in the rallies.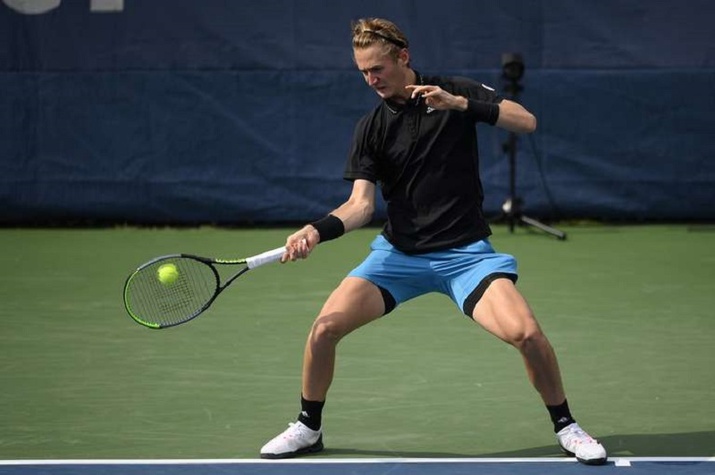 In the first set, they stayed on serve until 5-all, when Korda began his return game with a crushing crosscourt forehand winner. Korda earned a break point with an incredible backhand pass, and in the next point, Pospisil netted a forehand, losing his serve. Korda then served out the set, winning with an unreturnable serve down the T.
In the second set, Korda broke in the first game. He then held at love. The Canadian held serve at love for 1-2. But then Korda held at love for 3-1, taking all the momentum. They each held serve until the end, when Korda, firing an astonishing ace down the T, held at love for the match.
Korda, who is coming off a fourth-round run at Wimbledon, said in his post-match press conference: "I've had a really good year so far. Sometimes you don't realize how great of a year you've had. A year ago, I was ranked 220 in the world, now I'm in the top 50 competing for tournaments.
"The process has been sped up super-fast. Kind of sometimes you don't realize how well you're doing.
"I really noticed that after Wimbledon. I kind of sat down and just thought about the year, how it's gone. Yeah, just super happy with how everything's going. I'm putting in the work. Every day I'm just super grateful to be out here."
Korda, when talking about his goals, said: "At the beginning of the year, my goal was to finish the year top 50.
"I'm almost there to finish it. But, yeah, I'd love to finish now top 30 with how everything's going right now. Just to keep enjoying myself, keep learning. I've never played any of these tournaments. It's all new, different things for me."
Korda has been practicing with superstar and top seed Rafael Nadal, who is making his debut at the Citi Open. Korda said of this experience: "Yeah, I think my agent always says the practice with Rafa is a whole different level. The intensity that he brings right from the beginning is something that no other player can really do. He's really special in that.
"He always has a purpose with whatever he's doing. He's always talking to his coach, trying to figure out things, what works on the court, what doesn't work on the court.
"Yeah, I took a lot from that. I asked a couple of questions. Yeah, he's been awesome to me."
(AP Photo / Nick Wass)