Korda Routs Norrie In Melbourne Opener

Playing with power and ease, 21-year-old American rising star Sebastian Korda made his Australian Open main-draw debut—after winning in Melbourne as a junior—by dominating British No. 1 Cameron Norrie, the 12th seed and Indian Wells champion, 6-3, 6-0, 6-4, in one hour and 42 minutes.
Korda, who had beaten Norrie in the semifinals of Delray Beach last year, told ATPTour.com: "He's got a really tricky game. He has a really high-looping forehand and then a kind of bunt of a backhand, so it's two different game styles, and he's a lefty. It's always difficult to play a lefty, and he does a really good job with how he plays."
Korda, though, did not allow the 26-year-old Brit to play his tricky game. Korda pressured him, stepping in with punishing groundstrokes and seemingly without expending much energy.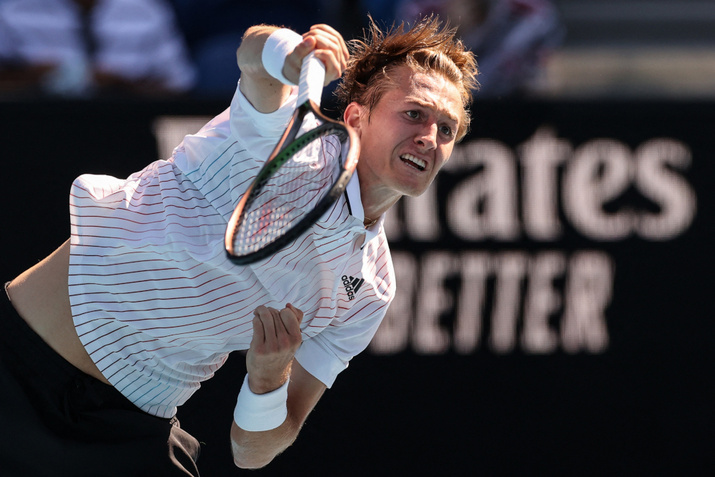 photo credit: AFP
Korda played at a high level. The points went very fast. Norrie could not stay in the rallies long enough, and he made too many errors.
The 6'5" American served brilliantly, winning 77% of his first serve points and 54% of his second serve points. He saved all three of his opponent's break points.
Norrie is a fighter—tenacious with a good attitude. You never felt like you could count him out, but Korda just played at a much higher level.
In the third set, Norrie tried to play more inside the court, but it felt like he was forcing things and not playing his game.
Korda also returned brilliantly. The image that I remember most is Norrie serving on break point #5 and Korda crushing a jumping backhand winner crosscourt off the return.
On match point, Korda served an ace down the T, then did a scissor kick, a nod to his father, Petr, who was the 1998 men's champion.
After Sebi's first main-draw victory, in his press conference, he said that he'd used the tactics he did with his team really well, that he kept being aggressive, using his powerful strokes on these fast courts.
He said that it's always special in Australia. "A lot of history in the family here, my dad winning here and then both my sisters winning the Australian women's golf tournament. So it's a lot of success here in Australia. And I'm always super happy to be here. The fans are incredible. The tournament's unbelievable. Really comfortable here. They always make me feel at home here."