Konta, Murray Successfully Kick Off The New Year

It wasn't until I read Rowan Ricardo Phillips's book The Circuit that I realized it's perfectly fine to stay in on New Year's Eve and watch tennis.
So that's what I did, watching Day 2 of the Brisbane International. Brisbane is 16 hours ahead, so New Year's Day there.
In the first match on Pat Rafter Arena, Brit and world No. 37 Johanna Konta defeated American and world No. 6 Sloane Stephens 6-4, 6-3 in one hour and 52 minutes.
Konta served first and was quickly up 40-love, but the game became tedious, having six deuces and lasting 10 minutes. Stephens's opening service game mirrored Konta's, as she got up 40-love, but she only lost two points—from terrific back-to-back backhand angles from Konta—and was able to hold for 1-all.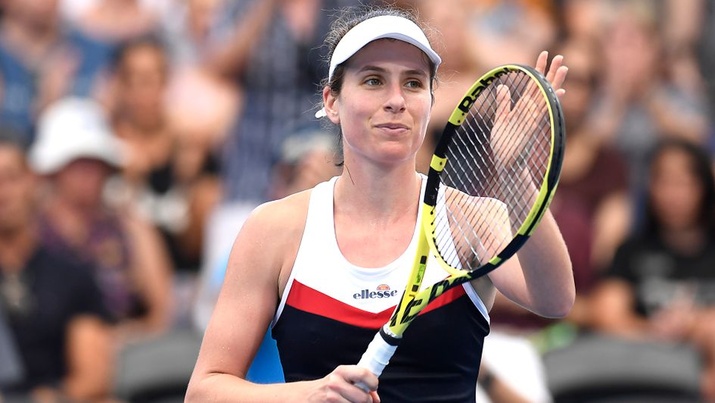 In the third game, Konta had another long hold, but she kept her composure beautifully, leading 2-1. In the next game, Stephens hit an ace down the T and a blasting forehand in her effortless, languid way.
Konta, though, with a steely look in her eyes, got the break, leading 3-1. From there, Konta remained composed and focused. Stephens, who won the US Open in 2017, had explosive moments of brilliant shotmaking, but overall she seemed to lack intensity and made way too many mistakes.
Konta's win is considered an upset, but she's been ranked as high as world No. 4. In her on-court interview, Konta said that she's not reflecting on the past. "The most important thing is to keep moving forward. I'm not trying to recreate something that I had, I'm trying to create something new and something better."
Next up was another Brit, Sir Andy Murray, the former world No. 1, now ranked 240, who is on a comeback from hip surgery. His opponent, Australian wildcard James Duckworth, ranked 234, is also on a comeback from surgeries on his right shoulder and elbow.
Murray won in straight sets 6-3, 6-4 in just under an hour and a half.
Duckworth's strategy was clear: he would be going for Murray's forehand, his weaker side, and trying to keep the points short by moving to the net as soon as possible. This strategy worked, but he wasn't able to execute it often.
Murray, even though he's not moving as freely as he used to, still prefers long, grinding rallies. Despite some errors on his forehand side in the beginning, which caused the usual Murray looks of consternation and sounds of muttering admonishment, he won nearly all of them.
Murray also served quite well, winning 72 percent on first serves. His most effective serve was the slider out wide, which seemed to grip the court, then move sharply away from his opponent.
Murray also returned well, especially when it mattered most, winning three out of his four break points. He hit his quintessential blistering backhands and forehand-flick passes. He even hit an incredible one-handed flick pass on his normally two-handed backhand side. He hit a demolishing forehand pass down the line.
After his victory, Murray said in his on-court interview: "Yeah, I thought I did quite well. I think maybe both of us at the beginning of the match were a little bit nervous, a few errors from the back of the court from both of us, but I think as the match went on the rallies were a bit more entertaining. I felt like I moved quite well towards the end, which allowed me to get the break in the second set. And, yeah, I think for a first match of the new year after quite a long break, it was all right."
When asked about his huge effort to return to the court at all, Murray's voice broke with emotion. "It's not easy to sort of sum up in one sentence or in one answer. It's been really hard 18 months, a lot of ups and downs. It's tricky just to kind of get back on the court competing again, so I'm happy I'm back out here again. I'm going to try to enjoy it as much as I can and just try to enjoy playing tennis as long as I can. I don't know how much longer it's going to last, but we'll see."
Murray will next play Russian Daniil Medvedev, who is seeded No. 4.
The last match of my night, which lasted into the morning, was a thriller. With 71 aces between them, Australian and world No. 35 Nick Kyrgios survived American and world No. 62 Ryan Harrison 7-6 (5), 5-7, 7-6 (5) in two hours and eight minutes.
Though a first-round match, this was also a rematch of last year's final, with Kyrgios defending his title.
Kyrgios had considered pulling out of the event. Just days before, a spider had bitten his left foot and caused it to be so swollen that he couldn't get it into his shoe.
In press, after his win, Kyrgios said, "I was just thinking, 'Hold your serve.'" He said he wasn't happy with his ground game and knows he'll have to improve moving forward.
Speaking of moving forward, I'm glad I time-shifted into the new year, luxuriating in watching this season-opening tournament, instead of reveling on New Year's Eve, as Andy Murray suggested he'd done in this hilarious Instagram post: