Konta Derails Bertens In Rome

It was semifinals day at the Italian Open. In the first match, world No. 42 Johanna Konta of Great Britain defeated world No. 4 Kiki Bertens of the Netherlands 7-5, 5-7, 6-2 in two hours and 49 minutes.
It was a huge win for the Brit. Bertens has been the hottest player on tour, and if Bertens had won today, she would have been ranked No. 2. Also, Bertens is known as a clay-court specialist. She slides beautifully into her shots, staying on balance, and she hits with depth and spin to keep her opponent in difficult positions.
Today, Konta did not allow Bertens to play her best clay-court game. Konta's timing was excellent as she stalked the baseline and hit on-the-rise shots that took time away from Bertens. Konta stayed aggressive the entire match, despite making too many errors in the first set. She was also brilliant with her dropshot, which was so effective because she hit it from inside the court. Bertens hit many good dropshots, too, though Konta was mostly able to run them down because of her strong court position.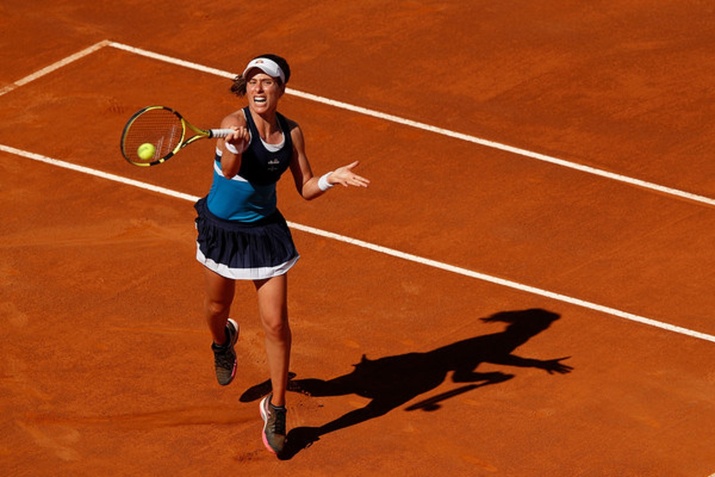 Though Konta says she is comfortable on clay, she has never had more than five wins in the clay-court swing, and she has never won a match a Roland Garros.
In press, Konta said, "I'm very pleased to be in the final here. It's my second biggest final behind Miami. That's a big achievement in my career so far. I'm definitely very conscious and appreciative of this opportunity, of this situation.
"But, yeah, I mean, I've never really doubted my ability on the surface. I don't necessarily feel like this is massively out of the blue or super wow. But I'm definitely pleased.
"I mean, to be honest, when I was younger or even in my young professional career, I won most of my titles on clay. I won a lot of my first junior titles, first professional titles on clay.
"I've always felt that I have a game that has the ability to do well on this surface. It's unfortunate in the previous couple years I didn't get as many opportunities as I would have liked to have done better results-wise. However, I never really felt inadequate on the surface in any way."
(Photo Source: Adam Pretty/Getty Images Europe)