The King Of Clay Is Off And Running In Monte Carlo

Like the Masters of Augusta, with its pristine-green-and-azaleas-in-bloom golf course, the Monte Carlo Masters also has a spectacular backdrop, with its center red-clay tennis court perched between a vertical cliff on one side and the azure waters of the Mediterranean on the other.
Rafael Nadal, an avid golfer himself, said that Tiger Woods is probably his favorite sportsman in the world and that he'd been emotional watching his victory on Sunday. Nadal certainly played inspired tennis on Wednesday and some of that inspiration must have come from Woods. Nadal said about Woods: "I know a little bit how hard he has worked to be back."
For the defending champion and world No. 2 Nadal, it was a great start to the European clay-court swing. Only a few weeks ago, because of a knee injury, he was forced to withdraw in the semis of Indian Wells and skip Miami, the two back-to-back, knee-jarring, hard-court American tournaments.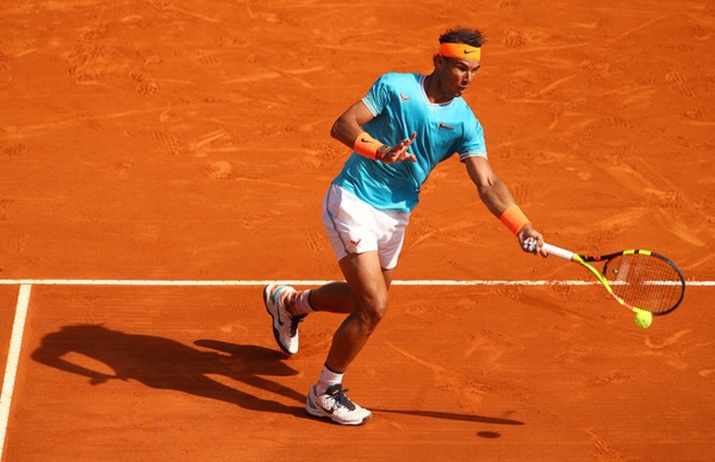 But the Spaniard looked to be healthy playing on his favorite surface—he's won the Monte Carlo Open and the French Open 11 times—as he crushed countryman Roberto Bautista Agut 6-1, 6-1 in one hour and 16 minutes.
Nadal faced only five break points in the match and saved all of them. He served well, getting many free points off his first serve. He hit his signature forehands from the backhand side that he angled short and cross off the court. He hit forehand-down-the-line winners that wrapped around the net post and found their way deep and just in. He moved Bautista Agut side-to-side and up- and-back. Bautista Agut did not play badly. He hit many good shots that would have been winners to most of the tour, but Nadal was almost always able to get that extra next ball.
The last man to defeat Nadal at this event was world No. 1 Novak Djokovic, who struggled to win his opening round against Philipp Kohlschreiber.
Djokovic said, "You know, in a way it's good I got to spend two-and-a-half hours on the court in my first opening match in the clay court season. This surface is very demanding physically. Tactically, as well, you have to construct the point, be more patient, put more spin into the ball, which at times, for me, maybe from backhand side is not as natural. I like to take the ball early, maybe flat.
"Is this the best that I have played on clay? No. I mean, far from that. But at the same time, it's okay, you know. It's a building process, and I just have to trust the journey, so to say, on getting to that desired level. Whether it's gonna happen later this week or not, I don't know. I'm going to try to make it happen."
Djokovic has lost to Bautista Agut twice this year, though on hard court. Nadal improves his record against Bautista Agut, who is the Spanish No. 2, to 3-0, winning each of those matches in straight sets.