Kerber Whips Into Rare Spotlight With Linz Win

For Germany's Angelique Kerber, the past week at the International event in Linz was one to remember. After a rough opening match, the top seed not only made up for a lackluster year with a third career title, but also cemented the final spot at the year-end championships in Istanbul.
While she had a satisfying week on the court, those looking from the sidelines were more concerned with the German's dubious entry into the tournament, an obvious play to assure her of the final spot among the top eight in the WTA Race to Istanbul. Combine that controversy with Kerber's immediate withdrawal from this week's tournament in Moscow (leaving the former Tier I juggernaut without a top-10 player) and her perpetually sarcastic, "fan-unfriendly" demeanor during matches, and the otherwise forgotten member of the elite is starting to develop a reputation.
Truly, Kerber is something of an enigma. Aside from compatriot Andrea Petkovic, nobody expected her breakthrough run to the 2011 US Open semifinals. Even the most clairvoyant and optimistic of Germans would have been hard-pressed to foresee Kerber following that up with consistent results, including another major semifinal at Wimbledon 2012.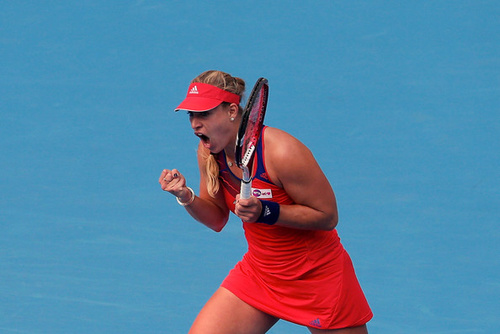 Although Kerber has been a top-10 stalwart for nearly two years, she has never captured spectators' imagination in the same way as her flashier compatriots. Playing for a country that boasts powerful but erratic ball-strikers like Sabine Lisicki, Julia Goerges and Mona Barthel, Kerber tends to fade into the background with her ostensibly "ordinary" counterpunching game. More importantly for many, her stroke production lacks the finesse of her peers. In a moonball battle with Caroline Wozniacki at Indian Wells this spring, for example, she looked more like a club player than someone who has ranked in the top five. Rather than firing lasers across the net, Kerber inelegantly popped the ball back in an attempt to beat the Dane at her own game.
Without this apparent star quality, and the powerful fanbase that it attracts, Kerber is left especially vulnerable to criticism when moments like last week's Linz debacle occurred. After a disappointing run at the 2012 year-end championships where she fought valiantly through three losses, the German stood on the verge of qualifying for a second straight year. While the details are murky, we can be sure that Kerber asked for a wildcard but received it only after the draw had been made. That timing sacrificed native Austrian Lisa-Marie Moser and reshuffled parts of the main draw, to the chagrin of more popular stars such as former No. 1 Ana Ivanovic.
Rather than criticize the tournament for bending the rules for a "big name," many were harsh in their scorn for Kerber. She was perceived as "vulturing" to gobble up easy points at a tournament where she would be the only player ranked inside the top 10. The backlash only intensified after the German won the Linz title and promptly withdrew from Moscow the same day, citing an abdominal strain.
"How selfish!" was the consensus from many observers, aghast that a player would pick and choose her tournaments, barging into one when it suits her and pulling out of another in the same fashion. Since tennis is so steeped in decorum, its nature as an individual sport driven by self-aggrandizement is a concept that eludes some.
Kerber is far from the first or most famous player to dabble in selective scheduling, or withdraw the week after winning a tournament. She did not "steal" a wildcard away from a young up-and-comer but rather asked the tournament for a wildcard. The Linz tournament's decision to grant her request is not egregiously unprecedented in and of itself, but mostly puzzling given the recipient. This was not a situation where Maria Sharapova needed to make one last push to get match-fit for Istanbul, or Venus Williams wanted to capitalize on her Tokyo run with another fall tournament. This was a wildcard given to Angelique Kerber, a perennially under-the-radar top-10 player trying to make Christmas come early by racking up points for Istanbul.
As much as she was able to gain from her week in Linz, including a title, a spot in the year-end championships and much-needed confidence as the 2013 season comes to a close, there had to be something that the tournament believed that Kerber could give in return. With an entertaining final against two-time Linz champion Ivanovic, and provided you subscribe to the philosophy that "no publicity is bad publicity," Kerber grabbed headlines arguably for the first time in her career. Even her maiden Slam semifinal at the US Open was played away from Arthur Ashe Stadium in a schedule addled by rain.
Whether the increased attention does anything for the German's chances headed into Istanbul, this week has been an out-of-nowhere way to introduce Kerber to the general tennis public.
Oddly enough, it is hard to imagine Kerber having it any other way.