Kenin Advances Past Riske In Zhuhai

In their first-ever meeting, second-seeded American Sofia Kenin defeated her compatriot seventh-seeded Alison Riske 6-4, 6-4 at the WTA Elite Trophy Zhuhai in one hour and 14 minutes.
Both players have had breakthroughs in the 2019 season.
Twenty-year-old Kenin has more victories on hard courts in 2019 than any other woman on tour. She has already lifted three WTA singles titles as well as reaching four finals. Her world ranking is No. 12.
At Wimbledon, 29-year-old Riske upset world No. 1 Ashleigh Barty to reach the quarterfinals. This time last year Riske was ranked world No. 63. She is now world No. 19.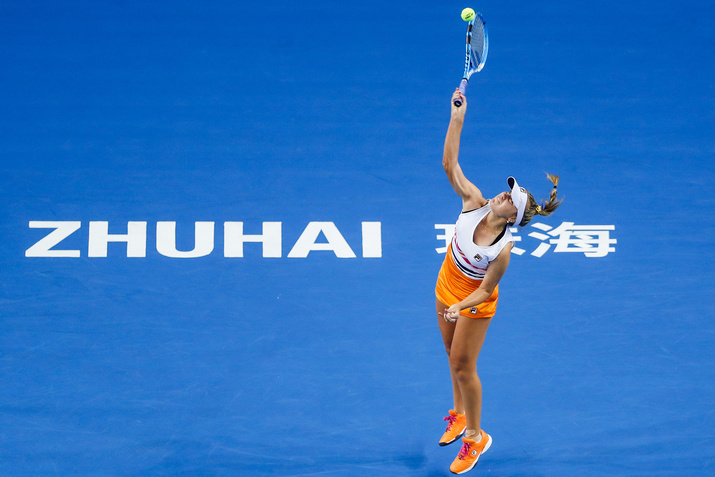 In the first set, Kenin broke Riske in the fifth game, and in the second set, Kenin broke Riske in the third game. Kenin did not face a break point in the entire match.
Afterward, in her press conference, Kenin said: "I just feel like I played really well, I served well, Ali is a tough player, she's had a really good year and it wasn't easy for me to play her, we're really good friends and she's really nice. And, yeah, it was just a really tough match, but I just tried to put it behind me. And I just feel like I knew the way she was playing, I practiced with her a few times, and I used what did I wrong during practice to improve during my match. So I'm really happy with the performance and my serve was like 93 percent first serve that was winning, so this is just great.
"I didn't serve this well in practice. I felt like I adjusted to her game tactically, what she does, how she likes to serve, where, and I think I did a good job covering it. And of course she served aces, because she has really good serves, but, yeah, I feel like I just somehow just adjusted to her game. And it wasn't like in practice, in practice I usually am like not really stable when I play her, so I'm really happy to play more stable today. So it's good.
"I feel like I played really well and it was a solid win. I think it's—I mean, I was pretty nervous before the match, playing Ali, I mean, one of my really good friends. And, yeah, I mean, it's never easy to play someone who you're really close with."