Johnson Advances To Delray Quarterfinals

In hot, humid, and windy conditions, world No. 34 American Steve Johnson moved through to the quarterfinals of the ATP Delray Beach Open. He defeated world No. 105 Italian Paolo Lorenzi 7-5, 7-5 in one hour and 57 minutes.
It's Johnson's second win here this week. On Tuesday, he ended a nine-match losing streak in his first-round match. It's only two matches, but any winning streak is a big positive.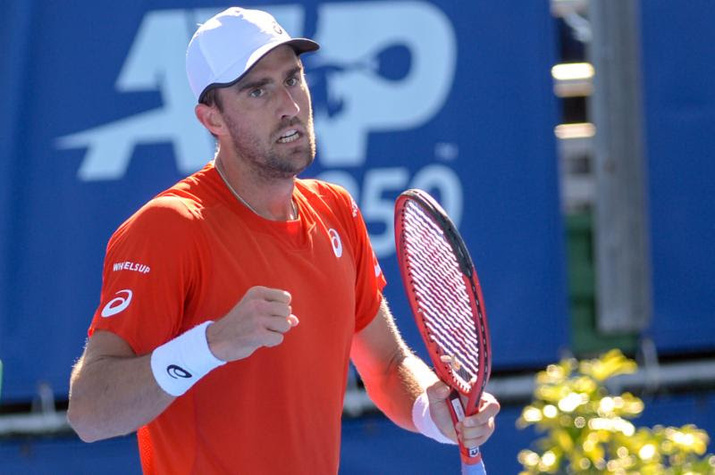 The win advances Johnson, who is the No. 4 seed, to his fifth quarterfinal appearance in Delray Beach.
Johnson had to play patiently and choose the right moments to be aggressive in the 82-degree heat and swirling winds. But it was not easy.
"Probably one of the worst days I've had here in Delray," Johnson said. "It's always windy, but the wind was swirling and gusting. I was having a hard time being really accurate with my shots. I tried to play as passive as possible and not beat myself. Just glad I served well today."
Johnson served seven aces and only had two double faults. Lorenzi served five aces with five double faults. Johnson won 86 percent of his first-serve points compared to 64 percent for Lorenzi.
"With the wind, if you don't hit it clean it's gone," said Johnson, who mishit forehands in the eighth game of the second set when he had a chance to break Lorenzi. "So I was kind of indecisive. That comes with lack of winning and getting confidence back, but with another win today I just get another chance tomorrow to clean things up."
Meanwhile, the wildly talented and enigmatic world No. 64 Nick Kyrgios of Australia lost to world No. 82 Radu Albot of Moldova 6-2, 3-6, 6-3 in one hour and 24 minutes.
Albot broke Kyrgios twice in the first set, despite Kyrgios's uncanny ability to serve aces at will. He served 19 aces in the match and only three double faults. Albot served six aces and had only one double fault. Albot was able to stay focused and was the steadier player.
"It's a very good win," Albot said. "He's for sure one of the best servers in the world. He plays some crazy shots, great serve. You just have to be ready. Great win. I'm very happy."
Albot will face Johnson in the quarterfinals on Friday. Johnson will be hoping to keep his winning streak alive and keep his confidence rising high.