John McEnroe Discusses the Promise of Nick Kyrgios

John McEnroe may have been on the veterans' circuit for 16 years but at the age of 55, the competitive fires still burn as brightly as ever.
McEnroe saw off Pat Cash 7-5, 2-6, 10-8 in an exhibition clash at the Statoil Masters on Thursday night. But amidst the good-natured bantering and the now customary pantomime tantrums from McEnroe, it's clear for all to see that the 55-year-old hates losing as much as he always did.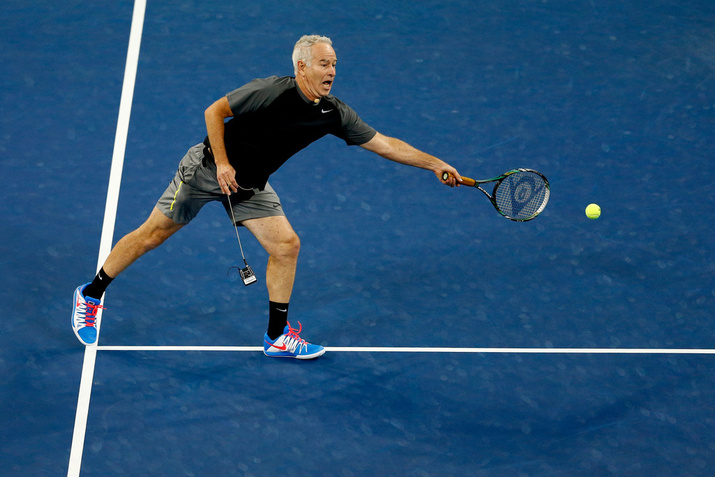 Away from the Champions Tour, McEnroe has continued to keep his eye in by regularly practising with some of the tour's upcoming youngsters. And he believes that one in particular can become the sport's next rising star.
"The sky is the limit for Nick Kyrgios," McEnroe said. "If I had to pick one guy in the world, under 22 who has the greatest chance of making the biggest impact, it's Nick. He has the potential to be an incredible shining star. When I saw him at Wimbledon, when he made his breakthrough, I thought this guy is going to be top five in the world for sure."
McEnroe was in the commentary box as Kyrgios powered his way past Rafael Nadal in the fourth round at the All England Club, and he was shocked at the progress the Aussie teenager had made in a relatively short space of time.
"The improvement he made from when I saw him a couple of years ago, I thought, 'Oh my God, this guy has made an incredible improvement."
And in McEnroe's eyes, it's not just Kyrgios' tennis ability which will make him into a global star. The 19 year old brings an attitude and a sense that he belongs at the highest level, rarely seen in one so young.
"Nick is someone who just brings it," McEnroe said. "In a one-on-one sport, I think that is extremely important. When you see personality and fire in someone you want to rally behind that person. Nadal plays with a lot of fire and (Novak) Djokovic does as well. Roger (Federer) is more like our version of Bjorn Borg. I would love to see a guy with some real personality step up to the plate."