Jabeur Rolls Into Wimbledon Round-Of-16

On Centre Court at Wimbledon, Ons Jabeur of Tunisia, the third seed, won the last 14 points, beating 19-year-old Diane Parry of France 6-2, 6-3 to reach the Round of 16 at Wimbledon.
It was an impressive performance by Jabeur, who is now ranked world No. 2, a career high.
Jabeur mixes up her shots with creativity. She can hit a dropshot out of the blue for a winner. She often returns with a forehand slice, taking her opponent out of rhythm. She can crush the ball on her groundstrokes and her serve. She hits with varying spins and speeds and depths and angles.
She looks effortless when she moves. She's crafty at the net. She can serve and volley. Her great variety makes for a great grass court game.
Diane Parry, who's making her Wimbledon debut, has a stylish game. She has a flowing one-handed backhand. Her forehand is a weapon. She has a big serve, and she also uses the slice well. There were many long backhand-slice-to-backhand-slice rallies.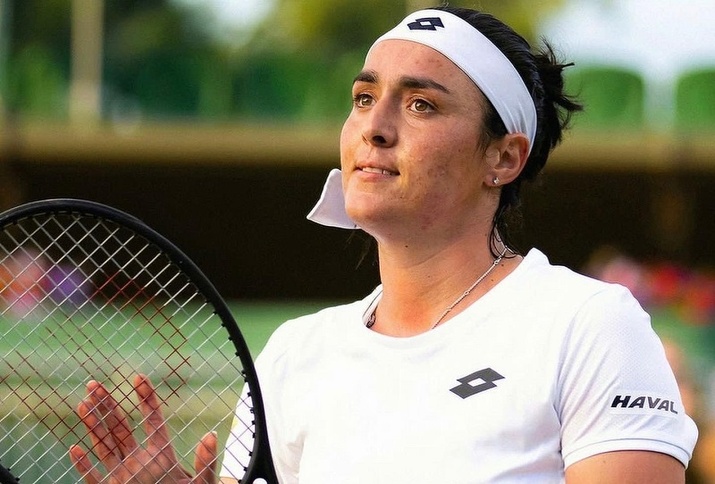 Though Jabeur was in control of the match, it was often closer than the score showed. At 5-love in the first set, Jabeur had held her serve with ease. But on Parry's serve, Parry had saved eight break points.
At the end of the second set, Parry broke with a dropshot of her own and a missed dropshot from Jabeur. From the crowd, there was a huge round of applause. Parry then held with a scintillating forehand inside-out winner.
But in the next game, Jabeur held at love, finishing the set, in style, with an ace down the T.
In the second set, Parry continued her strong play, holding with an impressive serve and forehand inside-out winner. She held again with another massive forehand winner, this time cross, for a 2-1 lead.
Parry was looking more comfortable on the court, settling in. She held for a 3-2 lead.
But at 3-all, Jabeur raised her level, and that's when she went on her 14-point run, coming up with the right shots at the right time, all the time.
She flicked a forehand cross at an acute angle. She hit a stunning backhand overhead. She blasted another ace down the T. She feathered a dropshot with exquisite backspin. She floated a rhythm-breaking forehand slice.
In her post-match press conference, Jabeur said: "Yeah, great match for me. Great start. I'm feeling even better on grass right now. Hopefully will be even better for the next matches.
"I'm just trying to play my game and keep it as simple as possible, for sure."
Jabeur was asked if she felt expectation not only from Tunisia, but the whole of Africa. She said: "Yeah, everybody is following me, expecting me to do better and better. I hope I continue being that person that gives them what they're expecting for.
"I'm just trying my best to break records, to really open the path for the next generation.
"It would mean a lot for me [to win Wimbledon], for my family, for my country, just to keep proving what I want to prove since ever, that nothing is impossible and if you put something in your mind, you can achieve it."