It's Great To Be Serena

Earlier in the first week as she continued to string together matches as much of the rest of the tour collapsed, Serena Williams was asked to respond to Madison Keys' words of admiration about the stress of being Serena and fending off players constantly out to get her.
"I'm glad someone admitted that," said Williams, to laughter. "Every single match I play, whether I'm coming back from a baby or surgery, it doesn't matter, these young ladies, they bring a game that I've never seen before. It's interesting because I don't even scout as much because when I watch them play, it's a totally different game than when they play me. That's what makes me great: I always play everyone at their greatest, so I have to be greater."
The questioner pointed out Keys' insistence that it must suck to be Williams. "I like it because, you know, it kind of backfires because everyone comes out and they play me so hard," continued Williams. "Now my level is so much higher because of it, from years and years of being played like that."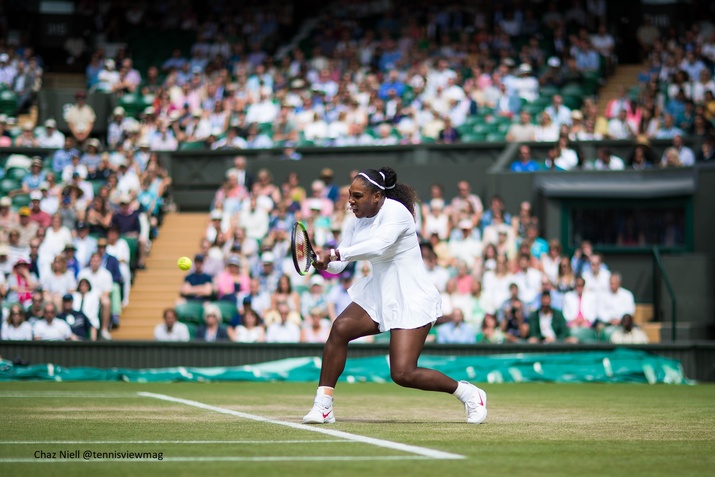 The game that Camila Giorgi brought against Williams in the quarterfinals wasn't unseen, but her level was on the roof. For just under an hour, the Italian did what she is well known to do, what Williams credited her for when she pointed out the amount of power she could generate from such a small body, and she hits every ball as hard as she can. While Williams started off conservatively, still a little too aware of her right arm and the prospect of overworking it, Giorgi was unabashed.
She averaged an obscene 112mph, scaling 118mph numerous times, hitting speeds that, of all the players around her height across the history of the sport, only Williams' rival Justine Henin many moons ago. Off the ground, she overpowered and overwhelmed Williams. By the middle of the third set, her average groundstroke speed was 72mph. Williams, who was constantly on the back foot, trying to counter and contain, only registered 68mph.
Giorgi is a comically unfazed individual who cares only about herself, her side of the court and nothing else. When asked about Williams, she implied that she knew little about the player who was partly responsible for her style of today. However, it's clear that her unbotheredness is probably why she was able to compete.
"I don't follow tennis, woman tennis, and I don't follow tennis," she said, just for extra clarification.
The most subtle aspect of Williams on-court presence is actually often her game. As for the rest of what she brings to the court, every single person knows when she's revving herself up and preparing for a comeback, everyone including her opponent. From the beginning of the second set, a few things happened. Giorgi put her hand up to halt Williams mid-service motion, who stopped everything and made the point of demonstratively sending a long stare down the court. Then, at 30-0, after stroking her serve in for most of the match, she served as hard as she could and fired down a 122mph ace. After silently working through the match, by the end of the opening game she was grunting fairly loudly, exhibiting effort for the first time on the day.
It worked. From that point onward, she served at a higher level, she started to move better and defended Giorgi's first few strikes well, finding room to flip her defense into offence. By the end of the match, as she predicted and underlined just a few days earlier, she became greater and she won.
This quality on any given day alone is what sets Williams apart, but this is not any given day. This is Williams attempting to return after giving birth 10 months ago at 36 years old. She is still a distance from her very best; she still had to rely on serving smart and keeping Giorgi guessing because she wasn't willing to overwork the right pectoral/shoulder issue that forced her out of Roland Garros. Physically she is still a distance from top form - naturally, she is not yet as defined as she was at the height of her fitness in 2017, her movement and fitness surely have a way to go. Just an intensive 5-week training block after Miami separates her from the dire level she exhibited back in the States. This is nothing.
Williams arrived in the quarters impressively, but her smooth route had plenty to do with the path cleared for her by the exodus of top seeds and a draw that was handsome even before that. She has had zero big match experience deep in a slam since the 2017 Australian Open. Yet on a dime, it returned to her. Without a second's delay, she was Serena again. It is astounding. It is not anything we have never seen before from a player returning so fast, so many years into her career. And it doesn't seem to suck.