Istanbul Viewpoint: Overwhelming Serena, Not Underwhelming Field

The 2013 year-end championships marks an end of a three-year stay in Istanbul. As the WTA plans to switch to Singapore next year, one cannot help but look at the arc of its trilogy and feel as if something is different this time around.
The first two years, 2011 and 2012, both seemed to offer opportunities to consolidate dominance. In the tournament's first year in Istanbul, all eyes focused on whether Petra Kvitova could build on a first major title and a breakthrough season by making an airtight case for "Player of the Year." A year later, the same thing was being asked of Serena Williams, who made up for a lackluster first half with one of the most dominant six months in tennis history, losing only once after Roland Garros. Both times, Kvitova and Williams arrived on time for their respective coronations, decimating the fields and ending their years on the highest possible notes, albeit not atop the rankings.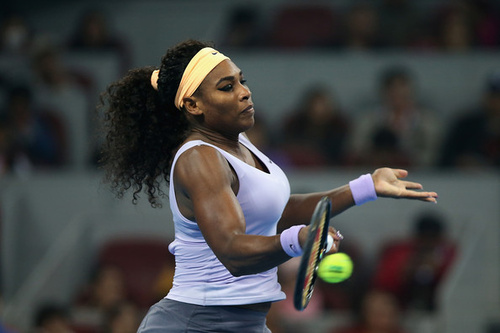 In 2013, there are no such questions. Heading into Istanbul, Williams has played one of the greatest seasons of her career, winning 10 titles and adding two more majors to her total haul of 17. Once maligned as a part-time player, Williams has proven that her dominance can go the distance. Over the 10 months of the season, the American has stood atop the rankings for nine of them, and has reached at least one WTA final in all 10. Barring shocking losses at the Australian Open and Wimbledon, 2013 could have been her greatest campaign ever.
Such dominance, however, can cause a ripple effect. Although accompanied to Istanbul by seven other players, not including alternates Caroline Wozniacki and Sloane Stephens, Williams' resumé casts a long shadow. Besides the American, only world No. 2 Victoria Azarenka arrives in Istanbul with a major title this year, and No. 5 Li Na is the only other woman to have reached a major final. All of the elite eight have at least one title, but few have much more than one, with Azarenka and No. 4 Agnieszka Radwanska securing three apiece.
With such imbalances on the stat sheet, the Istanbul draw can look something like "Serena and the Seven Dwarves." Regardless of whether Williams wins her 11th title this week, she undoubtedly produced the best season of all contenders. That situation can take some air out of a tournament meant to help answer the "Player of the Year" debate question. Some observers may wonder how the remaining players, with so few titles and so few credentials, should be considered the best in the worl. Is this the most embarrassing year-end championships ever?
Hardly.
In the years when Roger Federer was dominating the ATP Tour, winning three majors a year and dropping no more than five matches per season, few made such accusations of the men who lagged behind him. When Rafael Nadal and Novak Djokovic had similarly dominant seasons, the focus was on "the dominator" rather than the dominated.
In 2013, Serena Williams was simply better than her peers by a clear margin. And that is fine. No stigma should attach to excellent players unfortunate enough to be playing during a period dominated by one of the most gifted women ever to lift a racket.
That may be the case next year, or things may radically change by the time the WTA rolls into Singapore for the first year-end championships there. In the grand scheme of things, tennis is always unpredictable. Rather than mock Nos. 2-8 for being less than the greatest of their generation, take this final week in Istanbul to admire what has separated Williams from the pack this year and see if she can replicate that greatness one week more.