Isner Powers Into Miami Final

American and Miami Open defending champion John Isner defeated Canadian qualifier and talk-of-the-tournament Felix Auger-Aliassime 7-6 (3), 7-6 (4). The 18-year-old Auger-Aliassime is the youngest semifinalist ever, displacing Rafael Nadal.
Isner continued his trend of not losing a set in the tournament. Auger-Aliassime broke Isner's serve in both sets and had two chances to serve for the match, but his serve failed him.
In the first set at 3-all, he broke Isner at love. Auger-Aliassime then held by hitting a difficult dipping slice volley to the open court and a backhand flick pass. He gave a fist pump, and it seemed that he was in full control. Isner then held his serve at love. Now Auger-Aliassime was serving for the set at 5-4.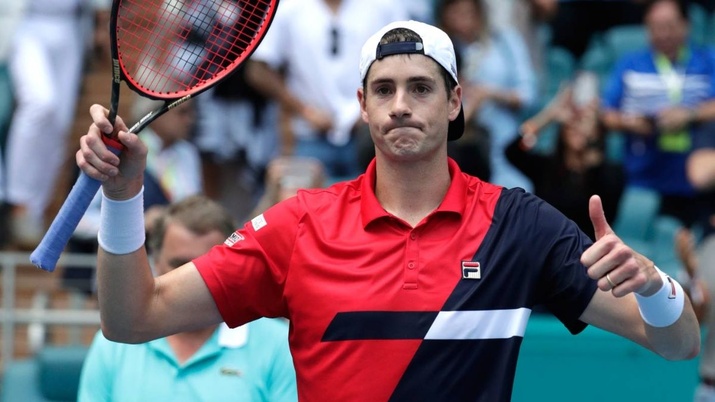 He is 6'4" and should have a powerful serve. But it turns out that his toss, especially in nervous moments, can go awry. He won the first point of that crucial game after a long rally, stretching Isner from side to side, then finished with an overhead. But at 15-love, he double faulted. And again at 15-all. At 15-30, Isner hit a great return. At 15-40, Auger-Aliassime double faulted a third time.
It was 5-all, and Isner was serving and now swinging freely after being gifted that game. Isner held at love and led 6-5. Auger-Aliassime held at love, hitting another great low volley that Isner had placed on his shoelaces. It was a good recovery, and at this point, it seemed that Auger-Aliassime had put that terrible service game in the past and that he might be able to pull out the set. But Isner is a master of tiebreaks—a sense of calm seems to come over him during them and his return level rises. He won this one with ease.
In the second set, Auger-Aliassime was able to break Isner again with a beautiful backhand pass crosscourt and a good return, going up 4-2. He then held by playing with more margin, more topspin. He looked as in control and composed as he had in the first set. He played Isner closely on his next service game—he seemed to be getting a read on Isner's serve. But Isner still held.
At 5-3, Auger-Aliassime was serving for the set. He hit an excellent body serve, but then he double faulted again, and Isner was able to break. It felt like the pattern of the first set was repeating. Auger-Aliassime twice lost three straight points from 15-love when serving for the set.
Again, the set went to a tiebreak, and the master of tiebreaks won.
In his press conference afterward, Auger-Aliassime said, "I think I did the best that I could. I probably did the best of all the players that played him this week. I just couldn't serve from my part. It's a chance you can't miss, serving two times for the set, and just—I don't know. It's just terrible."
And after his press conference, in the late afternoon Miami haze, Auger-Aliassime was seen on the farthest away practice court, practicing his serve on his own. No coach. Just him and a bag of balls. So that the next time he has his chance, he won't miss.