Interview With Coach Mark Gellard

Magda Linette had a breakout season in 2019 rising to a season-end ranking of world number 43.. Tennis View Magazine writer Mike Holder recently sat down with her coach, Mark Gellard. to discuss her season, the future, and other tennis-related topics.
Tennis View Magazine: Magda had a breakout season in 2019, reaching her career-high ranking of world no. 41, after beginning the season at no. 86. What do you attribute her rise to?
Mark Gellard: I think that the key to her improvement this year was primarily mental as she was always a good ball striker, mover and strategist. Before the 2019 season we talked in depth about how we needed to become a better 'competitor' week in and week out and I believe this was something that she certainly improved. There were obviously some key areas of her game that we identified before the year began that we felt needed to be improved in order to compete with the best players on tour, but if you look at her result history before we began collaborating she had already shown she could beat top 20 players so I knew the game was there. Learning to play with the lead, play from behind and use momentum effectively were 3 specific areas we focused on as I wanted her to improve her win/loss ratio in addition to winning more 3 set matches, especially after losing the first set.
TVM: It appeared that she showed improvement at the slams on all three surfaces in 2019, how do you see her game translating to the variety of surfaces?
MG: In my opinion many players pay too much attention to the changing surfaces and forget that the game is essentially the same whether you are playing on the clay in Paris, hard courts in Australia or on the grass at Wimbledon. I tried to implement a mindset that had her pay less attention to the surfaces and more on what she needed to do to be her best each match. If you ask her I am honestly not sure what she would say her favorite surface is as she really enjoys playing on the grass but until this year had been winless at Wimbledon in 5 attempts whereas she had always suggested to me that clay was her favorite surface but this year our clay court season was pretty miserable with regards to results. For me the key difference with surfaces is not the rally length as most people would imagine as this is typically the same throughout all surfaces, but rather point construction and movement. Magda is a great mover and so if she is moving well and competing hard then I really don't emphasize the surface too much.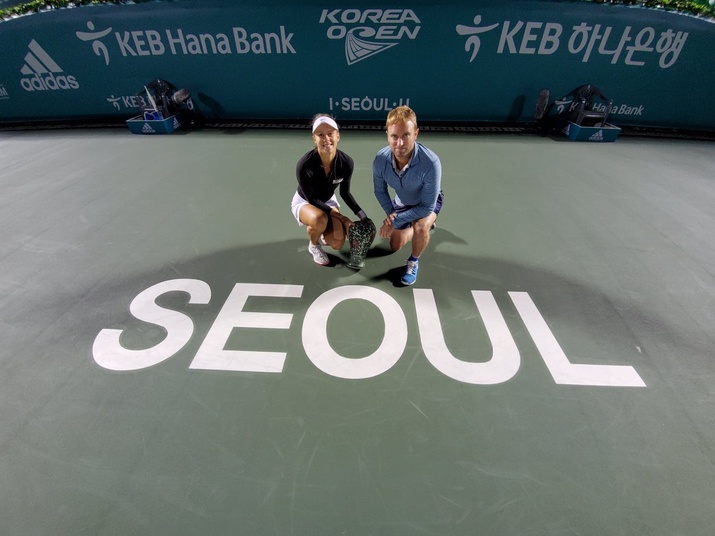 TVM: Magda won her first WTA title this season, that must have felt amazing after all the hard work?
ME: Winning the inaugural Bronx tournament this year was certainly a career highlight for both of us and something I was really proud to have been a part of. There are so many great players on tour over the last 15-20 years who have never won a tour event and so this was really a milestone event for us as it simultaneously propelled her in to the top 50 of the WTA rankings for the first time in her career.
There were tournaments throughout the year where I thought she had a real opportunity to progress far and maybe even win the tournament but when the draw came out in the Bronx I honestly didn't see this as one of them! Having to come through qualifying at international WTA events is no easy task in itself and so beating the likes of Kaia Kanepi and Anna Blinkova just to earn a spot in the main draw was already impressive but being able to win eight consecutive matches in one week against strong competition in order to lift the title was definitely unexpected-which probably made it even more exciting. The entire week proved to be a great example of how just being a good competitor and outworking your opponent is vital to success and this was reflected with many of the match scores as she was able to prevail from a set down on more than one occasion and won almost every tiebreak that she played during the week.
TVM: During the down time of the year, how do you prepare for the upcoming season? Are there areas you target going into next year?
MG: Our final tournament of the season was in Tianjin and as soon as she finished there she went on vacation for about 10 days and then headed back home to Poland to continue to rest and take care of some minor ailments in the body that occurred throughout the course of the season. She will have a total of about 5 weeks with no tennis but will start doing some light physical training on the 3rd or 4th week just to keep the body in check. The off-season is as much about mental recovery as physical because by the last few tournaments of the season I could see the tank was on empty and the ability to rely on her strengths, dig her way out of trouble and close out matches was diminishing which were all signs of mental fatigue which were understandable after playing 28 tournaments in one season.
However, I take this time away from her to really step back and watch some of her match videos, analyze her wins and losses, breakdown her statistics and attempt to devise an off-season training plan that will help her consolidate her strengths and improve her weaknesses.
Typically the 'off-season' training lasts about 5 weeks with the first 1-2 focusing on any technical areas of concern whereas weeks 3-4 focus more on strategical areas, patterns of play and building momentum. Weeks 4-5 typically consist of a lot of point play as we want to hit the ground running at the first tournament of the year.
This year I have identified one significant technical area that I would like to improve and several strategical scenarios where I think we can be better. This training block is also useful for working on mental strength as it is really the only time throughout the entire year that you have a significant amount of weeks in a row to make notable improvements and so this time must be used wisely. I was always impressed by Rafa and Toni Nadal as it seemed that after every end of year off-season he came back with some new improvements to his game whether it be changing his service motion, solidifying his backhand or even working on a more aggressive court position and I think that I think that this is crucial for success. I am a firm believer that if you are not going forwards you are going backwards. What it will take to be a top 40 player at the end of 2020 will undoubtedly be more than what it took in 2019.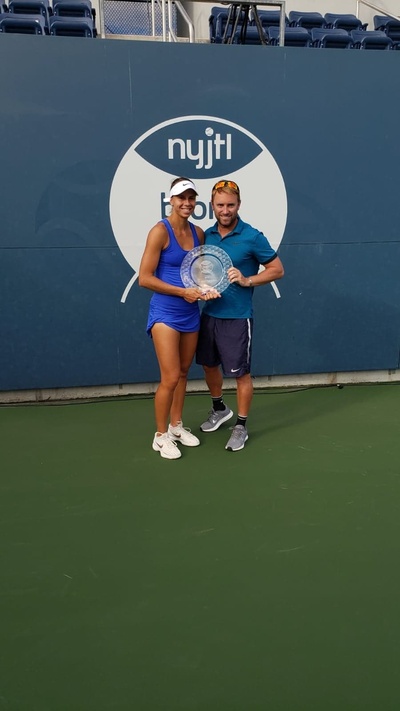 TVM: What are your goals of the 2020 season?
MG: The primary goal of 2020 is to consolidate the results and rankings of the 2019 season. It is one thing to be the hunter but entirely another to be the hunted. Next year there will certainly be a bigger target on her back and having to defend points more often week in and week out adds another variable that can be mentally draining and so our goal is to remain a top 40-50 player and see what happens from there. From a performance standpoint I would like to see us be much better when playing the big matches on the big stages as I felt like when we were put in those situations this year we not only lost the majority of them but didn't bring anything close to our 'A' game which is obviously disappointing. The big arenas against the best players are certainly a different 'animal' and so I think the more chances she gives herself in these situations the better she will handle them but if you want to breakthrough and make a second week at a grand slam then you need to figure it out sooner rather than later.
Another key goal is to qualify for the July Olympics in Tokyo as it is obviously a considerable honor to represent your country in any sport at the Olympics and so we need to make sure our ranking stays close to where it currently is (42) in order to have a legitimate shot of making it to Tokyo. However, while this will be in the back of our minds it is vital not to allow it in to your everyday thoughts as it adds unnecessary pressure, and the focus should be on the process not the outcome.
TVM: As a coach, how do things change for you between the end of this season and the beginning of the next season?
MG: Nothing really changes for me. We had a solid year but as good as it was at certain times we still have a lot to learn and improve as we left a lot of 'points on the table' at various times throughout the season and so my job is to find out how we can be better and more consistent. Managing the schedule, organizing training blocks, deciding when to play doubles, when to push her hard and when to step back are all parts of a coaches job description, and there were certainly mistakes made on my part this past year so I must also learn from them and be better moving forwards.
As I previously eluded too the game is constantly evolving and improving and therefore what it takes to be a top 50 player in 5 years from now will be much more difficult than what it takes today. Magda and I have been fortunate in establishing a good relationship that is built on trust and while we both make mistakes we are fully cognizant that both parties have the other persons best interests in mind at all times. I have been able to work with several WTA players during my career and the most important ingredients I have found for success are honesty between both parties and trust. Apologies for digressing but essentially my point is that no major changes will be made on my part but like all relationships you must continue to work hard on improving the lines of communication and finding new ways to motivate and support each other day in and day out.