Indian Wells: Zverev Battles Past Murray To Advance

On Tuesday, on Stadium 1 at Indian Wells, world No. 4 Alexander Zverev of Germany beat former world No. 1 Andy Murray of Great Britain 6-4, 7-6(4) in two hours and eight minutes.
Murray started the first set with a 128 mph ace, then followed it with a double fault and a smothered forehand in the net. But he was able to hold with an ace down the T and a netted Zverev forehand.
Zverev, serving at love-1, missed his first serve, and on his second serve, Murray returned three feet in from the baseline and forced a double fault, getting into Zverev's head right away.
Zverev then misses a forehand long. Love 30. Murray again does the SABR (Sneak Attack by Roger) and causes Zverev to miss his toss.
Clearly, this is Murray's strategy going into this match, and it's working.
At 15-30, Murray hits a great pass cross after a 16-shot rally. Then Zverev hits a big first serve, big forehand for 30-40. On Zverev's second serve, Murray moves in again. Murray's movement causes Zverev to miss another toss, and Murray breaks.
His strategy of standing way inside the baseline on Zverev's second serve is working beautifully.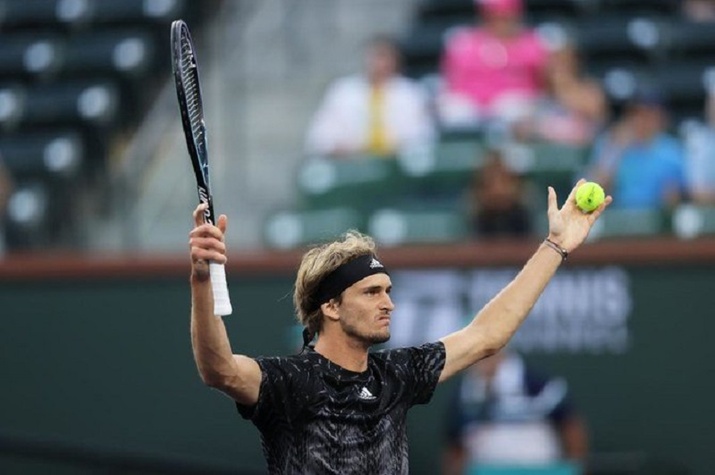 (Getty Images/AFP)
Murray is serving at 3-love, gets up 30 love when Zverev nets a return. He forces another error with a big serve out wide. Then Zverev begins getting some rhythm on his groundstrokes—they have depth and pace—and earns a break point. Murray saves it with a good serve out wide. Finally, after a fifth deuce, Murray hits a big ace out wide to hold for 3-love.
In the next game, Zverev holds at fifteen. Zverev's serve is streaky, but when it's on, it's a huge weapon.
Murray is serving at 3-1. At 30-all, Zverev passes with a backhand crosscourt. 30-40. Zverev then breaks with a good overhead. We're back on serve. In the rallies, Zverev just has more power. Zverev holds for 3-all.
Now it feels that Zverev has taken control. He hits a spectacular inside-out forehand winner, then Murray misses a forehand wide, giving Zverev the break. From 3-love down, Zverev has won four straight games to take the lead 4-3. Zverev then holds for 5-3.
Murray is serving to stay in the set. He serves well and holds at fifteen with a backhand volley winner. But then Zverev holds at love.
The second set had a similar pattern as the first. Murray served first this time, made a beautiful forehand half-volley, and held with an ace down the T. In the next game, Murray had two break points, but Zverev's massive serve saved him from 15-40 down.
Murray holds at love, yells "Come on!" Murray leads 2-1. He shows his great feel, hitting a wonderful backhand pass behind Zverev. And then Zverev double faults, gifting Murray the break. Murray leads 3-1.
In a long game, with Murray hitting a tremendous dropshot/lob combination, Zverev breaks with a backhand down-the-line pass that curves around and lands in for the winner. Zverev is serving at 2-3, down love-30, but Murray loses a lead again, and Zverev holds for 3-all.
It's now a must-win game for Murray. He hits an ace, a forehand approach winner, but also misses a couple forehands. He mistimes a backhand, yells at himself and his box.
At ad-in, part of Zverev's shoelace comes off because of his sliding on these gritty courts.
Zverev hits a swinging forehand volley winner for deuce. Murray makes a brilliant big serve, big forehand, and then another huge forehand crosscourt winner. Finally, Murray wins one of those long, tough games and takes a 4-3 lead.
Murray sticks with his game plan of an aggressive return position on the second serve. He makes two wonderful forehands, but then mistimes a backhand and misses a backhand cross pass in the net. Zverev holds for 4-all.
Murray is serving and double faults on the first point, but comes back with a big serve and a good forehand half-volley pickup. At 40-30, Murray hits an amazing lob that Zverev lets go and the ball lands in. The crowd goes wild. Murray is up 5-4.
Zverev is now serving to stay in the second set. He makes two overheads, hits an ace out wide, hits a big serve, big volley, holds at love.
It's 5-all. Murray holds, hitting an ace down the T with so much swerve and slice. But then Zverev hits a good overhead and Murray double faults and Zverev breaks.
Zverev is serving for the match at 6-5. He misses a forehand wide. He makes a bad mistake, smashing a low overhead into the net. He misses another overhead wildly long. Murray breaks. 6-all, tiebreak.
In the breaker, Murray serves first and misses a backhand dropshot wide. Zverev serves well and goes up 3-love. Zverev nets a forehand. 1-3, Murray serving. Zverev misses a forehand volley long. Zverev serves an ace out wide, a clutch response, hitting his eighth ace of the day. Murray hits an unreturnable serve out wide. 3-5. Zverev hits a forehand long. Andy yells, "Come on, let's go!"
Zverev hits a big serve down the T and a big backhand down-the-line winner for 6-4. He now has two match points. The next point is an amazing point, maybe the best of the match, with reflex volleys, showing the great hands of both players, and Zverev wins it.
In his post-match press conference, Murray said: "I don't think I played well today. Yeah, I mean, there's a lot of mistakes. There was some good stuff in there, but it was mixed in with bad. There was no sort of, like, consistency I don't think. I don't know, like my sort of average level was just not really there today. It was either good or bad. Yeah, I wouldn't put that down as playing really well.
"The positive for me to take from it is I obviously had opportunities again. Yeah, I mean, I guess that's positive. I didn't feel like I played a great match and still had chances, so that's positive.
"But, yeah, I'm disappointed because, I mean, I obviously want to be winning these matches. I haven't in the last few months. Yeah, something needs to change."
This was Zverev's first win over Murray.
In his post-match press conference, Zverev said: "I'm happy about today. I'm happy about the match. I'm happy about how everything went. I think it was a very entertaining match. It was pretty high level as well. I'm obviously happy to be through."