Indian Wells Week 1: Upsets, blow-outs, the good, and the bad

Indian Wells Week 1: Upsets, blow-outs, the good, and the bad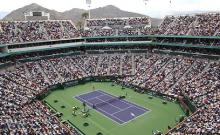 The first of the season's notable non-majors, Indian Wells usually offers more surprises and unsung heroes than many tournaments of its stature. This review of its first week combines thoughts on the elite contenders with discussions of those who left unexpected imprints on the desert.
Ad-in:


Top two women
: With Serena Williams absent, Victoria Azarenka and Maria Sharapova tower over the Indian Wells field. Both the No.
1
and No.
2
seeds weathered early adversity against the talented pair of Daniela Hantuchova (who faced Azarenka) and Carla Suarez Navarro (who faced Sharapova), but both advanced without losing a set despite never finding their best form for long. Responding to tremors of danger with poise, they showed how even their more imperfect efforts can carry them past opponents of quality.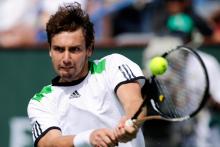 Ernests Gulbis: A champion in Delray Beach the previous week, where he qualified for the main draw, Ernests Gulbis qualified for the main draw against at the Indian Wells and ran his winning streak into double digits with upsets over Feliciano Lopez and world No. 9 Janko Tipsarevic. The latter match marked his first victory over a top-ten opponent on a hard court in over four years. If Gulbis advances to a fourth-round meeting with Rafael Nadal on Wednesday, Rafa could find him a formidable test.
Kevin Anderson: The South African's year started brilliantly when he became the first man from his nation in a decade to reach the second week of the Australian Open. Sidelined by injury immediately afterwards, Kevin Anderson picked up where he left off by rallying from losing the first set to stun world No. 4 David Ferrer. That upset followed a widespread trend of comebacks during the first week, when no fewer than 30 matches went to the player who lost the first set. It also illustrated the trend of upsets among the men's seeds, 11 of whom did not survive their openers.
Young Spanish women: A fiercer ball-striker than many of her compatriots, qualifier Gabriela Muguruza won each of her first two main-draw matches in three arduous sets. The latter victory came at the expense of Australian Open quarterfinalist Ekaterina Makarova and represents her best result to date. Also producing the best result of her career was little-known countrywoman Lara Arruabarrena-Vecino, barely inside the top 100 when the tournament started but certain to rise with her fourth-round appearance. This Spaniard bounced back from losing the first set to outlast world No. 16 Roberta Vinci in an upset that nobody saw coming. Now, Sharapova awaits.
Lleyton Hewitt: Twice a champion at Indian Wells, this tenacious Aussie rekindled some of those decade-old memories in a gritty battle against last year's runner-up, John Isner. Lleyton Hewitt did not lose hope after the first set slipped away in a tiebreak, nor did he buckle under the pressure of returning the American's massive serve. Convulsing into double fistpumps when he secured the key service breaks and when he served out the match, Hewitt showed how much this accomplishment meant to him in the twilight of his career.
The greatest rivalry in sports: The men's draw cast Roger Federer and Rafael Nadal into the same quarter, which substantially increases the probability of a second straight meeting in the desert. Even with Nadal playing his first hard-court tournament since Miami last year, the prospect of seeing the two men on the same court again should delight most fans. Moreover, the Swiss star looked as crisp as his stylish outfit in his opening win, while the Spaniard surpassed his more modest expectations in his first victory.
Deuce:

Television coverage: Credit to Tennis Channel for starting its coverage on the first Friday, a day earlier than usual. Viewers could see the entire schedule of play on Stadium 1, which included stars like Sharapova and home hopes like Christina McHale. Less praiseworthy was the absence of coverage for the second half of Saturday's evening session. Since Sloane Stephens had reached the Australian Open semifinals and captured the imagination of many fans in the process, one wished for a broadcast that allowed American fans to see their nation's brightest young prospect.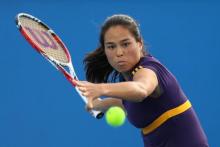 American women: As of March 11, only one—Jamie Hampton—remains in the draw. The more heralded prospects, from Stephens to Varvara Lepchenko and Madison Keys, sputtered more meekly than their supporters would have hoped. On the other hand, less familiar names like Hampton, Stanford graduate Mallory Burdette, and USC talent Maria Sanchez produced some noteworthy results. While Burdette notched four victories, two in qualifying and two in the main draw, Sanchez upset Olga Puchkova just days after the latter had defeated Venus Williams in Brazil. The left-handed teenager Taylor Townsend also turned heads by notching her first WTA victory in a tightly contested three-setter against Lucie Hradecka.
Novak Djokovic: In less than 20 minutes, the world No. 1 crammed a first-set bagel down the throat of an opponent who seemed resigned to the inevitable. But then Fabio Fognini somehow lulled Novak Djokovic into the torpor that enveloped him, slipping away with the second set after saving a match point. Understandably frustrated with this turn of events, Djokovic darkened in mood when he received a time violation warning and never quite resumed the free-flowing ease with which he started the match. He survived it, though, and what doesn't kill him may make him stronger in an accommodating section of the draw.
James Blake: Most realistic observers envisioned nothing more than another sentimental glance at this wildcard before he faded away in the first round. To their surprise, James Blake came to play and proved it with a straight-sets victory that preceded a strong effort against Tsonga. He had not won a set from a top-ten opponent since 2010, but he held three set points in the first set and showed off the explosive athleticism that had defined his peak form.
Petra Kvitova: More of a Jekyll-and-Hyde player than anyone in either top 10, the 2011 Wimbledon champion arrived in the desert with momentum from a strong title run in Dubai. The good Petra Kvitova showed up during patches, such as the first set of her third-round victory, but the bad Kvitova never lurked too far from sight and contributed to a three-set rollercoaster in her opener. Which of them dominates the latter stages of the tournament could play a crucial role in its outcome.

Caroline Wozniacki: In contrast to Kvitova, the Dane arrived at Indian Wells on the heels of an embarrassing first-round loss in her previous tournament. The champion here just two years ago, Caroline Wozniacki showed how far she has fallen since then by struggling to edge through her first match in three sets. She must improve her form by the quarterfinals, when she would meet Azarenka.
Third seeds: Since Andy Murray had not won a match here since the fourth round of the 2010 tournament, earning a victory at all may have counted as a step forward. The reigning US Open champion will not have intimidated many future opponents, though, by dropping the first set to the unknown Evgeny Donskoy. Nor will fellow No. 3 seed Agnieszka Radwanska issued an imposing statement by laboring through an epic against the talented but deeply flawed Sorana Cirstea. Before she advanced, Radwanska twice failed to serve out the match and needed some assistance from her erratic opponent, which she cannot expect in later rounds.
Ad-out: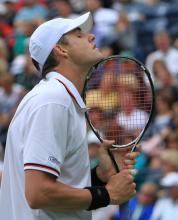 John Isner: No longer the top-ranked American man after the tournament, last year's finalist will drop 600 costly ranking points after losing his opener to Hewitt. The result did not come as a major surprise, considering John Isner's recent struggles to win matches against any opponent from Thiago Alves to Jesse Levine. He admitted afterward that he prefers playing outside the spotlight on outer courts without much media scrutiny, and he should start getting his wish in the coming weeks.
Janko Tipsarevic: No elite player ever should lose ten consecutive sets or fail to stay on the court for an hour against a qualifier. World No. 9 Janko Tipsarevic committed both of those sins when he mustered scarcely any resistance to Gulbis in a match that extended a losing streak from January through February into March.
Anastasia Pavlyuchenkova: In her last eight tournaments, she has absorbed six opening-round losses. Former junior No. 1 Anastasia Pavlyuchenkova has floundered for over a year since she appeared to notch a decisive breakthrough with 2011 quarterfinals at Roland Garros and the US Open. Plenty of time remains for her to revive her career, but relentless losses must sap her confidence.
Tamira Paszek: She started last season with just two victories in her first eighteen matches, then caught fire on the grass with an Eastbourne title and Wimbledon quarterfinal. As an opening loss here showed, Tamira Paszek has become a grass-court specialist. She has won just five of her last twenty matches and looks no closer than ever to justifying Justine Henin's prediction that she would reach the elite.
Viktor Troicki: It's hard to play worse than someone who has lost seven straight matches (Davis Cup dead rubbers aside), but Viktor Troicki achieved that feat with his lackluster first-round effort against David Goffin. One of Goffin's seven straight losses had come to Troicki, sweetening the triumph of one and salting the wound of the other.
Yulia Putintseva: The most anticipated match of the qualifying rounds pitted the feisty youngster against the quirky Andrea Petkovic. Unable to live up to her end of the bargain, Yulia Putintseva eked out just two games as she could not keep her momentum from the first two months.