Indian Wells: Seeds Begin To Fall In WTA Draw

The WTA has nearly wrapped up it's second round at Indian Wells, with a rain delay holding back two matches on Saturday night.
Angelique Kerber [10] was down 6-3 in the first set against Ekaterina Makarova and held break point at 40 in the first game of the second set when rain began to pour down on the desert tournament. Players left the court briefly and began warming up again when conditions appeared to improve, but they returned to their locker rooms shortly thereafter, when the rain picked up again. Viktoria Azarenka and Sloane Stephens [13] had been scheduled to play their second-round match after Roger Federer [1] and Federico Delbonis, but the two ladies never made it to court as the men's match that preceded theirs was postponed to Sunday.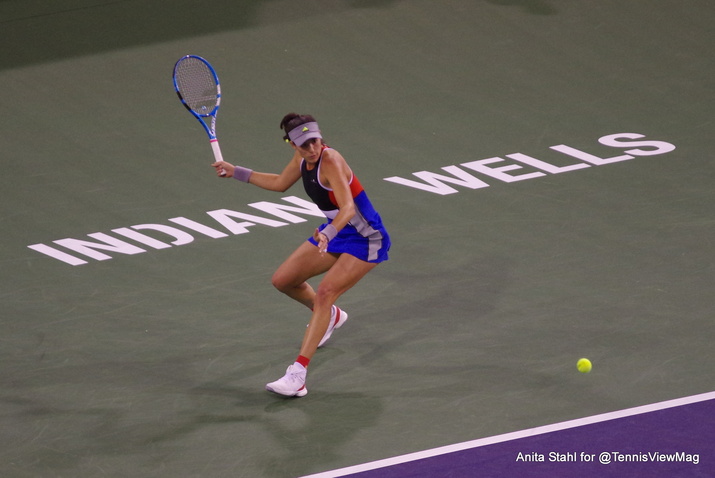 In typical Indian Wells fashion, a whole series of seeds fell in their first matches on the hard courts that Madison Keys described as slow and gritty. Johanna Konta [11] was upset by Marketa Vondrousova in two sets that extended over two hours. Last year's runner-up, Svetlana Kuznetsova [19] was defeated by Aryna Sabalenka.
In a stunning upset, American qualifier Sachia Vickery defeated third seed Garbiñe Muguruza 6-2, 5-7, 1-6. In the press conference following the match, Muguruza struggled to pinpoint what went wrong: "I think I was playing good. You know, I just think that I'm going to learn a lot from this match. I'm going to watch it and I'm going to see what went wrong… I felt I was in control, it slipped away a little bit from me." Vickery provided a more tactical analysis of the match, explaining: "As the match went on, I kind of got a read on her wide serve, and I know she was really going after it and she was hitting it well. So, I just figured on a few second serves just put a bit more pressure and make her go for the T, even if she comes up with something big. You know, she was really burning me on the wide serve, so I just tried to take that away."
The Williams sisters both advanced in their second-round matches, leading to a third-round sister-on-sister clash. In press, Serena recalled their first junior match against each other, when they were eight and ten, and Venus sympathized with the younger sister she had left in tears. Venus cheered up little Serena by bestowing on her that trophy. While the circumstances are just a little different today, the two are still as competitive and bonded as ever, but in such a way that they dread the prospect of playing each other, especially so early in the tournament. Serena said, "I really abhor every time we play, but I do enjoy the battle when I'm out there" and it will certainly be a battle. To encounter her older sister on only her third match back on tour will provide a significant challenge and test of her physical and mental state at this point in the return.
In a 1:44-hour match, Danielle Collins defeated Madison Keys [15] 6-3, 7-6. Disappointed, Keys explained to media that the slow court did not favor her powerful style, but she remained optimistic for Miami.
Rather than pointing to a weakness or erratic level of play from top players, the general mood at the tournament is that the many upsets in the early rounds highlight just how deep the WTA field is, that on any given day, any player can beat any other.