Indian Wells: Norrie Wins First Masters 1000 Title

In January, at the Delray Beach Open, Cameron Norrie was asked: "Who will have a breakout season in 2021?"
Norrie answered: "I would like to say myself. I think I'm going to have a breakout season. And this year. It's obviously a big statement. But I will back myself. And let's see how it goes."
On Sunday, in the California desert, at the BNP Paribas Open in Indian Wells, known as the fifth slam, Norrie, the 26-year old lefty Brit and TCU standout, defeated Nikoloz Basilashvili 3-6, 6-4, 6-1 in one hour and 49 minutes to win his first ATP Masters 1000 title.
Norrie began the year ranked world No. 74 and is now ranked world No. 16. He is No. 10 in the ATP singles race to Turin, the year-end finals for the top eight men, so he is very much in contention.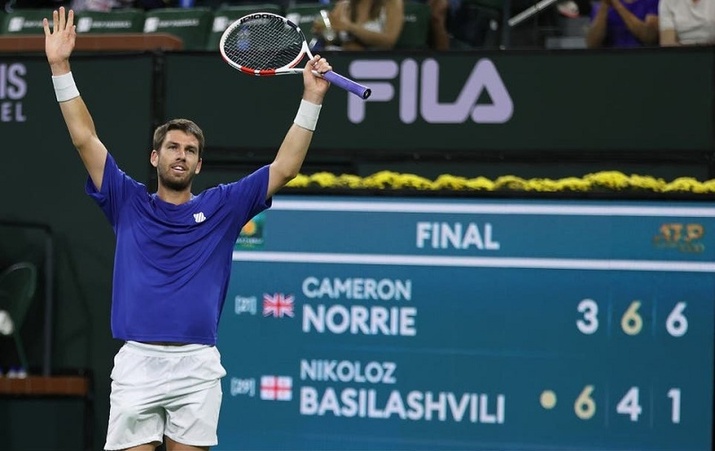 Getty Images
After the match, Norrie said: "Yeah, I mean, what an incredible week I've had here. Yeah, it was just a strange match. It was over quite quickly, and then the last kind of set I was expecting it to be longer. He made a couple errors towards the end.
"I still don't really know what I'm experiencing. It was an amazing couple weeks and I'm so happy with how I treated all the occasions, all the big moments, all the matches.
"Yeah, I'm so happy, so pleased to win my biggest title."
Norrie spoke of his rise in the rankings. "I think my progression with tennis has been pretty steady. Obviously not been too quick to get up. Went through the challengers fairly quickly. Around kind of 60 to 80, I was stuck there, then made a jump forward. I think I've just been working hard and progressing nicely, making small improvements in my game and in my ranking.
"I think honestly doing it this way, getting slowly, slowly better every year, improving little things, I don't think I've missed anything, made any big jumps. I've been working extremely hard. I've got a lot of great people around me that's wanting the best for me.
"We're taking care of all the little details on the court, off the court, and we all have the same goal in mind. When that all comes together, it definitely helps. Everyone's got the same passion for tennis and the same will to win and will to do well. When everyone comes together, weeks like this can happen."
Norrie's longtime coach and TCU teammate, Facundo Lugones, also had a press conference after the match.
Lugones talked about what Norrie has done differently this year: "A lot of different things. But mainly I would say taking ownership of his career and just putting himself in tougher positions and learning from it, moving on quick, take all the positives, being more comfortable with the bigger matches, bigger moments, being more protagonist in those situations rather than waiting for other guys to miss or something like that.
"Overall just taking ownership."
Lugones said he always believed that Norrie could be a top player in the world: "Always. I mean, I always thought he was unbelievably good.
"It's just a matter of when things are going to click and if he can, like, stick to the things that are working and stick to the process, just not giving up, not being let down by tough moments like we had in the past, some terrible losses, a lot of finals, a lot of really bad losses.
"It didn't matter for him. He always had a bigger vision. He always woke up the next day and brought 120% regardless what happened the day before.
"When you have someone with that ability, I think there's no limits. If you're brave enough to go and do it…I think this year he's been really, really brave."