Indian Wells: Norrie Rolls Into First Masters 1000 Final

On Saturday afternoon, on Stadium 1 at Indian Wells, in the BNP Paribas Open semifinals, Cameron Norrie of Great Britain, the 21st seed, made his first Masters 1000 final, dominating Grigor Dimitrov of Bulgaria, the 23rd seed, by a scoreline of 6-2, 6-4 in one hour and 27 minutes.
Cameron Norrie is a citizen of the world.
Born in South Africa, Norrie, age 26, has a Scottish father and a Welsh mother, and grew up in New Zealand. He played college tennis in America at TCU, where he became the first player in program history to finish the season ranked No. 1 in the Oracle/ITA singles poll. This is where he met his longtime coach, Facundo Lugones, a teammate, who is Argentinian.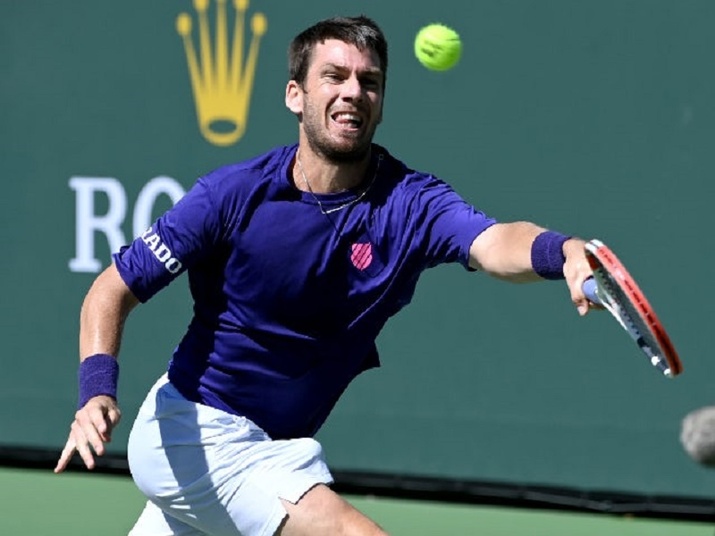 @Reuters
Norrie's playing style, with its variety, is reflective of his life. He is a lefty, which is already unique. Playing Norrie is almost like playing two different players—his spin disparity between groundstrokes is so extreme. He hits with a lot of topspin on his forehand (49 rps), while his backhand is more flat (20 rps), so you get two variations. You don't get the same ball all the time, which must be incredibly difficult for his opponents.
In his press conference after the match, I asked Norrie about playing college tennis at TCU, how he ended up in Texas, a big sports state.
Norrie said: "Yeah, ended up at TCU. Got actually very fortunate with the coaches there. Devin Bowen, Dave Roditi, both great guys on and off the court. I took a visit there kind of last minute. I liked both Roditi and Devin when I first met them.
"Great little campus there. I was like, All right, this is where I can go and work hard. The weather is going to be good. I had a good feel about the place. I had a wonderful team there.
"I think college tennis is a great decision, especially coming from where I was, top 10 in juniors, just definitely gave me some more time to mature and go out and really get stuck in and enjoy my time there, get an education as well.
"Everything is organized for you. Your friends are there. You get to hang out with them on the weekends. You get to practice with them and get better. I was able to not really think about the tour and the scarring of losing a lot of matches in futures. I thought it was really a great decision for me.
"I was really enjoying it there, being able to get around to the festivities of the football. I really enjoyed that as well. They got a big game today. They play OU at OU. I think it's just kicked off. I'm looking forward to that. Go Frogs for today."
TCU did not beat OU, but that was not a surprise. It will also not be a surprise if Norrie beats the 29th seed Nikoloz Basilashvili at the BNP Paribas Open championship on Sunday.
Both players are appearing in their first ATP Masters 1000 final. Norrie won the only previous meeting 6-0, 6-3 in the first round of Rotterdam in March.
Norrie says of Basilashvili: "He's an incredibly tough player, especially when he's this confident. He hits the ball big off both sides. He moves well. He's a great athlete. Like I said, when he's confident, he can beat anyone. He's super dangerous.
"It's going to be difficult, but I'm feeling good physically and looking forward to getting out there. He's looking good. He's serving well. He's being very proactive with his forehand. He's looking dangerous.
"But I'm looking forward to the match."