Indian Wells: Men's Quarterfinals in Review

Top Half of the Draw
On sunny but chilly Thursday afternoon, Milos Raonic [13] ended the very lucky run of 19-year-old lucky loser Miomir Kecmanovic in two sets played in just an hour and twelve minutes. With a single break, the Canadian took the first set 6-3 that included eight aces. He broke a single time again in the second set, for a final score of 6-3, 6-4.
While many players struggle to find their form on the Indian Wells courts, Raonic excels on them: "I think the conditions are good for me, especially when the sun's out. The court heats up a little bit. There is a good amount of jump on the court. This year it's a little bit slower than the previous years, but it allows me to take a few more swipes at a few more shots, and I can do different things with my serve that I need to get ahead in the point."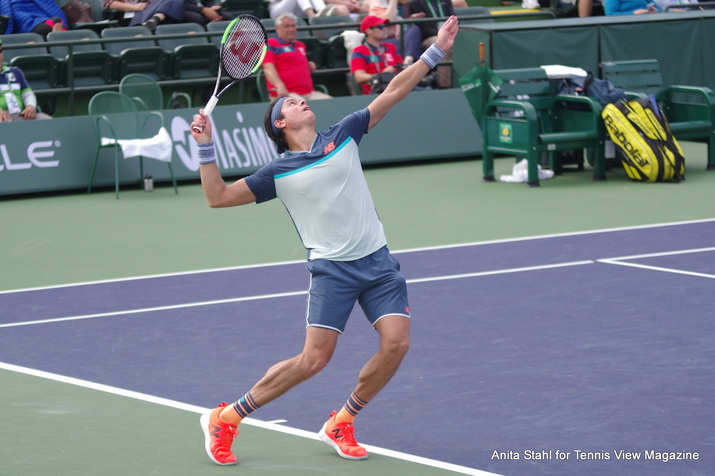 Later the same day, Gael Monfils [18] and Dominic Thiem [7] were scheduled to play for the other semifinal spot in the top half of the draw. When Monfils appeared on court in his regular sweat suit, it was clear something was wrong. Monfils announced to the crowd that he will withdraw due to pain and tightness in his Achilles tendon. He explained to press later that he tried various treatments and taped it but decided not to play as this was a persistent problem over several days that had abruptly gotten worse. Ultrasounds revealed he had significant inflammation that can compromise his schedule: "I will take it really easy with everything and then see how I feel, if I feel that I can play Miami or not."
This is a disappointing end to a great run from the 32-year-old Frenchman, who had just beat Philipp Kohlschreiber 6-0, 6-2: "I was playing great tennis, feeling strong. I have been working hard. It's never easy to get a walkover when you feel good. Especially I was feeling great physically, moving good those weeks, been very good. I was very fast and strong. Played very aggressive."
Dominic Thiem lamented missing out on the chance to play Monfils, whom he holds a 4-0 win-loss record against: "I'm really sorry for him. Obviously, we are both playing well here. He's having a great season. I'm picking up my form again. So, I think it would have been very tough but also very fun match for us, for the crowd. So, it's a pity, but, it's almost in every big tournament like this that at one point one match cannot be played because of one guy's injured. It's sad, but, I have to take it.."
Bottom Half of the Draw
Friday morning's semifinals went much smoother, though not entirely without injury.
In the first match on center court, Roger Federer [4] knocked out 22-year-old Polish world number 67, Hubert Hurkacz 6-4, 6-4. The match was scheduled to start at 11 am and Federer finished the job before 12:30pm, as though he had made lunch plans.
Federer expressed a cool confidence after the match: "I'm holding my serve comfortably. I'm in a good place mentally when I go into my service games. I think it showed this week thus far, you know. So I hope I can keep that up."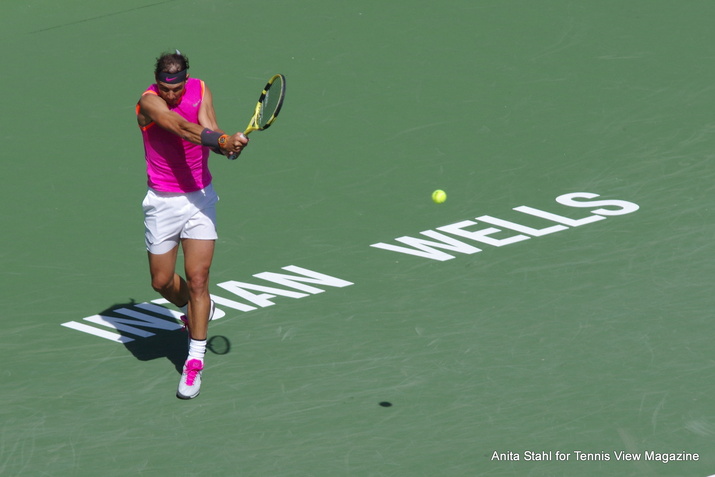 Rafael Nadal's [2] match against Karen Khachanov was decidedly more tense. Only 22 years old, the Russian has already played Nadal on five occasions but has not won once, though he got close a few times on Friday. In the first set, each player broke once, leading to a tiebreak. Excelling under pressure, Nadal took the first set tie break 7-2. The second set followed the same pattern. Nadal broke at 2-2, but Khachanov immediately equalized for 3-3. Yet again, they played a tie break. Underlying the tension, was that at this point Nadal had to call a trainer to court twice and get a medical time out for treatment on his knee. The Spaniard worked hard to avoid a third set and took the second tiebreak 7-2. In all, the match lasted 2:17 hours. Khachanov hit 17 aces in that time and earned a 77% first serve percentage, compared to only 59% from Nadal. Four games in the second set went to deuce, owing to just how narrow Nadal's margin for victory was. With knee issues, Nadal was eager to finish and did so on his first match point.
Nadal was particularly proud of the match, specifically because of how he was able to play through injury: "I am used to playing with some issues, so I just tried to be focused until then and to keep holding the situation. Yeah, it's one of these victories today that I am really proud of." Despite the victory through pain, which set up a semifinal clash with Roger Federer, Nadal cast doubt on how the rest of the tournament could play out: "Nobody can guarantee anything about what can happen the next day because, in this world, anything can happen. But of course, my goal and my idea is be ready for tomorrow. Then happened what happened on court, so I cannot guarantee how I gonna wake up tomorrow morning."