Indian Wells: Kerber, Pliskova Highlight WTA Quarters

How the Top Half of the Draw Shook Out
The WTA women's quarterfinals wrap up Thursday
Venus Williams vs. Angelique Kerber [8]
Williams and Kerber have a head to head that goes back a decade. They first met in the first round of the 2009 Australian Open, a match the American won 6-3, 6-3. They have played each other 8 more times since then, most recently in the round of 16 in Sydney last year. Kerber won that match 5-7, 6-3, 6-1. In total, Kerber has won six of their nine encounters.
Williams's strongest challenge to reach the quarterfinal came in the second round against Petra Kvitova [3]. Williams won 4-6, 7-5, 6-4 in a thrilling match worthy of a final. Williams has been giving it everything: "I was pretty determined this year. I haven't played that much, so I wanted to make it count. It's not going to get any easier from here, so I just have to continue to raise my game."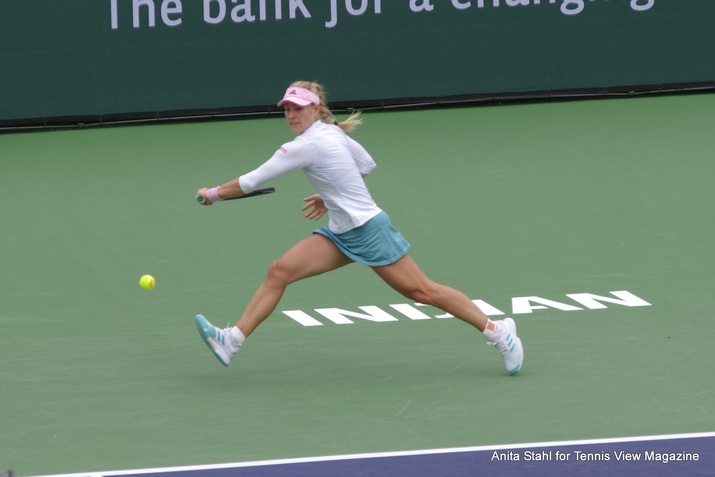 Kerber's biggest challenge this tournament came from Aryna Sabalenka [9] in the round of 16. Kerber zoned in the first set and quickly won it 6-1. Her focus and energy dropped significantly in the second set and she lost it 4-6. She was able to rally and fight Sabalenka off just enough in the third to walk away with a 6-4 victory on her second match point, but she will have to play more consistently if she wants to get past Venus Williams.
Kerber entered the tournament with a 14/4 win/loss record for the seasons. She played the semifinals at Indian Wells in 2012 and 2013 but has not been able to replicate those results. She did reach the quarterfinal in 2017, but lost to Daria Kasatkina 6-0, 6-2.
Belinda Bencic [23] vs. Karolina Pliskova [5]
Belinda Bencic, the Swiss player who celebrated her twenty-second birthday Sunday, fended of defending champion and world number one Naomi Osaka to reach the quarterfinals. The former world number seven, who has struggled with injury, showed off her old form in the decisive 6-3, 6-1 victory. Her strategy was simple but effective: "I mean, not just today, but I'm trying to take the ball early, trying to dictate the point myself."
Bencic and Pliskova have never played a professional match, but they are certainly not strangers. In Bencic's words: "I know her well. We are good friends also with her sister. We practiced a lot together. Obviously, she has great serve and she's playing very flat and fast. I think, you know, again, just focusing on my game, of course, a little bit tactical things, but I will think of that tomorrow. I don't like to think so much ahead of the match. Sometimes I feel like the less I think on the court, the better it is. I'm going to try not to think."
Going into the quarterfinal, Pliskova has not been tested by any seeded players, but she has a good history on Indian Wells courts. She reached the quarterfinal here in 2018, and the semifinals in 2016 and 2017, whereas Bencic has not made it past the third round.