Indian Wells: Best of the Rest, Performances that Stood Out in the Desert

Having discussed the four Indian Wells singles finalists earlier in the week, we share thoughts on some of the other performances that stood out in the desert.
---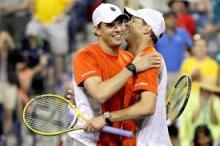 Firsts and lasts: Never had Bob and Mike Bryan, the most accomplished doubles team of their era, won their home Masters 1000 tournament at Indian Wells. This year, they looked doomed to continue that futility when they trailed throughout a match tiebreak in their semifinal, but the twins saved a match point before snatching victory from the jaws of defeat. The Bryans then survived another match tiebreak in the final to claim a title that they had craved for so long and for which they could not have expected many more opportunities. A day later, the distinctively dignified voice of Steve Ulrich resonated through a stadium for the final time before this experienced umpire retired. Perched above many a classic match during his career, Ulrich plans to publish a memoir that should intrigue tennis fans curious about an umpire's life.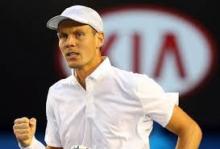 Tomas Berdych: His best career result at Indian Wells came in part from a draw that offered no pre-semifinal opponent more daunting than Richard Gasquet, notable for underachieving on grand stages. Berdych slogged through that match despite unsightly serving and then did just enough to get past Kevin Anderson before falling to Nadal for a twelfth straight time. It's hard to complain about his week, but hard to celebrate either.
Maria Kirilenko: An Indian Wells quarterfinalist last year, she improved on that strong performance this year with consecutive victories over top-eight opponents Radwanska and Kvitova. The less famous of the Russian Marias brought a balanced blend of offense and defense to these slow courts that frustrated both the consistency of the Pole and the firepower of the Czech. If she can build upon this best result of her career over the next few weeks, she could climb closer to the top ten, not a position that one would have envisioned for this long-time doubles specialist.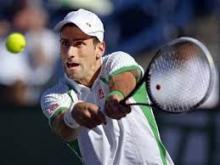 Novak Djokovic: Not since 2009 had he lost on an outdoor hard court after winning the first set, a sequence of 115 consecutive victories that ended on Saturday together with his streak of consecutive finals on outdoor hard courts. The world No. 1 admitted afterward that he lacked his usual focus, understandable in view of his recent title runs at the year-end championships and the Australian Open. From the outset of this tournament, he brought little of the intensity that had defined his period at the top. Skilled at drawing motivation from setbacks, Novak Djokovic now aims to do exactly what he did in 2012: expunge the memory of a three-set semifinal defeat here with a Miami title.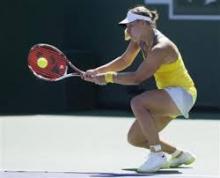 Angelique Kerber: Pounding her way to the quarterfinals without dropping a set, she shared Berdych's fortune of a favorable draw. Since she received a walkover from Samantha Stosur in the quarterfinals, her last victory came against a qualifier. Angelique Kerber looked set to reach her first Premier Mandatory final when she led Wozniacki by a set and a break, only to let a comfortable victory slip away in the wake of an epic return game midway through the second set. But credit to her for clinging so doggedly to her fitter opponent's coattails throughout the third set, erasing multiple deficits well after all seemed lost. The manner in which she lost this three-setter showed why this lefty has won so many.
Petra Kvitova: By her standards for Indian Wells and Miami, this tournament ranked as one of her best results. Her level clearly dropped from her title run in Dubai, though, as the heat appeared to exacerbate the erratic serving that returned from her Australian struggles. For someone who depends so much on that shot, her recent unevenness in that area is concerning.
Kevin Anderson: Reaching his second Masters 1000 quarterfinal, the tall South African picked up where he left off from a strong January campaign. Kevin Anderson shook off the rust from a February injury at the outset by knocking off David Ferrer, and he built upon that upset with smaller ambushes of higher-ranked opponents like Gilles Simon. Not known for his consistency, he showed his improvements in that area by outlasting two such tenacious counterpunchers.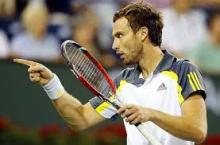 Ernests Gulbis: Only after the fiercest resistance did her succumb to Nadal in arguably the best match of the men's tournament. In that defeat, Ernests Gulbis looked far crisper, more alert, and generally more interested in tennis than he has in years. Granted, one never can tell how long such a surge will last in someone famous for alternating surges with skids, but he provides tremendously entertaining tennis at his best with a mixture of massive first strikes and deft touch at the net. His ranking rose from outside the top 100 a month ago to near the top 50, which should earn him direct entry to most draws.
Agnieszka Radwanska: The only top-eight women's seed who did not reach the quarterfinals, and one of only two overall, she showed early signs of frailty in an unexpected dogfight with Sorana Cirstea and never found her range thereafter. Agnieszka Radwanska's thoughts may have drifted toward her looming Miami title defense as soon as she arrived in North America. With those points and her Wimbledon final points lying ahead, her top-four status may encounter some peril.
Stanislas Wawrinka: Vying with Nicolas Almagro for the most heartbreaks of any man this year, he led Federer by a break in the final set of their fourth-round match and later held a break point at 4-4 that would have let him serve for the match. But Stanislas Wawrinka deserves credit for even extending the match to that point, for Federer easily could have won 6-3 6-2 had not his compatriot competed resiliently to the end. While the Swiss #2 has not won any titles this year, his efforts in Melbourne, Davis Cup, and Indian Wells should have earned him many more fans.
Defending champions: Neither Roger Federer nor Victoria Azarenka looked their best for long stretches, hampered in both cases by injury. In Federer's case, a back strain late in his second match against Ivan Dodig nearly forced his exit in the next round and deflated the quarterfinal against Nadal anticipated so eagerly by fans. In Azarenka's case, a heavy cold combined with an ankle injury to impede her focus and movement, eventually leading to a quarterfinal walkover after some unconvincing wins strewn with service breaks. Displaced at No. 2 by Sharapova, she heads to Miami still undefeated this year.
Jo-Wilfried Tsonga: Two decent victories over faded Americans and an uneven three-setter against Milos Raonic produced his best Indian Wells result to date. More important in the larger picture was Jo-Wilfried Tsonga's 54-minute capitulation to Djokovic that was difficult to watch at times. After going winless against the top eight last year, the Frenchman had planned to reinvent his flagging career with new coach Roger Rasheed. A February win over Berdych notwithstanding, he has not made much progress toward that goal.
Andy Murray: Contrary to his usual practice, he omitted February tournaments from his schedule in an effort to arrive fresh at the North American spring events. While he likely did arrive fresh, Andy Murray also arrived rusty and labored through some early victories over opponents whom he should have dismantled. When the Del Potro match turned against him, he resigned himself too quickly to defeat despite his spotless record against this opponent on this surface. Murray missed an opportunity to claim a top-two ranking following Federer's early exit, but the Swiss star's reduced schedule and additional titles to defend should propel him there anyway.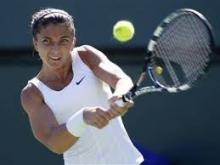 Sara Errani: Demolished by Sharapova in both of their 2012 meetings, she battled much more resiliently this time on a slow hard court that showcased the deftness of her drop shots. Although most know her for her clay prowess, Sara Errani advanced deep into yet another prestigious hard-court draw, and the 80-minute first set of her quarterfinal against the Russian featured a fascinating contrast of styles. Those who find the WTA a one-dimensional realm of power baseliners should check out her tennis—on any surface.
Milos Raonic: It was a strange tournament for this rising star, which didn't start until Tuesday of the second week and ended just a day later. Gifted a bye and a walkover in his first two rounds, Milos Raonic battled through his opening match and then let a one-set lead escape in his next before double-faulting down match point. Oddly, neither Raonic nor his opponent (Tsonga) seemed to realize that the match ended, misremembering the score in the heat.
Wednesday, March 13: Following an appetizer of Anderson-Simon, a series of thrilling three-setters unfolded during the day session. First came Kirilenko's comeback from a set and 4-2 down to upset Kvitova, but the real drama arrived when first Federer and then Nadal went to 7-5 in the third set against an inspired pair of underdogs in Wawrinka and Gulbis. The day session, perhaps the longest in Indian Wells history, featured nine hours of live tennis and delayed the night session's beginning to 10 PM. Once it did start, moreover, Sharapova and Errani combined on a fascinating 80-minute first set that highlighted their contrast of style while providing more gripping entertainment. For the dedicated night owls who still hadn't sated their hunger for tennis, Djokovic entered the court just after midnight for a match that reached a tiebreak in a second set filled with bruising rallies. One struggles to imagine a more thrilling single day of tennis anywhere, even at a major.
Thursday, March 14: When both of the women's quarterfinals that day resulted in walkovers, the day session consisted of a lackluster quarterfinal between Berdych and Anderson stifled by the sweltering heat. In the evening, Federer-Nadal XXIX fell far short of expectations in failing to offer any sustained excitement. Unfortunate to follow the melodrama of Wednesday, Thursday was forgotten almost as soon as it ended.