Indefatigable: The New Serena Williams

The players walked their separate ways upon exchanging the customary match-sealing handshake at the net. The camera stalked the victor of the match as she punctuated her stunning upset by saluting the few remaining spectators. What was not expected was the eruption of raw emotion that exploded through the polite applause.
Suddenly, the camera was moving frantically, attempting to find the source of this noise. And then, then it happened. Lying helplessly were the fractured remains of a former tennis racquet. It had been crushed against both the ground and chair until broken beyond repair. By all accounts, it was the most effort that Serena Williams had mustered all night.
This was number three. Preceding this three-set loss to Patty Schnyder was another three-set loss to Klara Zakopalova at the minor Marbella International event. And that setback had come right after a defeat to Victoria Azarenka in the final of Miami. Three losses in a row, and it was not even the last. A week after the Schnyder loss in Rome came a fourth, this time a retirement to Francesca Schiavone where Williams appeared to pack it in.
These losses were not notable for the mere fact that Williams was in dismal form. Across the many years of her career she has found consistency in the irregularity of her psyche and performance. Soaring triumphs that paint a picture of an unstoppable force of nature had often been followed by her tumbling down the rankings, usually accompanied by a visible decline of fitness or interest in the sport. However, just as the critics would begin to chatter, both Serena and her sister, Venus, would soar to newer heights, as if just to spite those who had stepped out of line and dared to doubt.
But this incident was far from one of those moments in her career. Ahead of the Rome loss, the narrative surrounding Williams had little to do with whether Williams could return to the glories of old. With the previous two majors in her collection, she was already there. Rather, before the tournament, she was asked whether she was the real world No. 1. Naturally, she responded with a firm "yes", but the ensuing first-round losses in Rome and Madrid dented her argument.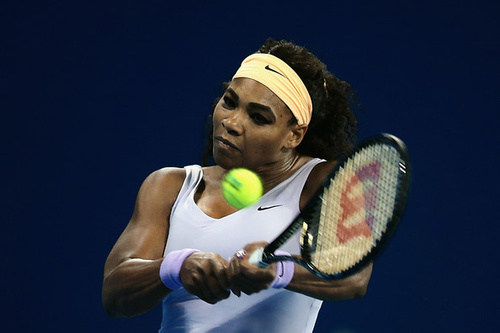 Four years later, change has arrived in shocking fashion. Williams stands only one spot higher than she did when she held three of the four major titles at once, but the difference in her route to the top spot is palpable. One of the well-worn characteristics of athletes is that, as they age, they usually become increasingly set in the methods that brought success. Change and improvement is part and parcel of a rising player, but veterans trudging past age 30 tend to rely on natural instincts of self-preservation.
But Serena has managed to defy each and every one of these patterns. After refusing the official help of any coach other than her parents for most of her career, her decision to bring Patrick Mouratoglou into her camp signified a turning point in her mentality. And it was only the beginning.
After Wimbledon 2009, Serena Williams had won three titles in the previous 12 months. That is, three major titles. Nothing else. Across the 52 weeks in which she established a near-monopoly of the game's leading tournaments, she did not win a single WTA non-major. In dramatic contrast, today she rules WTA events even more than the majors. It may not sit perfectly well with her, but it is a fact all the same.
Since her return from illness just over two years ago, the 14 non-major titles that Serena has amassed account for a staggering 36% of the 39 non-majors that she has won since her very first title in February 1998. And her win-loss record in this period defies belief. A perfectly round 100 WTA matches she has won at non-majors over the two-plus years since her comeback, with only four losses.
Last week was the turn of Beijing to come under her spell. In the past, the logical expectation was for Serena to switch off after the US Open. Particularly after such a fruitful year, it would not seem unreasonable to focus on the year-end championships before a well-earned offseason. This was true even in 2012, when she skipped Beijing before waltzing through the elite draw at the year-end championships without losing a set.
But no more. The times, they are a-changin', and today Serena wants majors, she wants WTA titles - she wants them all.