An Incredible Twelve Months For Rafael Nadal
This time last year, Rafael Nadal was not in a good place. With the burden of reoccurring injuries and loss of form, the Spaniard had, a week before, just been knocked out of the US Open in the fourth round to Lucas Pouille and was wondering what to do next amid a career which seemed to be petering out to a disappointing end.
12 months on, however, and fortunes couldn't be more different. Following a rebirth in 2017, which has seen him lift a tenth French Open in May and regain the number one ranking, Nadal breezed his way through the US Open final beating Kevin Anderson in straight sets 6-3, 6-3, 6-4 to haul a third major title in New York and 16th grand slam overall.
Just like at Roland Garros when he dismantled Stan Wawrinka in straight sets, the outcome of this final was never really in doubt. From the first point until the last, it was clear, like a man possessed, there was no way Nadal was going to let this one slip through his fingers.
Playing with the gusto and athleticism of his youthful self, the Raging Bull crushed Anderson's every move. Whether it was a net rush or a change of serve from his opponent, Nadal met it with the might and nous we've all come to know so well.
Speaking to ESPN afterward, Nadal said: "Winning here in New York gives me great energy. The crowd is unbelievable. They make me feel so happy. It's just unbelievable what happened this year. After a couple of years with some troubles, injuries, some moments playing not good."
Meanwhile, Anderson praised his opponent: "I know we're the same age, but I feel like I've been watching you my whole life. You really have been an idol of mine. And it's tough playing you. You proved it again tonight."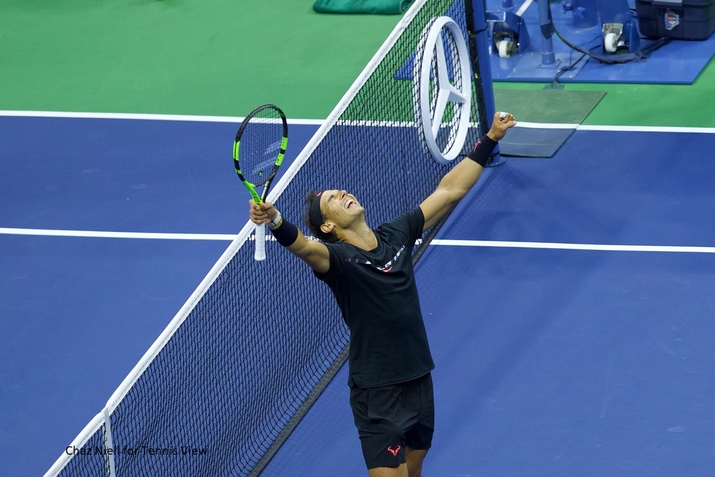 Nadal's return to this season has been phenomenal and nobody could have imagined that he would win two majors this year, not least one on a hardcourt, and look as fit and as sharp as ever.
Now on 16 slams, Nadal has closed the gap again on Roger Federer's peerless haul of 19, who, himself, won the Australian Open and Wimbledon this season. It's been an incredible year for comebacks in men's tennis.
Astonishingly, providing both stay injury free, it's palpable these two legends will now head to the Australian Open in four months' time as leading favorites.