Impressive Medvedev Wins Toronto Masters Crown

In Toronto, top-seed Daniil Medvedev captured his fourth ATP Masters 1000 crown, defeating 6'11" big-serving American Reilly Opelka 6-4, 6-3 in one hour and 25 minutes.
The 25-year-old Medvedev has now won 12 tour-level titles. He is the first Russian champion of the National Bank Open presented by Rogers since Marat Safin in 2000.
Reilly Opelka booked his spot in the final with an upset 6-7(2), 7-6(7), 6-4 victory over No. 3 seed Stefanos Tsitsipas of Greece. The American hit 17 aces to Tsitsipas's 10 in what was a thrilling match.
Daniil Medvedev secured his second final appearance in Canada with a dismantling 6-2, 6-2 victory over another big-serving American John Isner.
In the championship match, the Russian gave a masterful performance. It felt like he was here, there, and everywhere. He's such a good mover with excellent anticipation.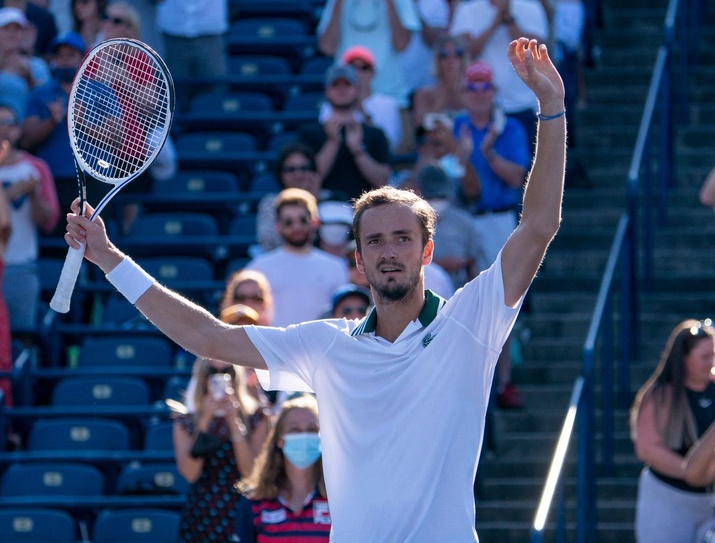 Medvedev hit six aces. He faced four break points and won them all.
Opelka, known for his massive serve, hit eight. He had seven break points and saved four of them.
The American didn't do much wrong. He tried to break the Russian's rhythm with slice, tried to make him uncomfortable.
Opelka said: "Yeah, I mean, Daniil played great, as expected. I mean, I'm not just saying that to be nice and be a good sport. He played great (smiling).
"He was flawless. I had one chance to break early. I don't think that would have changed much because he was in so many of my service games.
"It was a little windy and a little bit swirlier out there on the ball, so it was really tough to be powerful and be consistently powerful. But even then, even when I hit some big shots, he countered well and it was very tough to disrupt him at all.
"He's very good with his opening-stance backhand, very good on the run, his passing shots are great. All expected, but he really executed well."
Medvedev said: "Super happy, because that's what tennis is about. After I lost at the Olympics, I was really, as I said, probably one of toughest losses in my career, because I really wanted to do good there, one of not so many tournaments where I was, like, Okay, this tournament I want to do good.
"I didn't manage to, so you know it can have an impact on next tournaments, but what can I say? Now I'm more happy to win here in Canada than I'm disappointed to lose there.
"And it's the same. If I go to Cincinnati and I lose early, I'm already going to be disappointed about Cincinnati and not as happy about Canada. That's what tennis is about, but this moment right now I'm really happy to capture a Masters 1000 here in Toronto, especially, yeah, some tough matches, good semifinal, good final, almost in control of the match except a few moments.
"Super happy and want to continue this level of play to Cincinnati and New York. That's what I managed to do two years ago. Let's see if I'm able to do it this year."