An Iconic Duo Who Changed The Tennis Landscape

In a month which has seen a painful wound reopened in America's race relations debate, sports personalities have used their public platform to highlight past discrimination. Taylor Townsend, a black tennis player from Chicago who has enjoyed favorable professional success spoke out about being mistaken for Venus Williams or Sloane Stephens in the past. In a sport dominated by white players and enjoys a regular swell of Eastern European talent, we look back at the powerful influence of two iconic names who laid the groundwork for generations of black players to come.
"Shaking hands with the Queen of England was a long way from being forced to sit in the colored section of the bus going into downtown Wilmington, North Carolina."
That was a quote from Althea Gibson, an African American woman who blazed a trail for inclusion and equality back in the 1950s. Up until the 1950s in the U. S., segregation was rife and this transcended into the world of sport. As was the case with public transportation and the use of public facilities, black people had to separate from their white counterparts in all tennis activities. Regardless of talent or capabilities, they were effectively forbidden from ever competing in major U. S. tournaments. No such law existed at the time however the prestigious United States National Championship (The Nationals) only allowed for players to qualify from sanctioned tournaments that conveniently were held at white-only member clubs.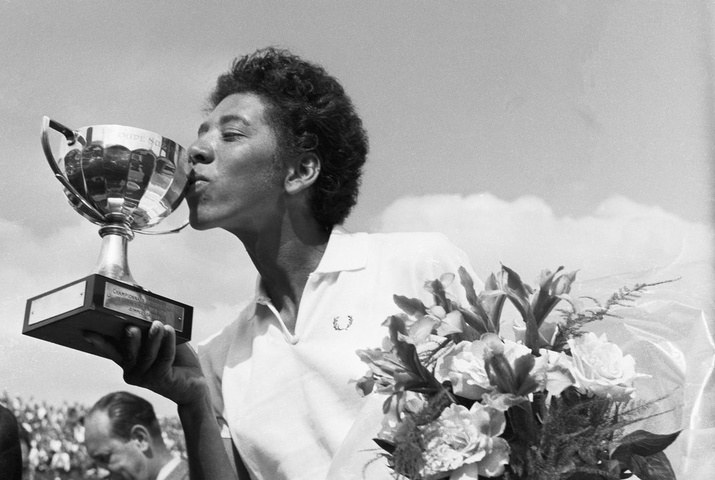 A change was stirred however in 1950 when after intense lobbying by ATA officials and player Alice Marble, Althea Gibson became the first-ever player of color to be included.
She lost in the second round but the very holding of the game and what it represented was historic.
Gibson was ahead of her time in more ways than one, she was dually talented in both golf and tennis and played at a professional level.
In 1956, she became the first African American to win a Grand Slam, and the jewel in the crown of International Tennis at the time, Wimbledon, hosted her as its first-ever black winner the following year.
When it came to breaking records, it seemed Althea Gibson was on a stellar streak, going on to become the Time magazine and Sports Illustrated first black female cover-star.
Talk about black people and tennis and hers is inevitably the first name that will come up. Her mark was both indelible and inescapable. Current stars such as Venus and Serena Williams laud her as a pioneering role model for the sport.
A stone statue was last year unveiled for Gibson at the Billie Jean King National Tennis Center in New York. Inscribed beside it lie the humble words." I hope that I have accomplished just one thing: that I have been a credit to tennis and my country."
Hot on the heels of Gibson's success was a Virginia man named Arthur Ashe.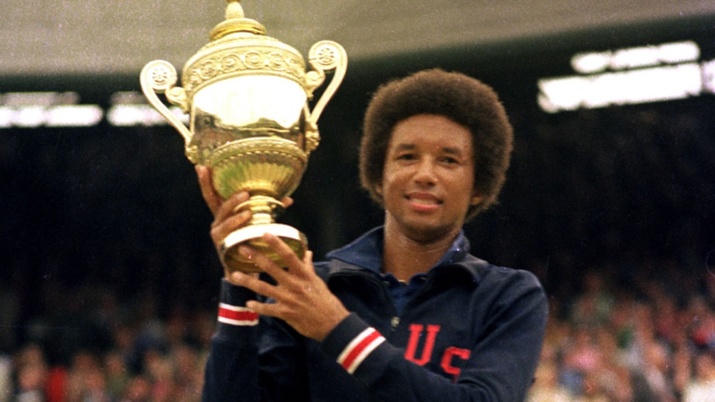 Ashe, like Gibson, enjoyed a stellar career and a stunning rise to the top. He became the first African American male tennis player to win the U. S. Open and Wimbledon singles title. No African American since his 1975 Wimbledon victory has succeeded him in claiming that title.
He showed promise from a young age but as Gibson had to fight through regular discrimination and exclusion due to his skin color.
He managed to secure a scholarship to UCLA in 1963 and from thereon in his career fought valiantly for every historic win he secured. He also became the first black player ever selected for the U. S. Davis Cup team.
Like Gibson, Ashe too got his posthumous credit.
In 1993, the annual ESPYS Awards introduced the Arthur Ashe Courage Award which has become an annual feature of the awards. According to ESPN "recipients reflect the spirit of Arthur Ashe, possessing strength in the face of adversity, courage in the face of peril and the willingness to stand up for their beliefs no matter what the cost."
Althea Gibson and Arthur Ashe were born into a vastly different U. S. A. from today.
They cultivated careers and achieved success whilst taking on the injustice of a system that was fighting against them. The only weaponry they had in their armor was the power of will and raw talent. They beat odds and silenced critics to stand today as two important reference points for black tennis players.