Hurkacz Takes Miami Open Title

Hubert Hurkacz of Poland is the champion of the 2021 Miami Open, the biggest title of his career, beating 19-year-old Jannik Sinner of Italy 7-6(4), 6-4 in one hour and 43 minutes.
Hurkacz is the first Pole to win the Miami Open and the first from Poland ever to win a Masters 1000 singles title.
This is the second ATP Tour title of the year for Hurkacz, having won the Delray Beach Open in January.
"Last year I spent here almost half a year," Hurkacz said in an on-court interview. "I was practicing in the hottest weather during the spring and summer here, so I think that helped me a lot playing now in Florida, especially in these pretty tough conditions here, because it was a little bit slow here. The wind was blowing from side to side sometimes, so it's huge."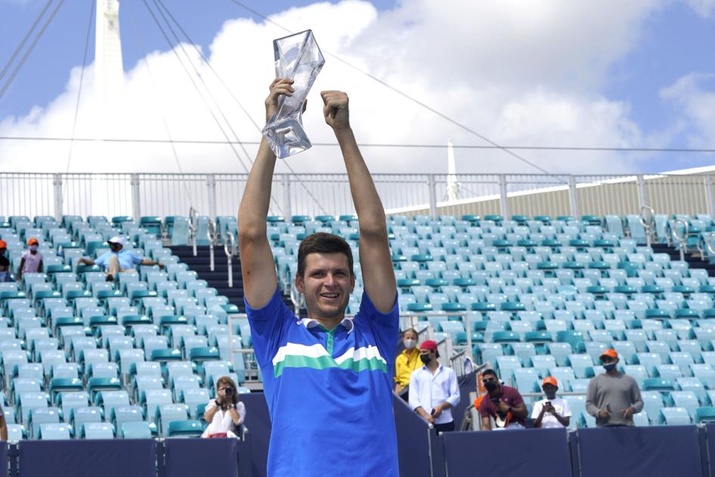 The Miami Open was the first ATP Masters 1000 final for both players. Hurkacz defeated two top-ten opponents back-to-back to reach the final, world No. 5 Tsitsipas in the quarterfinals and world No. 8 Rublev in the semifinals.
Hurkacz, twenty-four years old, who'd been ranked world No. 37, is now at a career-high ranking of world No. 16.
The teenage-sensation Sinner, who'd been ranked world No. 31, is now at a career-high ranking of world No. 23.
In his post-match press conference, Sinner said: "Well, I made some unforced errors. I made a few or a couple of mistakes in the tiebreak. Then I was not serving well, especially in the beginning of the second set, and not returning deep enough.
"So, yeah, I think it was from my side everything, you know. Honestly, you know, the whole tournament I decided how to play against every player. You know, I was dictating the game. I made mistakes, yes, like today. Maybe if I put in the 30-all twice when he was serving 4-3 and 5-4 the ball, maybe we are still there to play.
"I missed that, but I think it's for me today is a tough day, to be honest, because losing the final here for me is not easy. But, you know, I was deciding the whole week what to do with the ball. For that time I'm happy. Yeah, today went the wrong way.
Sinner said: "Today you win or you learn."
In his post-match press conference, Hurkacz said: "I mean, yeah, like to be able to win against Jannik, you need to come up with some really good stuff. I mean, he's amazing player and amazing person, as well. Such a great competitor. I mean, he's gonna have amazing future.
"Yeah, obviously I was trying to stay as solid as I can, because he can hit the balls so hard and, like, if you let him do that, like, he's just gonna run around.
"So I was just trying to keep his pace and be able to fight for each ball. That's what I was trying to do there."
On match point, after a long rally of mostly backhand-crosscourt exchanges, Sinner missed his forehand wide.
Hurkacz said: "Yeah, I mean, I was super happy that he missed this shot at the end. I mean, super, super happy that I was able to lift that biggest trophy of my life so far, so that's something special for me."