Hurkacz Eliminates Tsitsipas In Miami

On Thursday at the Miami Open, the last two men's semifinal spots were determined.
In the day session, 22-year-old Greek star Stefanos Tsitsipas, world No. 5, the highest-ranked Greek player in history, the highest ranked player left in the draw, lost to 24-year-old Hubert Hurkacz of Poland, world No. 37, the first Polish player to make the Miami quarterfinals, by a scoreline of 2-6, 6-3, 6-4.
Tsitsipas began solidly, making balls from the baseline, barely missing any returns, mixing in the short slice, finishing at the net, using every aspect of his all-court game. He held serve at love to close out the first set.
Hurkacz, who'd been making error after error, was broken in the first game of the second set.
Tsitsipas was now swinging freely, and looked very much in control of the match. He held with an aggressive down-the-line approach and backhand volley to the open court for 2-love.
But in the next game, everything changed.Hurkacz got down 15-40, hit an ace, 30-40. Then he had another escape with a forehand volley winner.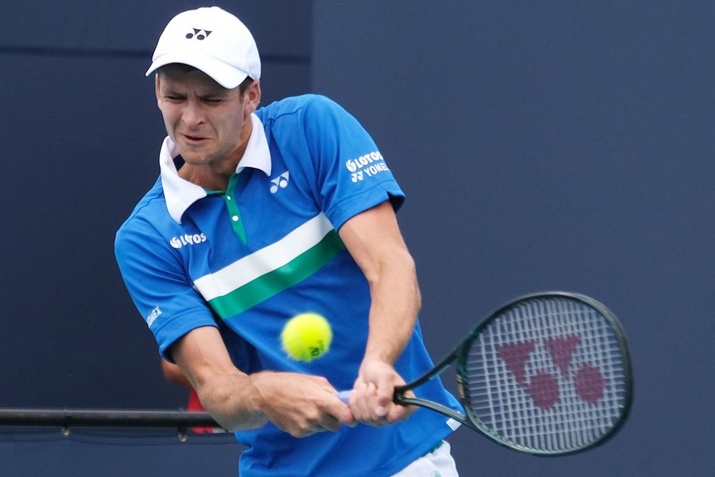 At deuce, Hurkacz flicked a backhand passing shot cross, reaching so far and low that his racquet scraped the court. At ad-in, the Greek netted the return.
That backhand-scraping-passing shot changed everything.
After that, Hurkacz gained confidence, raising his level, and Tsitsipas went on a tear of unforced errors.
Afterward, in his press conference, Hurkacz said: "Yeah, I believed in myself that if I will start making those shots, I'm going forward, I can, like, stay competitive in the set and fight to come back. So I think that was—the positivity was crucial for it."
Hurkacz said: "Yeah, I think that's like so far one of the best results. Obviously like winning titles, it's nice because you win the tournament. But like the results winning couple of really like close matches in a row, that's really big for me."
In the night session, 23-year-old Russian sensation Andrey Rublev, world No. 8, known for his crushing forehand, defeated 20-year-old American rising star Sebastian Korda, world No. 87, known for his gliding movement and easy power, by a scoreline of 7-5, 7-6(7).
Rublev won 85% of his first serve points and faced just two break points in the match.
In his press conference, Rublev said, in his usual humble way: "Maybe next time it's going to be third set. We never know. Maybe next match I will lose second set and lose the third. I mean, today
I managed to win and I'm happy.
"I mean, in general, Sebastian is a really great player. He's really talented. He have big shots and he feel confident and he go for them. Most of them he's making it. So in the end, that's why he's great. He have a big serve. Really great at the net. He's smart.
"And, yeah, he play aggressive. He try to take the lead and go for the shots. That's why he beat so many great players."
Though disappointed with the loss, Korda had an outstanding tournament. He is the youngest American in the Miami Open quarterfinals since 2003. He had his first Masters 1000 win, his first top-twenty win, his first top-ten win.
In his press conference, Korda said: "I think just how I kind of feel comfortable playing against these bigger guys. I mean, this week showed me that I can keep up and play with the biggest names in tennis.
"So it was a really positive week both in singles and in doubles. I had a lot of fun in doubles with my partner, Michael Mmoh. And, yeah, I will take a lot from this and hopefully I can play some good tennis on the clay now."