How Open is This Open? Tennis View Contributors' Picks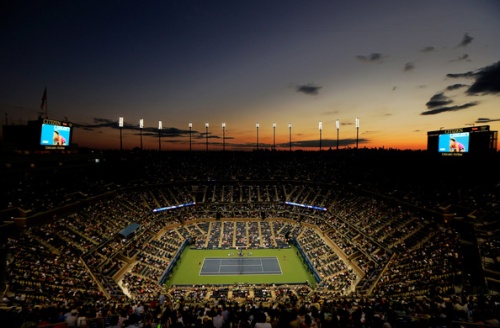 The Tennis View team of writers breaks down who they think will claim the titles at the 2013 US Open, as well as dark horses likely to cause a stir. Let's start with the champions.
US Open Men's and Women's Champion:
Lisa-Marie Burrows

Rafael Nadal

Nadal had an outstanding hard-court summer after winning back-to-back Masters titles in Montreal and Cincinnati and is oozing with confidence. He will have tough challenges en route to the final with John Isner and Roger Federer, but the world No. 2, who is climbing back up the rankings, looks physically and mentally ready to master them.

Serena Williams

Despite the pressure of being the defending champion, Williams will handle the situation well with the home crowd support behind her. She may have lost the Cincinnati final against Victoria Azarenka, and her Wimbledon campaign did not go to plan, but those setbacks will motivate her to put the disappointment behind her and claim her 17th major.

Tumaini Carayol

Rafael Nadal

Nadal should translate his outstanding form from best-of-three Masters 1000 tournaments to the best-of-five format at the US Open. The Spaniard comes to New York in some of the most positive hard-court form of his career, storming through the US Open Series by smothering the baseline and playing proactive, aggressive and efficient tennis. With Djokovic recently floundering and Murray historically a good matchup for Nadal, it is difficult to see past the 2010 champion.

Serena Williams

It may be an unimaginative prediction, since Williams has arrived at all of the previous eight majors as a heavy favorite yet has captured less than half of them. After a season of falling short when it matters most, Serena will be determined to ensure that she can remember 2013 as a sensational success rather than as a strange disappointment.

Victoria Chiesa

Rafael Nadal

Nadal has not lost a match on hard courts this year en route to three Masters 1000 titles. Aside from Andy Murray, Nadal has beaten all of the major contenders for this title on hard courts this year. However, best-of-five is a different animal compared to best-of-three, and the US Open will be the Spaniard's first hard-court major since the 2012 Australian Open.

Serena Williams

A dominant force this year, Williams has won eight titles but "only" one major. Often expected to peak at majors, 2013 has been much of the opposite for the world No. 1. After having her summer winning streak stopped by Azarenka in Cincinnati, Williams could be all the more motivated to start a new one in New York. When she sets her mind on that, there's little that anyone can do to stop her.

James Crabtree

Rafael Nadal

Rafa has been too hot to handle, and this trend should continue. Besides, he has been unbeatable on hard courts this year and is due another U. S. Open title.

Jelena Jankovic

Marion Bartoli won Wimbledon as the fifteenth seed. A U. S. Open shock would be great also, with Sabine Lisicki, Caroline Wozniacki or Jelena Jankovic potentially providing great stories. Let's roll the dice and go with Jankovic!

Romana Cvitkovic

Rafael Nadal

Novak Djokovic has been the undisputed "man to beat" at the US Open—until Nadal began tearing through nearly every tournament this year, and this summer in particular. This season, the 27-year-old Spaniard has won nine titles and reached the final of two more. As long as his knees are unaffected, Nadal can play until his heart's content.

Serena Williams

There's really no explanation necessary, right? The only person (other than Williams, herself) who could possibly defeat the four-time champ is Victoria Azarenka. For that to happen though, Williams would need to play some sub-par tennis, and the Belarussian would have to be in peak speed and condition.

Yeshayahu Ginsburg

Rafael Nadal

Hard courts are Nadal's least favorite surface, and Rafa got a draw full of big servers—his toughest matchup. Still, he has been nearly unstoppable since he got back from last year's injury, with the exception of his first round at Wimbledon. Nadal likes to play himself into these tournaments, so nobody will stop him if he avoids an early shocker.

Serena Williams

Sabine Lisicki's upset of Serena at Wimbledon, combined with Azarenka's win in Cincinnati, has to give us slight pause that maybe the other top women are catching up to Serena. Still, picking anyone except Serena here has to be foolhardy.

David Kane

Andy Murray

A reasoned argument could be made for any of the Big Four, but Murray has been the most consistent at majors over the last two years. He has recorded recent wins at majors over likely pre-final opponents Tomas Berdych and Djokovic. Murray should feel confident heading into a final against Nadal, who showed with his Wimbledon loss that he is not invincible.

Serena Williams

Williams has had a career year that at the same time is marred by two shock losses at majors, usually where the 16-time major champion is at her most comfortable. Closest rival Victoria Azarenka has beaten her in their last two hard-court meetings, but neither of those was at a major. I doubted her ability to handle the pressure in Paris and was soundly proven wrong, so I know better now.

Nick Nemeroff

Novak Djokovic

Having been bounced by Nadal in Montreal and John Isner in Cincinnati, Novak Djokovic will be hungrier than ever to win the US Open. Falling just short at the last two majors should motivate him too. Djokovic's fitness and ability to counter Nadal's offensive weapons will bring him a second US Open title.

Serena Williams

It is difficult to pick against Serena in any tournament, especially one of the four majors. That said, I fully expect Serena to blow away this year's field and only see Victoria Azarenka as a threat to her title defense.
If Serena and Nadal dominated the picks for the US Open champions, Eastern Europe produced many of the dark horse picks—but not all.
US Open Men's and Women's Dark Horse:
Lisa-Marie Burrows

Lleyton Hewitt

Hewitt could face Juan Martin Del Potro in the second round if he defeats Brian Baker. 'Rusty' does not shy away from challenges and always rises to the occasion at majors. He has the potential and definitely the feisty determination to cause a stir and eliminate the former, ailing US Open champion.

Sloane Stephens

Stephens is on course for a potential fourth-round clash with Serena Williams. If anybody stops Serena before the final, it could be the young American. Stephens was the surprise victor in their Australian Open clash, and she has the game and grit to do it again, although it is a tough ask.

Tumaini Carayol

Ernests Gulbis

Gulbis has started to support his bombastic talk with improved form, but we continue to wait for his ranking and results to match both his talent and mouth. The Latvian finds himself in the weakest quarter of the draw, with struggling seeds David Ferrer and Richard Gasquet vulnerable to upsets from all quarters. Gulbis would be wise to use this opportunity as a catalyst for his much-awaited assault on the top 20 and beyond.

Svetlana Kuznetsova

Kuznetsova triumphed at Flushing Meadows nine years ago as an unassuming 17-year-old. She arrives there in 2013 as a shadow of her former self—but placed in the softest section of the draw. Kuznetsova already has reached two major quarterfinals this year, and it would be just like the two-time major champion to recover from her self-inflicted wounds when we least expect it.

Victoria Chiesa

Jerzy Janowicz

Janowicz announced himself to the tennis world last fall but went mainstream this season on the back of a semifinal showing at Wimbledon. The big-serving Pole can trouble anyone on his day, making it tough for anyone to get in a rhythm against him. On the bottom half of the draw, Janowicz falls in the same quarter of the draw as David Ferrer, but he might face fellow heavy hitter Ernests Gulbis in the second week instead.

Simona Halep

Halep has had a career year, winning her first three WTA titles between Roland Garros and the US Open. At Cincinnati, she sent Marion Bartoli into retirement and upset Samantha Stosur en route to a quarterfinal showing. Halep finds herself in the most open quarter of the draw on the bottom half. All of the higher-ranked players near her have struggled for long stretches this year.

James Crabtree

Dmitry Tursunov

Tursunov is an old-school hard hitter in a weak part of the draw. Plus, New York is a place of fairytales, especially for veterans.

Laura Robson

The left-handed Robson is a fearless low seed and on her day very dangerous. She has an open route to the semifinals.

Romana Cvitkovic

Dmitry Tursunov

Tursunov has risen to his highest ranking in four years and reached the quarterfinals or better in his last three hard-court tournaments during the US Open Series. The Russian likely will have to get past Richard Gasquet and Milos Raonic on his way to the quarterfinals. If he does, he could face fourth-ranked David Ferrer, whom he has defeated twice this year.

Sorana Cirstea

Cirstea has slowly climbed into form this season and has peaked just in time for the US Open. She reached the semifinals of Stanford and the Rogers Cup final, defeating elite players such as Caroline Wozniacki, Jelena Jankovic, Petra Kvitova, and Li Na on her way. Cirstea could again meet Jankovic and Li in the third and fourth rounds respectively in Flushing Meadows.

Yeshayahu Ginsburg

John Isner

Is Isner too obvious a dark horse? He played the best tennis of his career in Cincinnati, he smartly sat out Winston-Salem this year, and he has a fairly manageable draw. Isner will have crowd support and get himself to tiebreaks, where he usually has the edge. Getting past Nadal in the fourth round poses a huge test, though.

Sorana Cirstea

Cirstea has impressed me ever since her quarterfinal run at Roland Garros as a teenager in 2009. Unfortunately for her, she has not been able to consistently keep up a level near that. However, she has been playing well recently and has a favorable draw to make a great run here if she can keep her form up.

David Kane

Ernests Gulbis

The mercurial Latvian is having a career year, and he has an opportunity to build on that momentum in the section with slumping world No. 4 David Ferrer. Gulbis has claimed three top-10 wins in 2013 (including last year's US Open champion, Murray) and gave Nadal all that he could handle at Indian Wells. How he deals with the pressure of expectation will tell a lot about his future prospects as a big-stage stalwart.

Kaia Kanepi

When the big-hitting Estonian is healthy and playing a major, watch out. Kanepi made a splash earlier this summer when she reached a second Wimbledon quarterfinal, and here she is drawn against the same big name whom she upset there in Angelique Kerber. Kanepi has struggled with chronic injuries, but she still has the game to get to a major semifinal or beyond if everything clicks over two weeks.

Nick Nemeroff

Jerzy Janowicz

Coming off a Wimbledon semifinal, Janowicz has demonstrated that he knows what it takes to make a deep run in a major. In this year's US Open, the Polish sensation is in the Gasquet/Ferrer quarter, undoubtedly the easiest section of the tournament. Both Gasquet and Ferrer have fallen well short of their best form recently.

Simona Halep

Simona Halep has won 15 of her last 18 matches while recording two significant wins over Samantha Stosur and Marion Bartoli in Cincinnati. Halep finds herself in the Wozniacki/Errani quarter of the draw, its softest section, and could make a push to the semifinals if she plays her cards right.
Looking for a full breakdown of the US Open brackets? Check out Chris Skelton's quarter-by-quarter previews of the US Open men's and women's draws elsewhere on this site.