How Local Hosts Make the Central Coast Pro Tennis Open

Templeton, California is a small community with a population hovering around 8,000  residents. Tucked between rolling hills of the Central Coast wine country lies the Templeton Tennis Ranch, which just hosted its second annual Central Coast Pro Tennis Open. The tournament is an ITF/USTA Pro Circuit 60k women's tournament.
While most of the draw was composed of American players, others came from as far as Norway, Brazil, and South Africa. No matter how far the players traveled, how far into the triple digits their rankings may stand, when they finished matches, they could be seen walking to a small cheering section. With hugs and pats on the shoulder, players celebrated victories and found consolation after defeats. It's a familiar sight at Grand Slams, where players can commonly afford to fly out an entourage to cheer them on, but most players at the 60k level travel alone. So, whose arms are they running into after each match The local hosts who have become an integral part of the Central Coast Pro Tennis Open and other stops on the circuit.
The individual sport is often lonely, especially for players who are not in a position to bring coaches and family along throughout the eleven-month tennis season. After a successful first year, Templeton quickly got a special reputation among players. Asia Muhammad, who won both the singles and doubles championship, took that into account when making her schedule: "it's been such great support the whole week, which I think is a big thing. And for us, before I even came to this tournament, I've heard nothing but good things, which made me want to come. They take care of the players well, the facility is nice, the player party was really cool, so I think just those little things." After her victories, she took a moment to thank the family that welcomed her into their home and explained: "this week I'm by myself and it's nice to be staying in housing, just having other people around you and staying with a family, it kind of feels like you're at home."
American Madison Brengle shared Muhammad's sentiment. She spoke about the town as though she was there on vacation: "The coffee here is good, the food is good, the wine is good, so I'm very happy. And I'm staying with a really nice family for housing this week and they gave me a little tour of the downtown, so I know where to go." Speaking for the players as a collective she said, "we appreciate getting to play here. I hope the members enjoy it." With a hint of glee, she added, "I heard some of them talking, and they said they were only going to stay for one match, but they stayed the whole day because they were enjoying watching the level."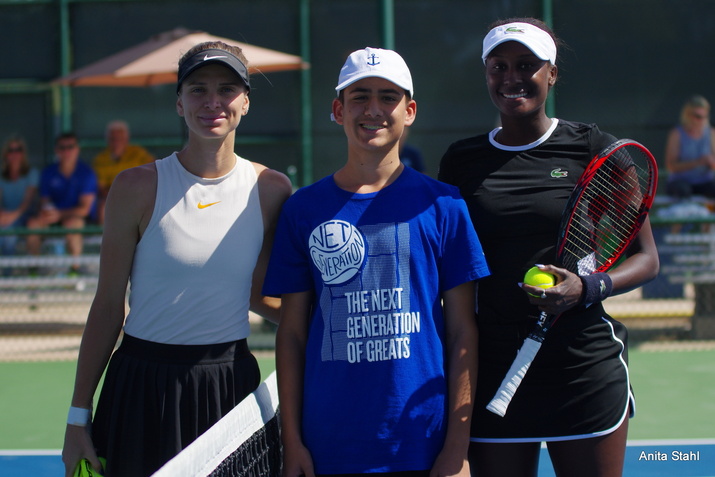 While it was clear throughout the week that the players appreciated what the local community is giving to tennis, they were also concerned with what the addition of a professional tennis tournament can do for a community. Brengle was optimistic about what such an event can do for a small town: "I think, especially for the kids that are out here, the ball kids, they get to see this level of tennis and I feel like that's all around good. They were doing high school visits with some of the kids and I feel like any exposure to this level of sport is going to be inspiring for kids looking at it."
Speaking to a local host and community member, it is clear that the appreciation goes both ways and strengthens the global tennis community. Jit Mott was one of the local hosts: "I think it's just such a great way to help build a program. Being such a small town in a smaller area, it really helps to put us on the map and have people all over the world being able to come to Templeton for a tournament like this and for us to experience all of this internationally and just I think it's great for tennis, great for our community, and just great for everybody all around."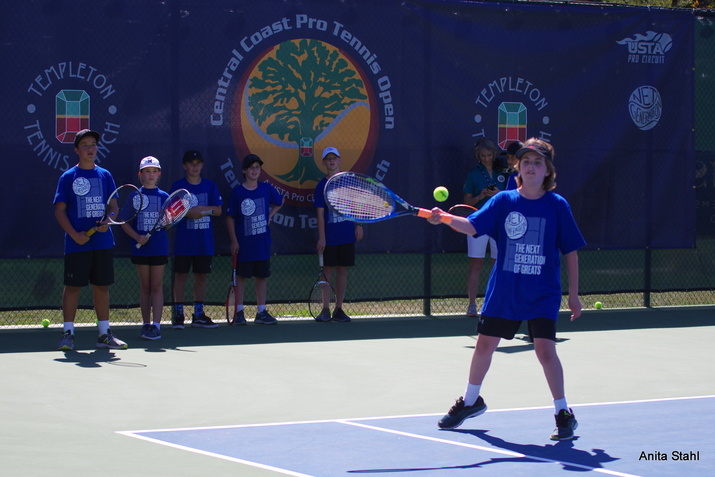 Players built such positive relationships with their local hosts last year, that for many there was no question about being invited back. Naomi Broady, a British player who was eliminated in the first round, lingered around the area for days, staying with the same hosts as last year and spending her days wine tasting and ziplining, but also joining in to drop the kids off at school in the morning. Jit Mott had also had an immensely positive experience last year, though from a hosting perspective: "We had Amra Sadikovic and then we also had Quinn Gleason. So we had that experience last year, and this year they were coming back, we were so excited, it just made the experience twice as great since we got to see them again and so I was able to host them."
At smaller tournaments, far away from the million-dollar purses, hosts play a vital role in tennis. At minimum, they enable more players to tour when they are not earning enough to stay at hotels for weeks on end and already have to pay for flights around the globe. At its best, the hosting system allows players to feel more at home on the road, it creates local fanbases that motivate players and help tournaments, and more than anything it strengthens the global tennis community.