How Bartoli Beat The Best + Isner Reaches New Heights

Isnet Reaches New Heights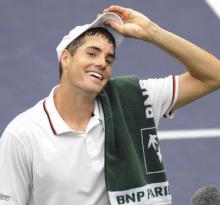 When John Isner beat Novak Djokovic in the semi-final match of the BNP Paribas Open, he was the first American to beat the world No. 1 since James Blake beat Roger Federer in the 2008 Beijing Olympics. The 7-6, 3-6, 7-6 victory over Djokovic catapulted Isner into the top 10 world rankings. At 26, the college graduate says his body has less wear and tear than his counterparts who turned pro in their teens and that his best tennis is yet to come. "I don't quite have the miles on my body that a lot of other players have because I haven't been out here since I was 17 or 18. I did surprise myself, but now that I am inside the top 10, I feel like I do belong there. I want to try my best to, you know, stay in the top 10 for a while." Djokovic validates Isner's ranking, saying a player with his excellent serve, forehand and court instinct belongs 4March 17, John Isner, the BNP Pariba Open, Indian Wells semi-final against Novak Djokovic. in the top 10.
MARION BARTOLI snapped Victoria Azarenka's 26-match winning streak, March 28, during the Sony Ericsson Open in Miami. Bartoli, 27, who uses two hands to stroke both the forehand and backhand and is coached by her father, says self-belief, going for her shots and having a game plan were the keys to her 6-3, 6-3 victory. "It was a very demanding match on the fit- ness side. I think I had to really run a lot, especially from side to side. She's playing extremely early and really put a lot of pressure on you," said France's No. 1 WTA player.
A disappointed Azarenka explained she was tired from playing back to back tournaments and that an eventual loss was inevitable.
"Physically I was just not able to do anything today. It was just not possible. You know, I'm a human, not a super woman, and I wish I could be, but I'm not (smiling)."
A Secret Weapon?
Part of Marion Bartoli's secret weapon to beating Victoria Azarenka in Miami may have been her new rac- quet. Bartoli, who suffers from occasional pain in her serving shoulder, says she switched from the Prince EXO3 Black to the Prince EXO3 Warrior prior to the Sony Ericsson Open event wanting more power. "I feel like my ball is going faster, and I don't have to put so much ener- gy into my shots to get more power. So I think switching racquets was a real bonus for me, and it helped me throughout this tournament," said Bartoli. Could your game benefit from a new racquet too?
This article is from the May / June 2012 issue

SOLD OUT

Subscribe now and you'll never miss an issue!