A Healthy Nishikori Takes Brisbane Title

World No. 9 Kei Nishikori of Japan is the winner of the 2019 Brisbane International. This was Nishikori's first title since February 2016, where he won in Memphis, and his twelfth overall. He finally broke this title drought with a 6-4, 3-6, 6-2 victory over 22-year-old rising star Daniil Medvedev of Russia, who is currently ranked world No. 16, but likely to break into the top ten this season.
In 2015, Nishikori was ranked world No. 4, but he's quite injury-prone and has been in a finals slump, losing his last nine. He's now healthy and after his win in Brisbane, he should be full of confidence going into the Australian Open.
Nishikori is a great mover and great fun to watch. He's usually a counterpuncher but moves forward when he gets the chance. He has a good serve, but he's only 5'10" and that puts him at a disadvantage, since the guys on tour have become so tall. Even Federer said about the players getting taller, "It's not fair." But he went on to explain that what's really impressive is that the big guys are moving so well.
Medvedev is a big guy—he's 6'5"—and has a big serve and moves very well. He's won three ATP titles in 2018, including beating Nishikori in Tokyo 6-2, 6-4 in the final.
Nishikori's nine-match final losing streak must have been in the back of his mind because he got off to a shaky start, losing the first three games. Medvedev, though, looked calm, looked like he belonged there.
I kept hoping Medvedev would change his stance on his serve, moving close to the tramlines, as he'd done often this week with great success, creating sharp angles, but he did not. In fact, he only did this once in the entire match, and he served into the body. Perhaps he thought Nishikori was just too good a returner for this ploy to work.
When Nishikori served at 0-3, he lost the first point, but in the second point, he hit a terrific crosscourt backhand. Though the game went to deuce, he served well and began to find his groove on the rallies and held.
In the next game, Medvedev served a booming ace down the T, but Nishikori, after a long rally, got the ad, and then the break. They were back on serve.
Nishikori held and hit one of his best shots, the jumping backhand down the line. He did this a few times throughout the match. It's a timer. If the ball is short, you hop into it, taking it early, going towards the shot. You use the timing of the jump with the timing of the ball.
Now, Nishikori was dictating play and Medvedev was making mistakes. Nishikori broke for a 4-3 lead, then held his serve with an ace for 5-3. Medvedev was able to hold his next service game, though Nishikori had the momentum, hitting incredible back-to-back crosscourt backhand and forehand winners. Nishikori served out the first set at love, with an ace and another amazing backhand crosscourt winner.
In the second set, in a critical game at 2-2, Medvedev saved four break points and held with an ace.
But when Nishikori served at 2-3, Medvedev netted a forehand and in frustration threw his racquet on the court. Then he missed a backhand and bounced his racquet off the court again. Then he missed another shot long and bounced his racquet four or five more times and put his hands to his side, looking baffled, looking at his coach, as if to ask, "Why am I missing these shots?"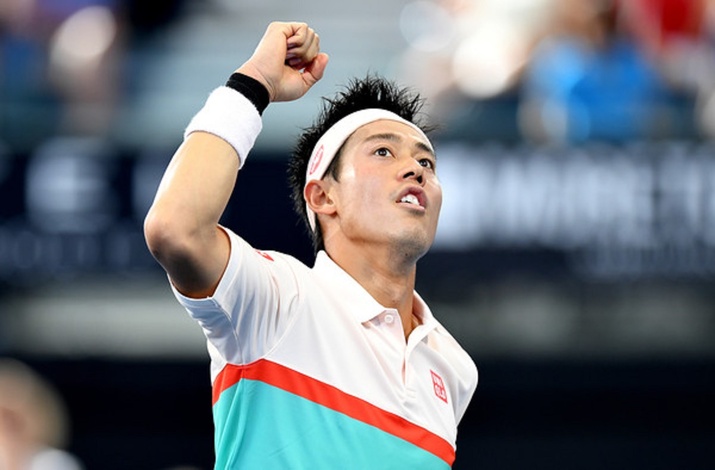 It just looked like Medvedev had completely lost focus. Nishikori held serve.
In the next game, Nishikori had a break-point opportunity, but he couldn't convert, and the Russian got ahead 4-3. Medvedev was now calm, hitting a backhand winner down the line to break for 5-3. He then served it out to level the match.
In the deciding set, they stayed on serve until Nishikori got the break for 3-1 and then got another break at 5-1. But Nishikori was unable to close—partly because Medvedev had nothing to lose and was swinging freely. He took a risk that paid off in demolishing a baseline overhead from a very good lob by Nishikori. Medvedev broke at love.
At 2-5 down, Medvedev was still swinging freely, taking risks, but this time it didn't work. Nishikori was just too steady in his returning, hitting another incredible backhand crosscourt. Medvedev lost his serve at love, losing the championship match.
Afterward, during the awards ceremony, Nishikori looked so happy, smiling, lifting the trophy. He said, "Thank you. I'm really happy that finally I won this title. It's been like seven or eight time being at this tournament. Thank you for support today. Congrats to Daniil having great final today. I actually lost to him in last year in final in Japan so lovely to having revenge today, but hope he have a great season."