Hawkeye - The Facts Behind The Controversy

Hawk-eye line technology has been around for a very long time. It can be easily forgotten that in the early days of its use in Pro-tennis, it divided opinions between fans and players alike. In this article, we explore the opinions of top players on the effectiveness of Hawk-eye and how these opinions align with the practical realities on the ground.
Roger Federer:
"What can I say? If I'm going to go against it, people will always say he doesn't agree whatsoever, I don't know how they developed this machine, if they took all possibilities into account, like the way the ball travels, the way it bounces, 3D, the whole thing… "
Hawk-eye is a tried and tested system. It was first conceived and developed by 2 scientists in the United Kingdom, Paul Hawkins (who has a doctorate in Artificial intelligence) and David Sherry in 2000. Initially, Hawkins and Sherry intended to patent their technology but instead, it was purchased by a company, Hawk-eye Innovations Ltd. The plan was to use it for cricket to track the flight of the ball to see if and exactly where it hits the stump. It was expected that this would make the game more enjoyable for viewers. It is still widely used in cricket today.
Roger Federer:
"I told the umpire I was happy Nadal was going to challenge because I knew the ball was out. Then to see that it was in on a 30-All point, which was such a huge point, I was shocked, of course, that it was inside. "But, you know, it doesn't matter what I think about it anymore. It's in place and that's the way it is.
Hawkeye was first used in a major tennis tournament at the 2006 US Open after undergoing extensive tests by the International Tennis Federation (ITF) in New York. At the time calls had been made in many quarters for the introduction of line technology after the controversial match between Serena Williams and Jennifer Capriati at the 2004 US Open. Who can ever forget that tennis match? Chair Umpire Mariana Alves made a series of outrageous calls favoring the eventual winner Capriati. Unfortunately for Alves, even network TV camera replays showed that several of the contentious shots had been landing in. The replays were seen live by millions of viewers at home sparking huge protests. Alves was barred from the rest of the tournament while Serena received an apology from US Open officials.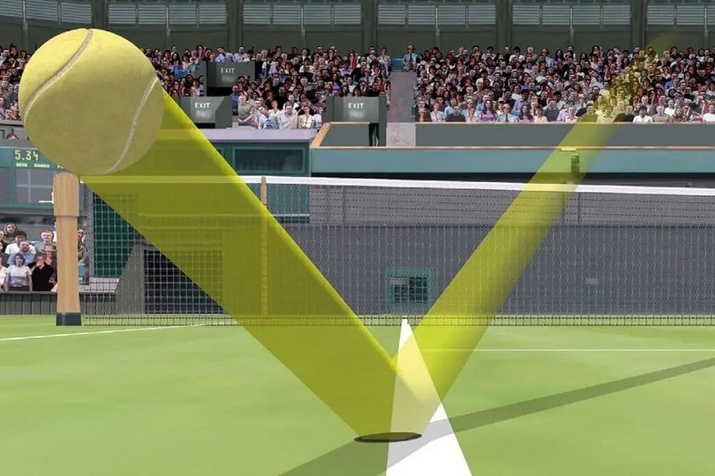 Jessica Pegula
"We were like, this obviously isn't right,"
"Hawk-Eye clearly messed up. If you saw the ball land, that's not where the mark was at all. We switched sides and were arguing with them and the umpire got a call from whoever works the Hawk-Eye and said, 'Actually you are correct, Hawk-Eye was wrong. The ball was out.'"
Hawkeye is truly a ground-breaking technology but it is not infallible. It has its fair share of glitches just like any other advanced technology. The dispute mentioned by Pegula above is a classic example of this. The good news is that the technology is being improved all the time.
Jessica Pegula
"If we wouldn't have fought about it, it probably wouldn't have happened because the umpire just goes with what Hawk-Eye says. So there have been some discrepancies here."
As true as it may appear, it's no surprise that Hawk-eye technology is less than perfect. Actually, it's correct 99.9% of the time. Technical glitches have appeared in some matches over the years since its introduction in 2006. What cannot be denied is that it is far more reliable than the human eye.
Rafael Nadal
"I don't want to create controversy, but I think the traditional court with line judges looks much nicer,
"Novak said line judges were not needed. All opinions are respected. There are different visions of the sport, but for me I like it less without line judges.
"It's welcome here so we can adapt to the circumstances but if you ask me towards the future I prefer line judges. It's true the sport has not changed many things in the last 50 years, compared with the majority of sports, but I don't think this is a way to improve the spectacle of our sport."
In this statement, Rafa addresses the human angle of the sport. Tennis is as traditional as any modern sport can be. In fact, there have been no significant changes to its rules in 50 years - the introduction of Hawk-eye. But has Hawk-eye negatively impacted the popularity of the sport as claimed by Rafa? For one thing, Hawk+eye was never meant to replace Line Judges or Chair Umpires. Instead, it is meant as a final resort in resolving disputes between all parties, players, and officials.
Rafael Nadal
"The technology is there, it could be just the two of us in the court if we want. But I think the human side gives some more value somehow to the sport."
One of the facts ignored by many opponents of Hawkeye is that tennis for many years was played without umpires and line officials until the modern era. The 2021 Australia Open tournament was played entirely without officials using only the new Hawk-eye Live system with a modification allowing it to make real-time calls with computer-generated voices. Its introduction was accepted by players such as Naomi Osaka and Dominic Thiem. An argument can also be made that Hawk-eye has added much more drama and suspense between points. Fans are more engaged in matches and the game's popularity and viewership is growing.
Novak Djokovic
"The technology is so advanced right now, there is absolutely no reason why you should keep line umpires on the court. That's my opinion,"
Nobody says it better than Novak Djokovic. Arguably no other player has done more for the benefit of players than he has. The systems inventor Dr. Paul Hawkins reminds critics that one of the main benefits of Hawk-eye has been it's ability to create an environment that removes the emotional pressure from officials and places the destiny of the players back in their own hands.
Novak Djokovic
"Of course, I understand technology is expensive, so it's an economic issue and a question mark. But I feel like we are all moving towards that, and sooner or later there is no reason to keep line umpires."
This is a reasonable concern being expressed by Novak here. However, we have to remember that so far all regulatory bodies in tennis the ATP, WTA, and ITF have been in close solidarity on the need to deploy line technology. A decision has been made for all tournaments to have line technology introduced by 2025
Jim Courier
"Close calls can damage not only a match but a player's career. This technology will help the best player, as opposed to the luckiest player, come through. There is this great myth that bad calls balance out over time. But you might get a bad call in the second round or in the final. It can never really balance out."
Hawk-eye is incredibly accurate. Hawk-eye doesn't show where the ball lands. Instead, it is able to calculate where the ball is going to land and its exact point of contact. To achieve this it uses a complex computer algorithm based on such factors as speed of the ball off the racket, ball trajectory, spin, skid, and wind velocity. Hawk-eye manufacturers claim the system is accurate to the degree of approximately 3.6mm.
John McEnroe
"I think that tennis is one of the few sports where you don't need umpires or linesmen. If you have this equipment, and it's accurate, isn't it nice to know that the correct call's being made?"
Had I had it from the very beginning, I would have been more boring, but I would have won more."
The fact is, tennis just like all other sports has evolved over the years. It's still recognized as one of the more traditional sports. Yet, rackets have evolved from to metal to super light, super strong composite. Footwear has evolved from plain sneakers to durable materials with high-performance rubber out-soles. Even the training, dietary, and pre-match preparations of today's professional players are more advanced than the likes of McEnroe could have ever imagined. And it will continue to evolve.
Just as the great Lou Holtz once said "Nothing on this earth is standing still. It is either growing or it is dying."
May the sport of tennis continue to grow and evolve for the benefit of recreational players, professional players, and fans.