Harrison Makes His Mark In Delray Beach

In the most amazing win of his career, American Christian Harrison, world No. 789, knocked out top seed and world No. 22 Chilean Cristian Garín 7-6 (3), 6-2 in the round of 16 at the Delray Beach Open.
In his post-match press conference, Harrison (who's had eight surgeries, the worst on his shoulder) said: "I missed a lot of time, but it gave me a lot of perspective on life as I was getting older. Right now, it's a big win, but I enjoy what I'm doing and I'm lucky, and I think I was lucky to always keep practicing during Covid.
"I was in a situation where I had neighborhood courts that I lived on. They were walking distance away from my place. I just love the sport and love what I'm doing. And I just can't wait to keep playing and hopefully have a good healthy next couple of years."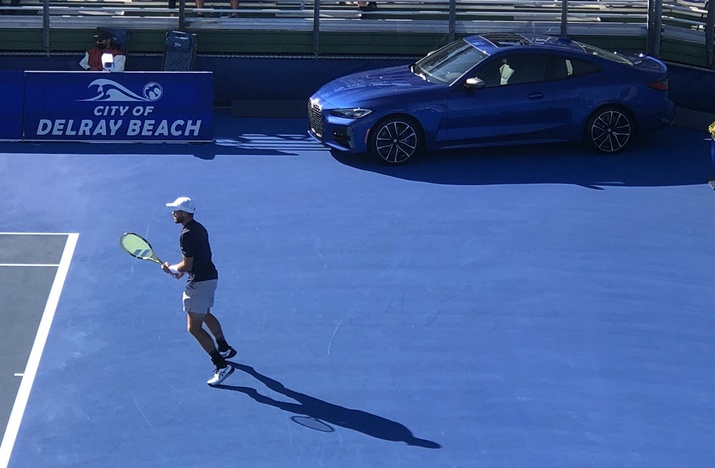 Harrison, who's a smooth player and a pleasure to watch, got down an early break for love-3, but was able to hold and break back and hold for 3-all.
In the next game, it felt like the momentum was shifting back to Garín, as he held and gave a confident fist pump. But then Harrison, serving at love-40, managed to hold for 4-all. In the next game, Garín escaped a break point and held for 5-4. Harrison then held at love for 5-all.
The conditions were windy and cold. You could hear the wind rustling through the palms. Harrison was hitting with great power and had great margin with all of his topspin.
At ad-out, from sliding on the hard court, Garín broke a shoelace and had to change his shoes. Harrison casually sat down in the corner and waited. Harrison broke for 6-5.
Harrison hit a scintillating forehand down-the-line winner for 40-love, but then Garín hit an incredible pass down the line and broke for 6-all.
In the tiebreak, Harrison was down 1-3, but hit a deft drop shot (one of several he'd hit in the match) with a lot of backspin. 2-3. Then Garín missed a backhand crosscourt pass. 3-all. After that, Garín netted a forehand and Harrison hit winners to take the set.
In the second set, in sun and shadows, Harrison was serving at 2-all and held with an ace down the T. He then broke for 4-2 and held at love for 5-2 and broke at ad-out, winning the match of his life.
Cristian Garín is a very solid player. He has a big serve and big forehand with heavy topspin. He's a good mover with a good attitude on court. But on the hard courts of Delray, he did not like the conditions.
Garín, in his press conference, said: "When I got here, the first practice I felt very uncomfortable with the conditions, the first time I see a kind of ball like that. I have no bad feelings because the conditions were horrible. With these conditions, anything can happen. I was playing very good before. I played bad today. I have to just think about the next."
Harrison, who is into his first ATP Tour singles quarterfinal, said: "The best win rankings-wise and emotions-wise. There was a lot of stuff going through my head, especially right after. I haven't even thought about it too much. I don't really feel like too many crazy highs right now. I know I'm just going to do the exact same thing tonight. I'm going to go home and eat sushi, probably sit outside where I've been sitting, might get a little Starbucks, and then mess around on my phone and talk to some friends and just do exactly what I've done the last couple nights."
Talking to reporters in the mixed zone, after just coming off the court, Harrison said: "It was amazing. Honestly, Delray's my favorite place to play. My brother [Ryan Harrison] had success breaking through here. For me to start breaking through here also, it means a lot."
Regarding his spectacular drop shots, Harrison said: "I was working a lot on my hands [in the off-season], just different styles of the game each day, so that now when it got to matches, I felt like I was doing a good job stepping into the court, so then I could sense my opponents retreating a little bit. It wasn't anything I was planning on. It was just more reaction. I just saw it and felt it."