Harris Upsets Nadal At Citi Open

In the match of his life, 24-year-old Lloyd Harris of South Africa defeats No. 1 seed and world No. 3 Rafael Nadal 6-4, 1-6, 6-4 to reach the quarterfinals of the Citi Open in Washington, D. C.
Harris, who is ranked a career-high No. 50, becomes the first player to win his first meeting with Nadal since 18-year-old Canadian Denis Shapovalov upset the Spaniard in 2017 in Montreal.
Harris, who is six foot four, has a phenomenal serve. He has a low ball toss and a fast motion, which makes it extremely difficult to read. For the match, Harris served 16 aces and only three double faults. He also has a ferocious forehand and a fine backhand and is able to mix up his shots with creative variety, occasionally throwing in a serve and volley.
Nadal looked spectacular at times: short flick passes down the line and crosscourt; high, heavy forehands; aces out wide; fantastic feel at the net.
The good news for Nadal is that he played a healthy match. Perhaps he was a bit rusty from not enough matches, but Nadal likes repetition and the more matches he plays, the more his confidence will grow and the more aggressive he will become.
In his post-match press conference, Nadal said: "The most positive thing is my foot was better today than yesterday, so that's the best news possible. I played against a player that played well.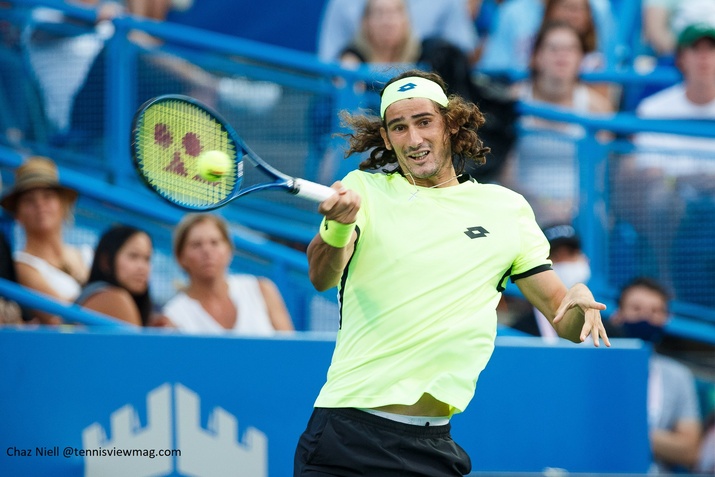 "For the moment, I think I played better than yesterday, but, yeah, I mean, in the third when I had opportunities, the true is his serve was huge and I played this last game really bad.
"So that's the sport. You can't have mistakes in the key moments, and in the key moments I think in the last game, yeah, I was a little bit more nervous. My serve was not working the proper way.
"And that's it. Yes, well done for him. Is a great victory for him. I wish him all the very best."
Nadal was highly complementary of his time at the tournament. "Well, is great, the expectation that we have here since the beginning, have been an amazing atmosphere. I can't thank enough all the people here in Washington. Honestly, the support have been huge, and, yeah, the level of energy, too, no?
"Well, have been amazing, no? Be in Washington for the first time, see how passionate the people is here about our sport.
"As I said before, no, the most painful thing is not be able to be on court again tomorrow in front of this amazing crowd, no?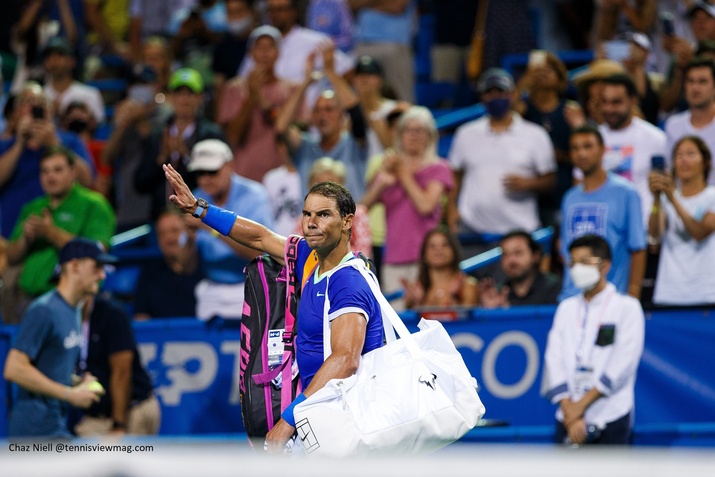 "But I take a great experience for me, I was able to know a new city. For me a very important one. I enjoyed, and the support and the love of the people will stay for me."
In his press conference, Harris said: "I have had some big wins, and this year I have beat some Grand Slam champions, but to beat a 20-time Grand Slam champion, and especially in front of a full crowd and with such an amazing atmosphere, it was definitely something very special."
Next up for Harris is Kei Nishikori of Japan, a former world No. 4.
Harris said of Nishikori: "Kei is also tremendously tough opponent. I had a really difficult match with him in Dubai. Luckily, I got the win there, but I do know he's playing really well.
"I got to see a lot of his match today. It's going to be a very tough battle and I think a very different game style than I faced today. It's going to be a new challenge and I look forward to it."