Halep Rolls To French Open Final

Simona Halep has been right on the brink of Roland Garros glory but has twice been denied. She lost in the final of the French Open to Maria Sharapova in 2014 and Jelena Ostapenko in 2017. She will have another opportunity to break through for her first major title after defeating Garbine Muguruza 6-1, 6-4 in the semifinals.
It was an impressive performance for the Romanian who was fast out of the gate and her precision ball-striking created angles that moved the Spaniard around the court. She dampened Muguruza's first-strike game, taking away her strength.
With the crowd on her side with chants of "Si-mo-na", Halep raced out to a 5-0 lead in the first set before the 2016 Roland Garros champion could get on the scoreboard.
Muguruza finally found opportunities to play her style in the second set and the two players went toe-to-toe as the Spaniard struck big groundstrokes while Halep counter-punched and took her shots when an opening arose.
Then, with Halep serving at 4-4, Muguruza looked poised to take control of the set with three break point opportunities. But Halep kept her poise, fought them off, and won the 13-minute game. That seemed to take the wind out of Muguruza's sails as Halep followed by breaking at love, taking the match.
Halep was pleased with her performance, "I knew that I have to be aggressive like her. I knew that she's gonna start the match with a lot of power," she said. "I was strong on the legs. Also, I pushed her back. I feel like I played so well opening the court. It was a very good level, the whole match, even if the first set was 6-1. She didn't give up a point. So, it was very nice to play like that."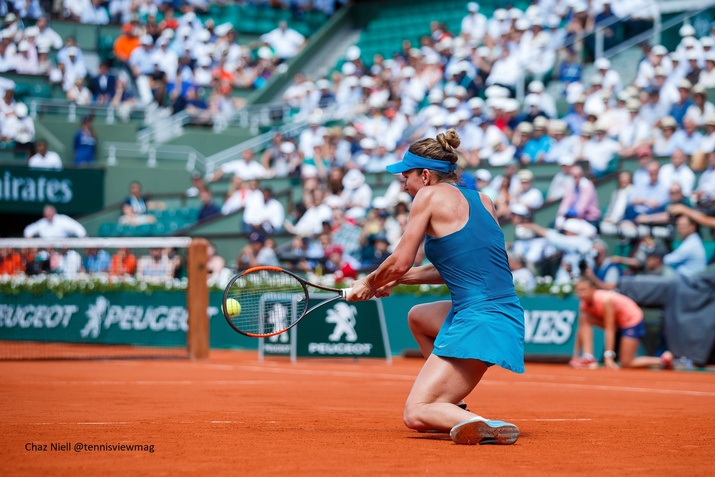 The 26-year-old has reached a major final for the fourth time and is looking for her first win after losing twice in Paris and earlier this season in Melbourne. She will face American Sloane Stephens for the title on Saturday.
When asked about the previous losses, Halep responded with a smile, "I lost three times until now and no one died, so it will be OK. I think I will be more confident because I have a lot of experience. But in tennis, you never know, so I will stay chilled."