Halep Rallies into Indian Wells Semifinals

Size isn't always everything, even in a WTA Tour populated by statuesque women. Despite their small frames, Simona Halep and Carla Suarez Navarro have carved out their share of successes over the last few years with expert counterpunching and gritty tenacity. The slow hard courts at the BNP Paribas Open suit the games of these women raised on clay, one in Romania and one in Spain. While Halep reached her maiden major final at Roland Garros last spring, Suarez Navarro claimed a title elsewhere on the terre battue and also notched a quarterfinal in Paris.
The Spaniard's flamboyant one-handed backhand, reminiscent of Justine Henin, is a more aesthetically stunning shot than anything in Halep's arsenal. As shown by their respective rankings of No. 3 and No. 13, however, the Romanian has been the steadier and more consistent competitor throughout the tour's grueling calendar. She has regularly advanced deeper than Suarez Navarro at significant events and fared better against elite opponents. On the other hand, Halep admitted that she entered this tournament with something to prove. Her otherwise sparkling 18-2 record this year included a mental collapse against Ekaterina Makarova in an Australian Open quarterfinal. Halep holds herself to a higher standard than the effort that she showed in that key match, which left her with something for which to atone.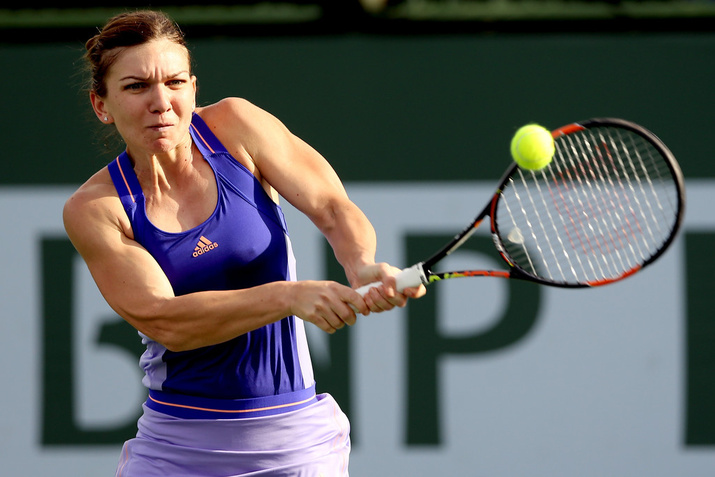 Plenty of long rallies could be expected from two women who usually deploy the serve as a point-starting shot rather than a weapon of their games. Each of them had survived two three-setters at this tournament that showcased their fitness and resolve. They entered their ninth meeting with an even 4-4 head-to-head. Five of their eight previous matches (and three of four on hard courts) had reached a final set, so there was every reason to expect a hard-fought opening quarterfinal.
Tense at the outset, Halep echoed the slow start of Serena Williams a day earlier against Sloane Stephens. She dropped the first four games as her groundstrokes lacked their usual sting. The Romanian fans who gallantly waved flags in a corner of the stadium had little to cheer at first, but they erupted when a deft forehand pass signaled the start of a comeback. Also like Serena against Sloane Stephens, Halep rapidly regained both of the service breaks. Suarez Navarro summoned her coach and seemed to benefit from the opportunity to step back and collect her focus. She steadied her control through the remainder of the first set, holding serve more comfortably than the world No. 3 as it neared its conclusion.
Both women showed a keen sense of the geometry of the court, carefully constructing points to outmaneuver rather than outhit the opponent. Their seamless movement along the baseline, combined with the slow surface, made first-strike tennis nearly impossible. With Halep serving at 5-6, it was Suarez Navarro who broke through with a series of sharply angled forehands to claim the first set. Able to run around her backhand in many of the exchanges, she tried to dictate play with her stronger wing much as she would have on clay.
After losing such a tight set, Halep must have had flashbacks to her defeat on a similarly grand stage in Australia. Now was the time to put it behind her and send a message that she had turned a page.
And that essentially was what happened over the last two sets. Once Suarez Navarro held serve to start the second set, she would win just one game for the remainder of the match. Halep exuded assertive body language despite the adversity, which may have been as much intended to reassure herself as intimidate her opponent. Whereas Suarez Navarro had found more chances to step inside the baseline during the first set, it was Halep who began to take more advantage of short balls as the match progressed. Her only blemish in the last two frames was a sloppy service game early in the third set.
Her lull at that stage was only a brief respite for the Spaniard, however, who was punished for her inability to get free points on her serve. Once Halep settled her nerves and her groundstrokes, she subjected Suarez Navarro to merciless pressure that would have told against any similarly limited server. She had won the mental battle for good by midway through the third set, when the Spaniard desperately challenged a serve that had landed far beyond the line. That moment captured Suarez Navarro's lack of solutions against an opponent who does most of the same things that she does, but all of them a little better.
Despite the lopsided score, this was an entertaining start to the women's quarterfinals. Halep and Suarez Navarro produced plenty of court-stretching exchanges while varying spins and speeds frequently within the same point. Their versatility contrasted with the straightforward slugging of many other women on the Tour and offered a glimpse of why the still-rising Halep already has won many fans around the world. Her next test likely will come against world No. 1 Serena Williams on Friday night, but for now she has much to celebrate by reaching a second straight Indian Wells semifinal and banishing her memories of Melbourne.