Halep, Djokovic Battle to Indian Wells Titles

While the matchup in the men's final at the BNP Paribas Open seemed plausible from the outset, the two women who reached championship Sunday were less predictable. Serena Williams had towered over the half containing Simona Halep, while a host of glamorous contenders such as Maria Sharapova, Victoria Azarenka, Ana Ivanovic, Eugenie Bouchard, and Caroline Wozniacki populated the bottom half. Yet it was another former champion in Jelena Jankovic who survived the competition in that section to meet Halep in the final.
Both women had worked hard to earn a chance to claim the first Premier Mandatory crown of 2014. Despite receiving a walkover and a retirement, they had played seven three-setters between them and spent nearly 17 hours on court. Either Jankovic or Halep would become the first woman since Manuela Maleeva in 1989, the first year of the women's event in the desert, to win the title after dropping her first set of the tournament. Service breaks had proliferated in their matches, running to 81 in total and revealing how much these two women rely on winning protracted baseline rallies rather than free points with their serves. The best results for each had come on clay, which made their strong performances at a very slow hard court less surprising.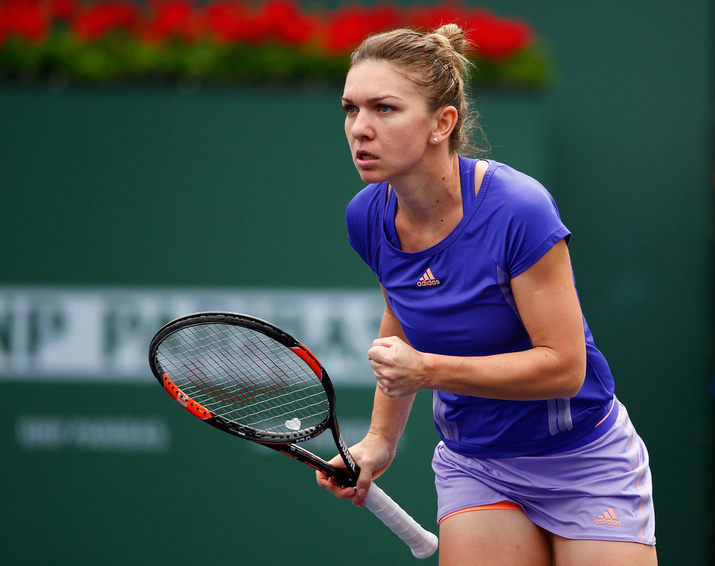 Having received a semifinal walkover from Serena Williams, Halep had not played since Wednesday afternoon. This could prove a double-edged sword, giving her extra practice time but also potentially disrupting her rhythm. She had plenty of personal motivation to win the biggest title of her career here, following the suicide of a beloved cousin in Romania. And she was the favorite entering the final, having claimed her last three meetings with the Serb. All four of their previous matches had reached a third set, however, suggesting that a tense battle lay ahead.
And that proved to be precisely the case, as the two women collaborated on the closest and longest Indian Wells final of the century. A taste of what lay ahead came as early as the first two games of the match, which spanned 16 minutes and 24 points. In another omen of the future, neither woman could hold serve. Jankovic asserted herself as the aggressor in the majority of the points, while Halep counterpunched tenaciously and creatively. Competing cheers from the Romanian and Serbian fans echoed through the dry air.
For most of the early stages, it looked as though the Serbs would exit the stadium happier than their Eastern European rivals. Jankovic reeled off five straight games from 1-2 in the first set, combining her heavier ball-striking with just enough patience in constructing points. Halep led 40-0 and 40-15 in two service games that resulted in breaks, and her inability to finish seemed to diminish her spirits. She posed little resistance as Jankovic served out the first set, putting herself in an enviable position. No woman had come back from losing the first set in an Indian Wells final since 2001.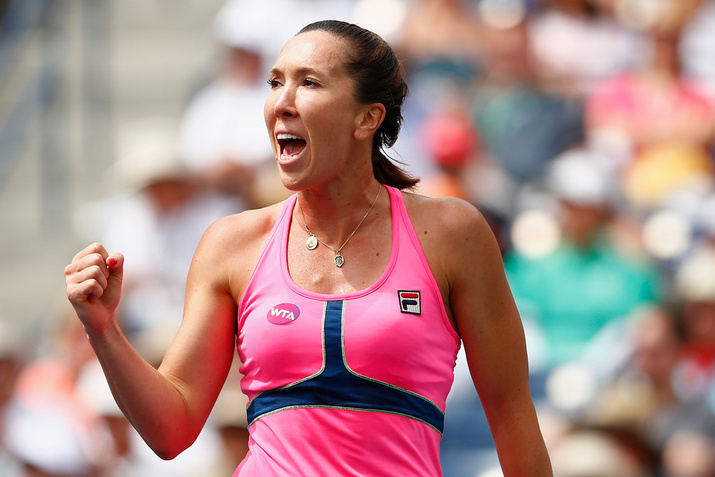 After a medical timeout between sets, Halep did not project encouraging energy early in the second. She fell behind 3-1 as the play grew erratic on both sides of the net. Suddenly, though, Jankovic donated a service game at love in what became the first of five straight service breaks. The rollercoaster gave the 2010 champion a chance to serve for the title at 5-4, but she never earned a match point and repeatedly missed the mark even with her backhand, her most reliable shot. Having come within two points of a straight-sets defeat, Halep redoubled her energies to notch a comfortable hold.
Suddenly behind in the set for the first time in a long time, Jankovic could not collect herself to force a tiebreak. Her poor serving had allowed Halep back into the match, and it would contribute to a set-ending break as the Romanian dragged her through a series of grueling baseline exchanges. In her first tournament after turning 30, Jankovic faced the daunting assignment of keeping up with a much younger, likely more physically resilient foe. The relentlessness of their rallies seemed to take its toll as the match crossed the two-hour mark. Her nerves also began to betray her on some tight swings and faltering serves.
Having dropped serve only once as she built a 6-2 3-1 lead, Jankovic would hold serve only once for the rest of the match. That hold came in her first service game of the final set, after which a string of six breaks rippled across the scoreboard in rapid succession. While sub-standard serving was partly responsible, each woman also played with greater inspiration from the baseline during her return games, and each produced plenty of quality groundstrokes as they probed the angles of the court.
It seemed clear that the next woman to hold serve would win the match. That hard-earned accomplishment belonged to Halep, who recorded the last service hold of the Indian Wells final in a tense deuce game at 3-3. She survived that game more through grit and patience than sensational shot-making, but her elation when she won it revealed how important it was.
Halep's reward was a quick break of serve in the eighth game, aided by a Jankovic double fault. She now had the opportunity to serve for the match, and she fared no better in her attempt than her opponent had. Although she took a 30-15 lead, Halep missed three straight backhands to drop serve. This was the easy part of Jankovic's task, however, and she was unequal to the harder component of holding serve. Halep broke the Serb at love in a somewhat anticlimactic finish to a tense, fiercely contested 2-6 7-5 6-4 victory that lasted over two and a half hours.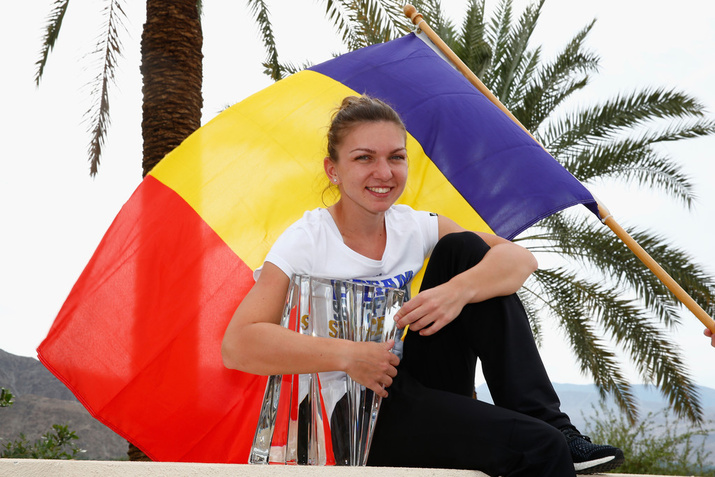 Both women had much to celebrate from the fortnight. In her first tournament as a 30-year-old, Jankovic produced four three-set victories and came within two points of her most significant title since winning this tournament five years ago. With the clay season where she often excels soon to come, it may have gone some distance toward rebuilding her confidence after a dismal 2014 campaign. For Halep, the ability to come through four three-setters, including three comebacks from losing the first set, showed remarkable poise and maturity as she coped with personal adversity to seize the biggest title of her career so far. Having won two notable tournaments in the last two months at Doha and Indian Wells, she continues to prove herself a worthy member of the top five and one of the toughest competitors in the WTA.
Neither of the men's finalists at Indian Wells had anything to prove entering their 38th encounter and second straight final at this tournament. Roger Federer had looked the slightly sharper of the two, but the slow hard court favored Novak Djokovic, who had claimed last year's encounter in a third-set tiebreak. Other than the faithful Serbian fans, disappointed earlier in the day, the crowd clearly favored the Swiss star to reverse the 2014 result.
Federer had dropped only a single service game of the 47 that he had played in the tournament, but he found himself under pressure almost immediately. In a multiple-deuce game at 1-1, Djokovic earned a break point but slightly overhit on a groundstroke. He dropped just two points in his first three service games, however, so he seemed unlikely to rue the missed chance.
Quickly falling behind with three straight groundstroke errors in his next service game, Federer found his back against the wall once more. He battled bravely to save all three break points, two with electric first serves, but a fourth was his undoing. Charging the net behind a solid approach, the Swiss star sprayed the ensuing volley into the doubles alley. It was the first time that he had dropped serve during a daytime match at the tournament. Consolidating the break at love, Djokovic gave his rival no time to collect himself. His first serve allowed him to take command of points from the outset, and Federer's limited ability to transition from defense to offense left him with few options once he was playing from behind in rallies.
Determined to take control earlier in the point, the world No. 2 started to return more aggressively with Djokovic serving for the set at 5-3. He earned a 15-30 opening, only to see the Serb erase it with imposing first serves. Djokovic did not face a break point in the first set and did not drop a point on his first serve. His strong start boded well for the Serb's prospects, since he had won 10 of 11 meetings with Federer in which he had won the first set.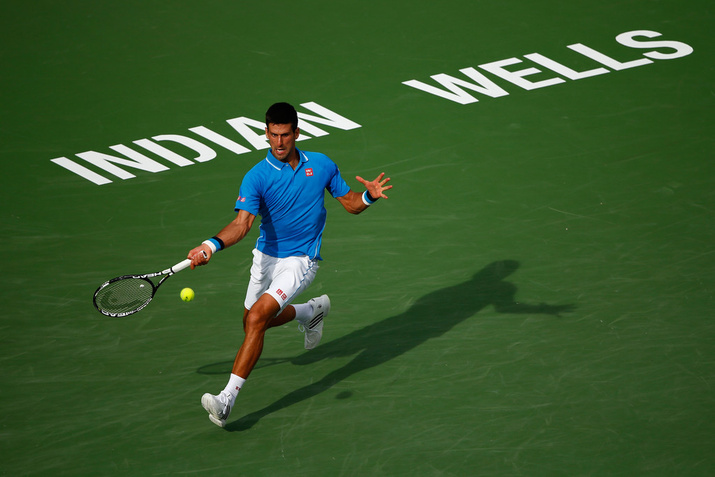 The 17-time major champion was hardly going to fade away quietly, though. He continued to boldly attack the net when possible, trusting in his game plan and execution even in adversity. With a brilliant smash over his shoulder as his body tilted backward, Federer earned his first break point. Sensibly serving to his backhand, Djokovic erased it uneventfully and moved on to hold.
Federer's command now started to crumble in every area of his game. Shanking a smash during his next service game, he smacked a forehand in the middle of the net to drop serve routinely. He persisted in battling the Serb despite the dispiriting turn of events, but two more break points came and went in Djokovic's next service game. At the one-hour mark, the world No. 1 stood within five points of defending his title as Federer faced another break point. This was all but a match point, since a conversion would have given Djokovic two chances to serve for the title. Finding a service winner when he needed it most, Federer stayed within range.
That perseverance paid off in the next game, when a double fault set up his fifth break point of the match. Carefully making Djokovic play through the point, Federer avoided pulling the trigger too early and maneuvered his opponent out of position one well-placed groundstroke at a time. When he regained the break, Federer made sure not to squander the momentum. A love service hold put the pressure back on Djokovic as he served to stay in the second set.
Although he dug out of a tense situation in that game and eventually forced a tiebreak, the nerves were apparent in the Serb's demeanor on the court. His fragility showed in a disastrous close to the second set. Having earned an early minibreak in the tiebreak, Djokovic handed it back with a double fault. But the true humiliation was yet to come. A spectacular defensive sequence earned him a 5-3 lead, and he held the match on his racket a point later. Needing a pair of solid first serves to clinch the title, Djokovic delivered exactly the opposite: a pair of double faults. Federer did not hesitate to pounce with a pinpoint first serve that secured the second set.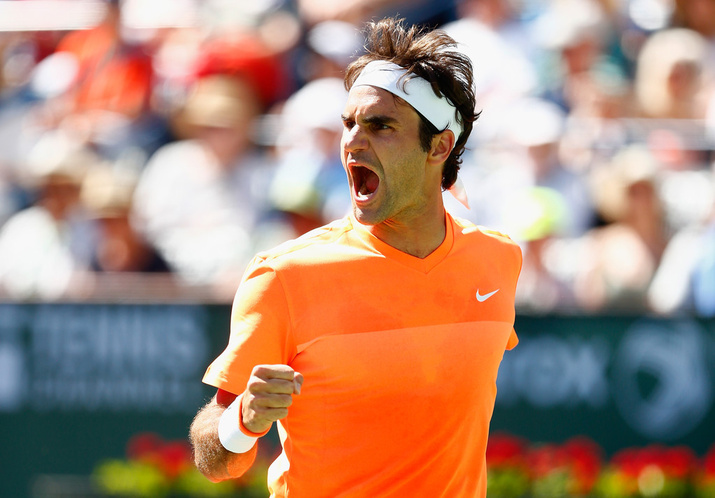 Most competitors would have needed the rest of the match, or even longer, to recover from such an embarrassment. By contrast, Djokovic showed a key reason why he has become the top player in the world: mental resilience. He broke Federer routinely in his opening service game, only to donate his own serve after a multi-deuce battle. Frustrated by his inability to finish off the world No. 2, the Serb smashed his racket as he headed to the chair. A rejuvenated Federer soon drew level in the set, but that would be the last good news of the day for his fans.
Reeling off the last four games of the match with a startling suddenness, Djokovic did not face another break point. His consistency in extended baseline rallies finally wore down the Swiss star, who had kept pace admirably to that point despite a surface less suited to him. Concerned about his opponent's devastating second-serve return throughout the match, Federer felt pressure to make first serves or do more with his second serve when he was forced to use it. He squandered a 40-15 lead at 2-3, a lapse that would determine the match. After missing his first serve on the ensuing break point, Federer went for too much on the second serve and drilled it wide.
With the finish line in sight again, Djokovic would not let his opponent off the hook one more time. He dropped just two more points in the next two games, breaking Federer easily to end the match. It would have been intriguing to know what might have happened had Djokovic been forced to close out the title on his racket, considering his previous struggles on serve. But he deserved full credit for avoiding that situation and playing disciplined tennis in the return game to close out his 6-3 6-7(5) 6-2 victory and capture his fourth Indian Wells title.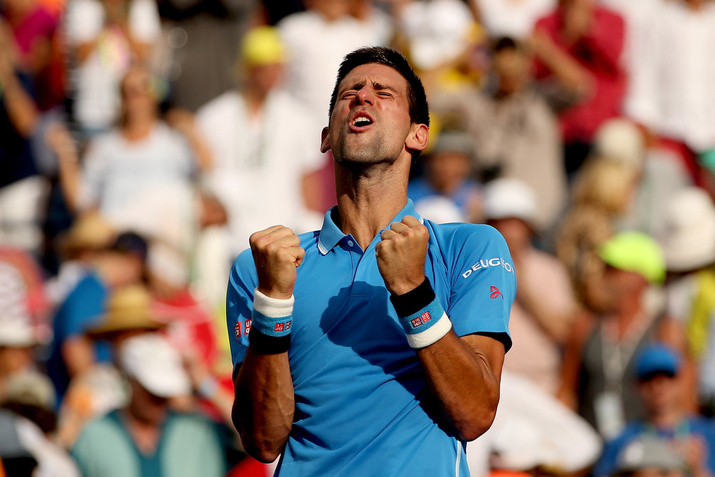 Rather than traveling to Miami, Federer will head home to Switzerland and enjoy the skiing season with his children before opening his clay campaign. He sounded slightly disappointed in his immediate reactions to the match, but he also seemed confident that he would put it behind him quickly. Outside a third-round loss to Andreas Seppi at the Australian Open, Federer's season has been outstanding with finals appearances at all three non-majors that he has played and some of his most consistent baseline tennis in years.
Djokovic's 21st Masters 1000 crown extends another sparkling season for the world No. 1, who will seek to become the first man to complete three Indian Wells/Miami doubles Just as he did in 2011, his career year so far, the Serb followed a title at the first major in Melbourne with a title at the first Masters 1000 tournament in the California desert. Equaling his achievements from four years ago will be no small task, but his ability to defeat two of his three leading rivals in two days without playing his best tennis should be intimidating for the rest of the field.