Halep Defeats Venus, Has Sights Set On Serena Next

With one final crisp return redirected down-the-line for a clean return winner, Simona Halep darted past Venus Williams 6-2 6-3 on Saturday to secure her spot in the fourth round of the Australian Open.
For much of this first week, Halep's route has been a struggle. In the cruelest first round draw against her conqueror in the first round of the US Open last year, she roared back from a set down to secure a tense 6-7(2) 6-4 6-2 victory. In the second round, she escaped with a 6-3 6-7 6-4 victory against USA's Sofia Kenin, the top seed finally produced a top-quality performance.
In the words of Williams herself, it was a flawless performance that showed her at her multidimensional best. Throughout the match, she returned brilliantly, blunting Williams' 115mph+ deliveries and redirecting fizzling return winners off both first and second serve deliveries. She hugged the baseline, moving the elder Williams from side to side and constantly looking to direct the ball back behind Williams at all times. She glided around the court, as she always does. And even her serve came through, carving out free points or setting up short points when they were needed. When Simona Halep plays well, she wins points in many ways.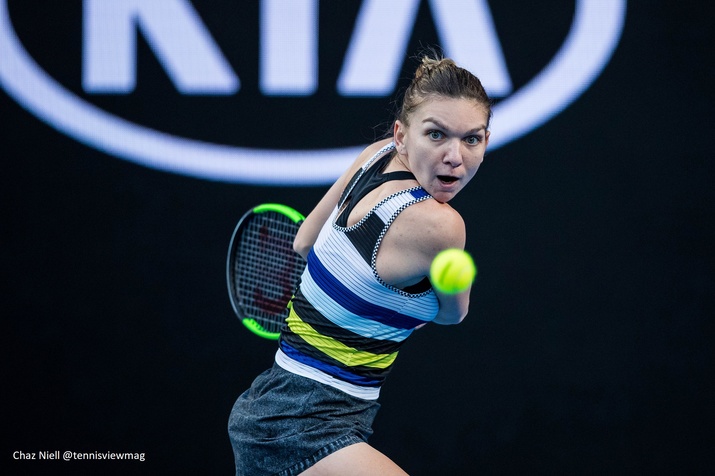 "I think she played pretty flawless today," said Venus Williams afterward. "Only 12 errors. Unfortunately, I had almost three times as many. Just needed to keep my errors down. But she played a great match. "
"I thought about the match in Montreal," said Halep. "I knew that she was injured back then, but I knew I have to play similar tennis, fast, quick, to stay very close to the baseline, which I did great today. Also, to serve well because she returns pretty strong. She stays into the court and takes the return very fast. Yeah, I think I played smart, aggressive, and also, I moved her a lot, so I think that's why I could win."
There is something different about Simona Halep in 2019. A year ago, she was in the midst of a season filled with anguish and release. At the Australian Open, she would exhaust herself across three epic three set matches, two with extended final sets, ending in a heartbreaking finals loss and a stint in the hospital, dehydrated and connected to a drip.
But now everything has changed. In June, she finally captured her first slam title in her fourth final, and then at the end of the year her coach Darren Cahill decided to step away from their coaching partnership. What happens when the greatest source of tension in your life abates and your mentor departs? For Halep, the reaction has simply been to chill.
"Many things changed in myself, inside myself. I try just to enjoy more the life, to be more relaxed, which I'm doing pretty well, and I feel much better. I think I will keep doing it."
After defeating Venus Williams, on Monday Halep will stare down Serena Williams across the net in the battle many have been waiting for. For Halep, the match carries none of the baggage that has exasperated number ones before her who have to deal with the fact that Williams' presence undermines their rank.
"In my opinion, to be No. 1 in the world and to be the best player in the world, it's a little bit different," said Halep. "In this moment, I'm No. 1 in the world, so I will take that. I feel like I have been there many months, many weeks. But for sure she's the best player in the world because she won so many Grand Slams. She's been a lot on No. 1. I cannot compare my results to her. But in this moment, I am confident that I am in this position, and I'm positive about it."
Halep says that the intimidation people prescribe to Williams' opponents no longer applies to her, and the first time the younger Williams was mentioned, her face broke into a smile. We'll see if the positivity will endure on Monday.