Grigor Dimitrov Shows Grass Improvements at Queen's Club

Earlier this week, Andy Murray was in the zone. Asked about the differences between movement on clay and grass, suddenly he descended down a rabbit hole into a speech of all things quads and hamstrings and everything else. Murray went on and on, describing in detail the differences thrown up by clay and grass: the muscles used, the muscles that hurt, the muscles you don't even think about using unless you're a madman trying to kill us all. Don't slide on grass, came the overriding warning cry. Apparently it's inefficient and dangerous and just shouldn't be done as you do on clay. Ever.
Well, Grigor Dimitrov doesn't agree.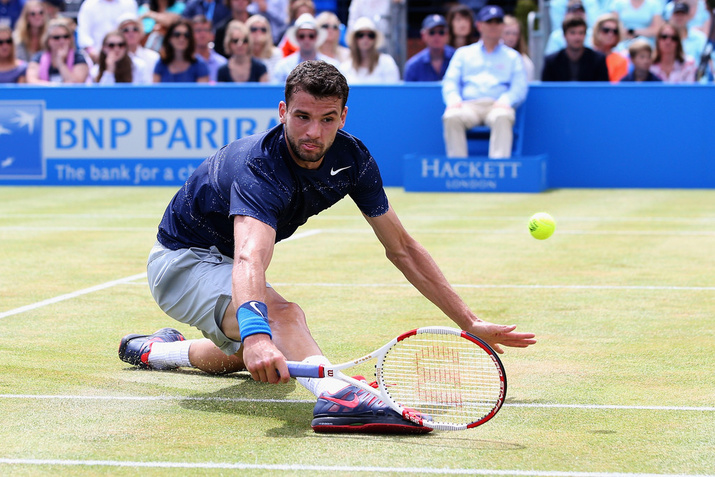 Much has changed since the day the Bulgarian first arrived in Queen's Club. A scrawny 18 year-old shuffled in with a wildcard for his junior efforts a year earlier. Since then, he has grown in height and developed from the inexperienced, bone-thin skeleton of a child into a genuinely chiseled athlete.
What remains unchanged all this while is his sliding to meet forehands and backhands and volleys all the same. Dimitrov is armed with this supremely limber ungainliness that seems to allow him to constantly, relentlessly stumble and fall yet still produce moments of glory from the most unspeakable positions. He's a slippery amphibian in a word of back-boned mammals. His signature move of the left hand frantically searching for balance as he slips from corner to corner, wibbling and wobbling and almost falling over, is present across all the surfaces in tennis. Yet it is never more apparent than on the green he destroys with the zigzag of track-marks tattooed by him into the surface after every match.
At one point this week, Dimitrov chased down a forehand and, upon it sliding out of his reach, dismounted into perfect splits. They were perpendicular to the ground and Djokovician in flawless execution. The crowd, filled with swooning women double his age and more, screamed and cheered and ooed and aahed in unison. Last year it was the turn of the younger generation to fall for the Bulgarian's on-court charisma, the television cameras capturing ballgirls practically reduced to tears. This time he aimed a little higher.
It's unequivocally unnecessary albeit impressive all the same. The skill Dimitrov brings to the court is clear. However, for every jaw-dropping moment of physical genius that forces its way onto Youtube, there are a variety of ways in which he falls flat. For every aerodynamic slide through to an angled forehand, there are so many instances of him slipping off balance and bunting the ball into the net. Is it entertaining? Absolutely. Is Murray right? Probably.
Yet there are sense that things are improving. His decision-making is becoming clearer as he understands the patterns of play that rule tennis with an iron fist. After the ills of the French Open, where Dimitrov was ousted by Ivo Karlovic, he stormed into another final after a blistering performance against a top-three player in Stan Wawrinka. Both men wielded big serves, single-handed backhands, and creativity, but it was, ironically, sure-footedness that proved the main distinction. Wawrinka has never quite appeared comfortable on grass, never in full mastery of his feet and where they should be at every point. For every hit-and-miss slide from Dimitrov, he is undeniably at home on the lawns.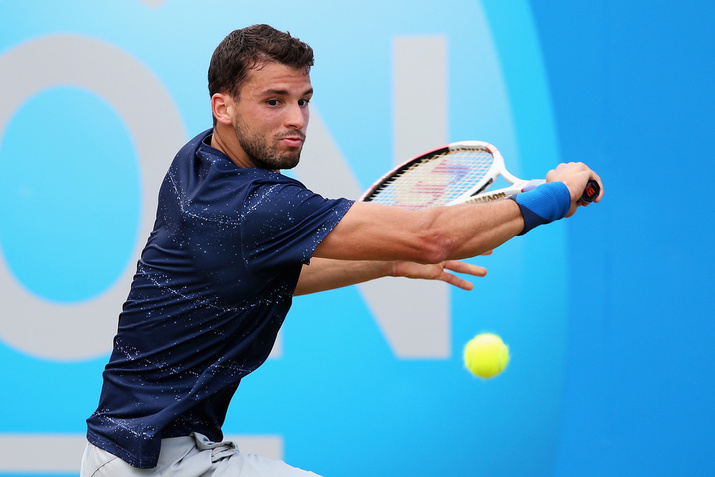 In a world where the top players and pretenders alike come armed with a football team of backbenchers, throughout the tournament only one soul has graced Dimitrov's player box, and there is reason to believe that only one is necessary. In matches, their eyes meet 50 times or more. For someone as unblinkingly positive as Dimitrov it is quite educational to understand just how vital the connection between player and coach is. Unlike many coaches, Roger Rasheed cuts a relaxed figure and says little, the only vibrations from his mouth the single-syllable, half-worded yaps of encouragement. It seems he deems only the mere sound of his voice necessary during matches, not which streams from it.
Most of their exchanges, however, are wordless. And yet for every situation, that vital locking of eyes is all that seems necessary to achieve total understanding. Off the court, they seem to make around like old friends, pranks and laughs plastered over social media. It all appears to be working. Since starting to work with Rasheed, Dimitrov has reached three ATP finals and won them all, and another is on the horizon. Regardless of the result, it appears that his Paris setback was merely a rough patch as the Bulgarian's slip and slide up the rankings continues.