The Greatest Season Ever: A Look Back at Rod Laver in 1969

With the 2014 Australian Open less than a week away in Melbourne, one name still jumps out when speaking of men's tennis down under. That is Rod Laver. Laver was a player whom so many from previous generations aspired to become, and his legacy continues when the first major champion of the season is crowned in the arena that bears his name. Among all of his great accomplishments, his 1969 season was not only one of the greatest of his career but in the history of the sport.
Laver is unique when comparing career timelines. The Rockhampton native wascaught in the middle of a shifting game that transitioned from an amateur-professional divide to the Open era. At the age of 24, Laver captured a calendar year Grand Slam as an amateur, winning Wimbledon along with the Australian, French and U. S. Opens in 1962. After turning professional, the "Rocket" won eight professional majors from 1963-68, including a sweep of all majors in 1967. Due to his professional status, he was not allowed into the fields of Grand Slam events that were reserved for amateurs during those seasons. However, with the birth of the Open era in 1968, Laver and other professionals were allowed back into draws of those events, setting up what turned out to be a sensational 1969.
Australia was dominating the men's tennis game in 1969, Laver leading a pack of players that included Tony Roche, John Newcombe, Ken Rosewall, Fred Stolle and Roy Emerson, each of whom were at the top of the sport. It was not surprising to find Aussie players squaring off in the Grand Slams, and the Australian Open was no exception. In the semifinals, Laver faced fellow countryman Roche in a classic. Played before the tiebreak era, the match lasted over four hours in well over 100-degree heat. Laver prevailed in the epic 7-5, 22-20, 9-11, 1-6, 6-3 battle. He went on to defeat Andres Gimeno of Spain in the final for his first Grand Slam title of the year.
As spring arrived, Laver was the top seed in the second major in Paris. This time, he faced third seed Rosewall in the final at Roland Garros. There, he captured the title in straight sets against an eventual eight-time major champion at the professional level.
At Wimbledon, Laver eliminated Cliff Drysdale and Arthur Ashe before facing fellow Aussie John Newcombe in the final. Highlighting the Australian dominance of the era, Newcombe would accumulate seven Grand Slam titles during his career, but he was no match for Laver this time as he fell in 4 sets.
Finally, only the U. S. Open remained to complete the calendar year Grand Slam. There, Laver would defeat American favorite Arthur Ashe in straight sets in the semifinals before earning his signature achievement with a 7-9, 6-1, 6-2, 6-2 victory over Tony Roche in the final. This would be the last time that a man would earn a calendar year Grand Slam, a feat that Laver accomplished twice in his career.
Ultimately, Laver won 17 total singles titles in 1969 and racked up a 106-16 match record that year. In major tournament finals, he defeated a group who would go on to combine for 17 Grand Slam titles in their career. Additionally, Laver completed the calendar year Grand Slam at the age of 31, a remarkable feat in a sport for young men.
Despite his 5'8" frame, the Aussie lefty had the ability to generate exceptional power, and his fitness level was second to none. Wielding a wooden racket with his strong left arm, Laver dominated with his serve-and-volley tactics on the predominantly grass courts of the majors in that era. However, his ground strokes were weapons as well, particularly his backhand. His rival Rosewall once stated that Laver's left wrist (which some compared to prize fighters of the era) was "Iron Clad", allowing him to strike his backhand unlike any from that day.
Many lose sight of Laver's accomplishments due to the amateur and professional status of players prior to the Open era. After turning pro in 1962, it would be five years before Laver was allowed to compete in Grand Slam events again. However, from 1964 until 1970, Laver was ranked world No. 1. He finished his career with 11 Grand Slam singles titles. How many might he have added to his record had he competed in those events during those five lost seasons? We are only left to ponder.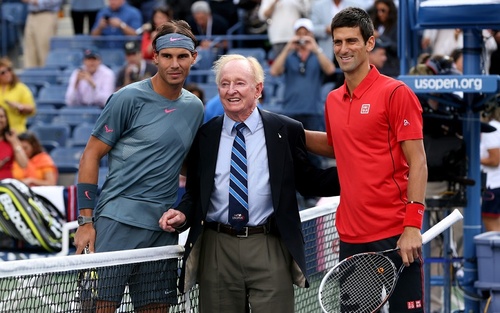 With equipment, surface, conditioning and style of play changes, the game is different today. But the accomplishments of Laver stand the test of time, for the top players today are often compared to the red head who set the bar to a level that had not been seen prior. His amazing season of 1969 is 45 years removed, and Laver is now 75 years old, but he is difficult to forget when we witness the titans of today battle in the arena named in his honor at Melbourne.
That particular season is one that all of the greats aspire to replicate. Perhaps one of the current competitors can accomplish a similar feat in 2014? With less than a week until the Australian Open, the journey begins once again.