Great Britain Holds Rally for Bally To Honor Baltacha

Across three British tennis cities and towns, London, Birmingham, and Eastbourne, it was time for the event planned after the terrible news of January and foremost in minds after May. It was time to Rally for Bally.
Many stories spring to mind when thinking of Elena Baltacha. The first is literally the first: the tale of the arrival in Britain of a famous Soviet striker named Sergei Baltacha. Ahead of the mass camera flashes, nobody paid much attention to the tiny five-year-old child named Elena trailing in his wake. It was a situation that would be flipped on its head some years later. In 2002, with her father sitting noiselessly in the stands, this bespectacled barbarian of a teenage athlete stole into our consciousness en route to a third-round showing at Wimbledon. A third-round berth carries no broad ripple effect, but it came during the greatest nadir of British women's tennis, where the woman at its summit was the 135th-ranked Julie Pullin. From the darkness came this fearless world beater. Baltacha crushed her forehand with reckless abandon. She had the athletic genes to end all genes. Her serve at Wimbledon alone peaked right alongside those majestic Williams sisters, 118 miles per hour one year and 121 mph the next.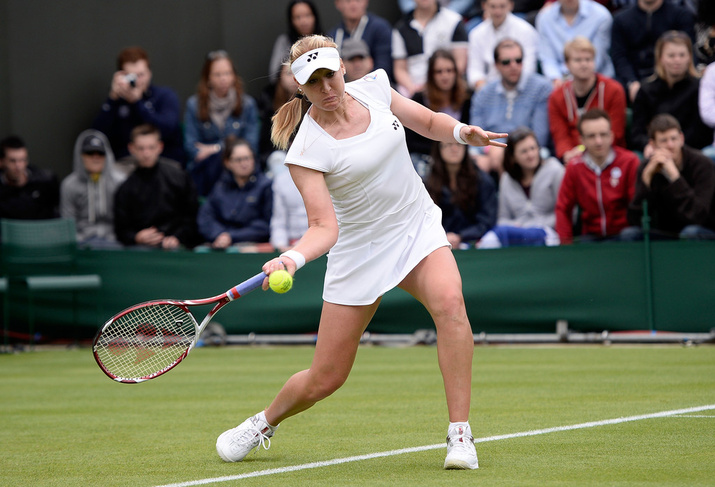 But beneath it all, the ultimate story was playing out away from prying eyes before, during and after that shining fortnight. Simply, she was sick. Relentlessly. Chickenpox and flu, viruses and bugs. They affected her practices, gobbled up whole matches. In her third-round match against Russia's Elena Likhovtseva, it properly floored her. Her coach, Alan Jones, frothed at the mouth in anger and confusion at the injustice of it all. No one knew what was happening, and yet it continued.
Eventually, in the middle of a tournament in Glasgow, Baltacha was called by a doctor and rushed back to see him amid accusations of mass drinking. Her liver was damaged. It was compared to the demolished organ of famed soccer player George Best, whose drinking ended his life. Her tonsils totaled, they were the worst her doctor had ever seen and quickly removed. The antibacterial medication she had been taking to tackle the bacteria welled up in her liver was, instead, attacking her liver. Eventually it was diagnosed: a rare, unnamed liver condition.
Retrospectively, it's incredible that so little was spoken of it after the initial revelations, but this was down to Baltacha's refusal to become a slave to her problems. It wasn't until her passing that the public learnt the true diagnosis and extent of this illness she was forced to simply deal with as she attempted to compete at the highest level of a worldwide, and so physically and mentally demanding, elite sport.
On Friday, the BBC spoke to her widower, Nino, in a crushing yet essential-to-watch interview. Not for the first time, he underlined the fact that Baltacha never complained throughout her career or the final ordeal. Not about her innumerable injuries. Not about her copious liver problems. Not about that crushing final blow. It doesn't make anyone a lesser person to question why such a disease was inflicted on her, why an athlete with such considerable hopes had them so heartlessly stripped bare. But it speaks strongly to her spirit and determination that Baltacha never questioned.
Fast forward eight years and with all the illnesses and the injuries that left both visible and unseen marks. At Memphis, her name was placed alongside that of Maria Sharapova in the main draw, and she was practically salivating at the prospect. It's only natural that many players would whimper and cower ahead of facing such an imperious champion. That's the effect she has. But not on Bally. Against the queen of winning matches before even stepping out on court, this was the ironclad reminder of her eagerness and determination. What followed was an all-ex Soviet war between a Brit and American resident as Baltacha sent "davais" (c'mon) alongside a festival of fistpumps and in-your-face gestures squarely at her opponent, and Russian expletives and insults flew back. She would lose, but she loved every minute of the battle.
There too was the moment she realized she had made it, when, she said, her rise up the rankings eventually saw the players of the tour recognizing her with nods and "hellos" that never came before. She momentarily bonded with Serena Williams over their shared love of all things branded 'Hello Kitty.' There was also the amusing yet admirable protectiveness and pride at her tenure as British No. 1.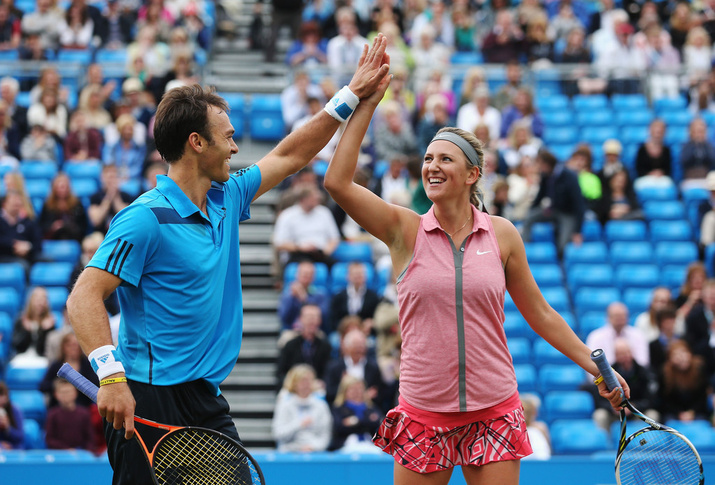 Back at Queen's, out came Andy Murray, Ross Hutchins, Heather Watson, Martina Hingis, Jamie Murray, and Victoria Azarenka. There was laughter and more laughter, all in the name of the fallen Brit. Not everyone will have known her on a personal level, but they invariably saw the wisps of blond hair as she passed them in the corridors at that frantic, omni-intense pace. They would have heard her, from her unmistakably breathy grunt just half a second delayed to the ball crashing on strings to the raging warrior mode she unfailingly assumed on the court.
Before the laughs, it was a sentiment underlined by Azarenka as she walked out onto the court. Unfairly put on the spot by the interviewer and asked to discuss her memories of a player she had likely only ever said a handful of words to, she paused and scanned her mind at rapid pace before recalling their sole tour meeting on the lawns of Eastbourne almost four years ago to the day. Her eyes narrowing, Azarenka smiled as she narrated her memories of a fighter so intense from first point to last, wielding her fists across the court and at her box at every moment that invited it. There are worse ways to be remembered.