Golden Opportunity Lies In Front Of Isner

John Isner has been top-American for a good portion of the last decade, following the Andy Roddick era. Armed with one of the biggest serves in the history of the sport, his game seems tailor-made for Wimbledon and the grass surface, but he is still mostly known at the All England Club for his epic match with Nicolas Mahut in 2010, which became the longest match in tennis history. But on Manic Monday, Isner fired his way into the quarterfinals with a straight-set victory over up-and-coming Stefanos Tsitsipas.
Now 33-years-of-age, Isner is playing arguably the best tennis of his career. He is ranked world no. 9 in the live rankings and can leapfrog Dominic Thiem to move to his career-high ranking of number 8 with a victory over his next opponent, Milos Raonic.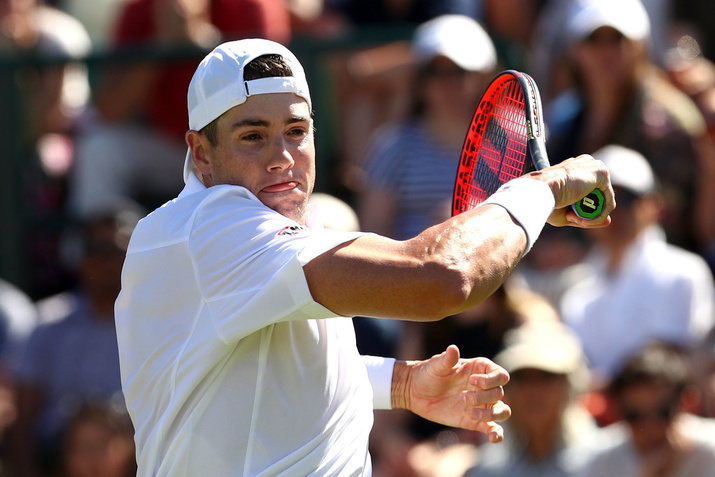 In the Canadian, Isner will stare across the net at a player with similar strengths – primarily his serve. To provide a taste of what is in store for their quarterfinal match, the two players combined for 59 aces on Monday, with Raonic firing 37.
But in this match, the American is provided with a golden opportunity to advance to his first grand slam semifinal in a portion of the draw that features three bombers and, oh yeah, Roger Federer. The top-seed will see plenty of big serves in the coming days. First, in Kevin Anderson and if he were to advance, the winner of the Isner-Raonic match.
Isner holds a 3-1 career record against Raonic, although all were played on hard courts. Perhaps more importantly, the nine-seed has advanced in straight sets in all matches this year at Wimbledon with the exception of his second-round match against Ruben Bemelmans, which went five. However, the North Carolina native cruised in his last two matches against Radu Albot and Tstisipas. Meanwhile, Raonic has been pushed to four sets in his last two victories. The easier path could benefit Isner who has appeared worn down in the later rounds in some of his past grand slam appearances. He looks forward to his quarterfinal battle, "I'm certainly playing with a lot of confidence right now," he said.
However, Isner has struggled at Wimbledon following his marathon match. He reflected, "Certainly this tournament, since that long match, has sort of been a house of horrors for me," he said. "I've lost a lot of close ones since that match in 2010 — a lot of very, very close ones, a lot of deep five-set matches, third round especially."
On Wednesday, Isner can put a lot of those disappointments to bed with a win over Raonic. The American sized up his opponent, "There's a good chance it's going to come down to a few points here and there," he said. "It's strength on strength, for sure."