Giorgi Takes Montreal Title

In the biggest title of her career, at the Omnium Banque Nationale in Montreal, 29-year-old Camila Giorgi of Italy, world No. 71, upset 29-year-old Karolina Pliskova of the Czech Republic, world No. 6 and the 4th seed, by a scoreline of 6-3, 7-5 in one hour and 41 minutes.
The Italian has now defeated 12 rivals in the top 50 and won 16 of her last 20 matches.
Camila Giorgi has always been known for her power, but now she is playing with more margin. She is brushing up, getting more topspin, and more safety. She's making more balls in the court before going after her shots.
There seems to be a shift in her mentality, since the Olympics, where she made the quarterfinals.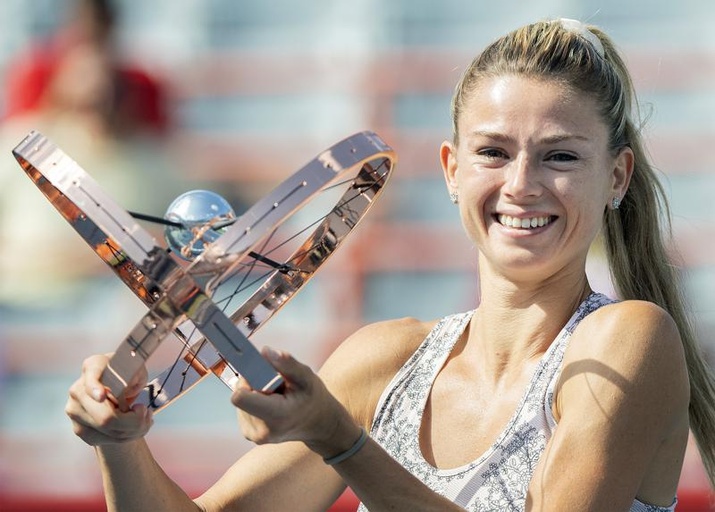 Giorgi said: "I think now I'm playing better. I know better how to choose the shots. When I need a little bit to slow down [or] accelerate. It's more variation in my game, I think. This is very important."
In her route to the final, Giorgi beat four top-30 players: Elise Mertens, Petra Kvitova, Coco Gauff, and Jessica Pegula.
And now she beat Karolina Pliskova, ranked world No. 6.
Giorgi also out-aced Pliskova (who is known as the ace queen). Giorgi hit seven, while Pliskova hit only four.
They'd already met in one final, with Pliskova defeating Giorgi for the 2014 Linz title in a final-set tiebreak. Giorgi, though, won their last two meetings during the last few weeks, on the grass at Eastbourne and at the Olympics.
Here in Montreal, Giorgi served first and held easily at 15.
Pliskova began her first service game with an ace down the T. She hit another ace down the T, but made some backhand and forehand errors that gave Giorgi a break point. Pliskova held, but that game seemed to set the tone for the match.
Serving at 2-3, Giorgi faced a break point, and with her tremendous footspeed, she dug out an incredible backhand-down-the-line winner. That was an important hold for the Italian.
At 3-all, after an amazing angle forehand crosscourt, Giorgi broke to lead 4-3. Pliskova, frustrated, broke her racquet.
Giorgi continued to play composed, fantastic tennis, taking the set without losing another game.
In the second set, Giorgi was up 2-1, but after missing a shot, she threw her racquet across the court to the net, showing that she was on edge.
Giorgi later said of the incident: "I think this is very important to let go tension. Is nothing. There is many, many times in the match that you need to do something maybe to put out a little bit the stress."
Despite that happening, Giorgi was still able to break. Serving at 3-1, Giorgi played a nervous game and double-faulted twice. They were back on serve, 3-2. Pliskova, hitting three good serves, held at 15. 3-all.
Giorgi was able to hold the next game after being up 40-love and losing the next three points for deuce. Giorgi hit a terrific backhand crosscourt, and Pliskova missed a backhand wide. It felt like a huge hold for Giorgi. Then Pliskova held for 4-all.
All the pressure was on Giorgi. But she handled it beautifully. She held quickly at love with two aces down the T.
Pliskova held at 15. At 5-all, after a long rally, Giorgi crushed a forehand down the line for a winner. She held with a sublime serve, wide to Pliskova's backhand, for 6-5.
In what would be the last game, Pliskova double-faulted, and on the second championship point, she netted a forehand.
You could see Giorgi fighting back tears of joy, as she won the biggest title of her career.
Giorgi said: "I really think I was very emotional inside. Of course, I'm not the one that shows a lot. Of course, it's just amazing. I'm very happy for what I did this week.
"I think this comes with all the work I been doing with my father. Of course, he's my coach. So, I think all the work we've been putting together through all these years.
"I think one day I was sure and he was sure that can come in many period because I was playing very good actually. I was playing very high level already few months ago.
"I think I was just believing in myself, of course.
"I think this week was amazing week. Very happy to have this gift. Actually, I dedicate to him because I have this for me because he dedicate many hours with me. Of course, this is when you dedicate all your work, I think one day comes beautiful things, you know?"