Germans Lose Big On The First Day Of Hamburg

The 2019 Hamburg European Open kicked off on a gray Monday played mostly under the refurbished plastic roof. Though the headlines in the days preceding the event, a historic tournament and a former Masters 1000 event, have been dominated by Alexander Zverev's return to his home city after three days away, three lesser-known Germans took center stage on the opening day of main draw play.
20-year-old wildcard Daniel Altmaier entered the arena first against former Hamburg champion Martin Klizan, falling 6-2 6-2 as he quickly learnt that still has a considerable distance to go to finds his top level and compete with the best.
"I am obviously not in the best mood because I couldn't get into let's say a good rhythm from the start," he said afterward. "Obviously, he was playing not that bad but I mean the opening point, serving and returning, is obviously always in my hands and that is something where I didn't get any rhythm."
Altmaier was particularly frustrated because the heavy defeat came after a productive period of preparation heading into Hamburg, his first ATP level event since he returned to competition unranked in January after a long injury layoff due to serious shoulder and abdominal injuries,
"It is a shame for me because I was working hard the last past months and obviously every week playing good, good matches, getting back there, and then to get a set-back like that, it's tough, it's tough and it's obviously frustrating," he said.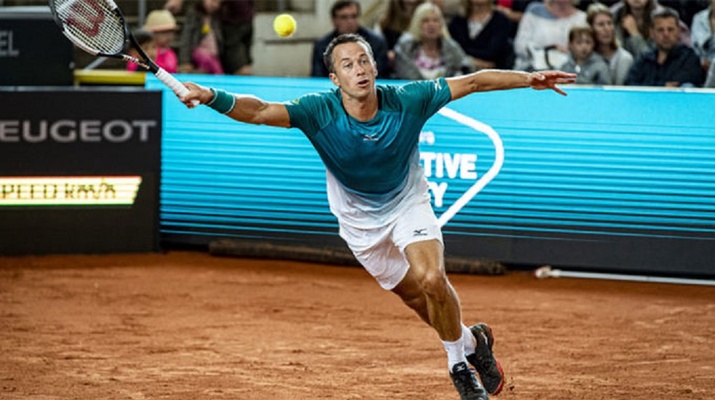 For Altmaier the process of gaining matches and facing tough players early on in the draws has been the toughest part of his return as he continues to search for some rhythm at the challenger events and above again.
"After an injury it's always tough," he said. "You're trying to get as much matches as possible. That's what I did. At the beginning of the year, it was Futures, then getting back to Challengers. If you look back to my matches every week, I played against pretty good guys starting from Heilbronn playing Garcia Lopez, then second round playing Couacaud. It's obviously never the easiest draw, like last week playing or two weeks in Braunschweig against Ruud."
"Those guys are standard ATP players and here and there you get good chances and don't use them. So, it's frustrating. And you know how tennis works, once you are let's say in a great shape and beating those guys you can get back confidence pretty fast. So, I mean that's what I look for and, as I said, it's frustrating to not get there."
Despite the wide gulf in experience and success between Altmaier and Philipp Kohlschreiber, a fixture at the German events for over a decade now, the 35-year-old German fared even worse than the youngster he followed on center court, falling 6-3 6-0 to Marton Fucsovics in a complete demolition.
"It might have been okay in the beginning, but at the end, I was completely broken," said Kohlschreiber. "I had no more resistance. Marton, of course, deservedly won. I still have to find my way so the next weeks continue to play. What can you do? I would have liked to play more tennis matches here, but that's the way it is. Now it's back to training, clear the head and continue. What can you do?"
After a tight 6-7(4) 7-5 6-3 win for Jeremy Chardy over Benoit Paire, plus a 6-4 7-6(5) win for Andrey Rublev over Cristian Garin on the second court, a catastrophic day for the home crowd was saved by 18 year-old Rudi Molleker who clinched the second biggest ranking win of his career with a 7-6(8) 6-4 win.
"I mean, yeah, obviously I was a bit nervous," said Molleker. "Coming back to Hamburg is always a pleasure for me. I knew I beat him in 2017 on my first qualie final match. It has been a special day for me - it all started in Hamburg and now I'm back beating him here."
For Molleker, the win came after the biggest unforced error of his young career to date - he missed Wimbledon because he confirmed his entry in the qualifying draw far too late. As seemingly the entire tennis world embarked on South London, he was at home ruling his mistakes.
"I was driving to the Poznan challenger. I drove there on Monday, the entry deadline was until 6pm and I arrived there a little bit past 6 and it was just too late. I mean, obviously I messed it up, I cannot change it anymore. Hopefully I can play there next year."