Gauff Takes Wimbledon By Storm

An hour after she had followed up her stunning, instant classic 6-4 6-4 defeat of Venus Williams in the first round of Wimbledon on Monday, Coco Gauff let out a deep sigh. ": I could lie and say I felt normal," she said. "It was honestly so hard just with social media and everything trying to focus on my next match because people are still posting about Venus.
"I just tried my best to reset. That night, literally, I think I went to bed at 12:30 a. m. At 12 a. m. I was going to enjoy this until then and then it's a new day tomorrow."
Gauff said that the explosion of attention to beating her hero on Court One was overwhelming and startling. She had never experienced anything like it and she was not ready for celebrities messaging her on twitter, cameras following her around and everyone desperate to be part of even a small piece of her unfolding story.
It didn't matter. On Wednesday, she returned to Centre Court and eased past Magdalena Rybarikova 6-3 6-3 to move into the third round of the Wimbledon from qualifying.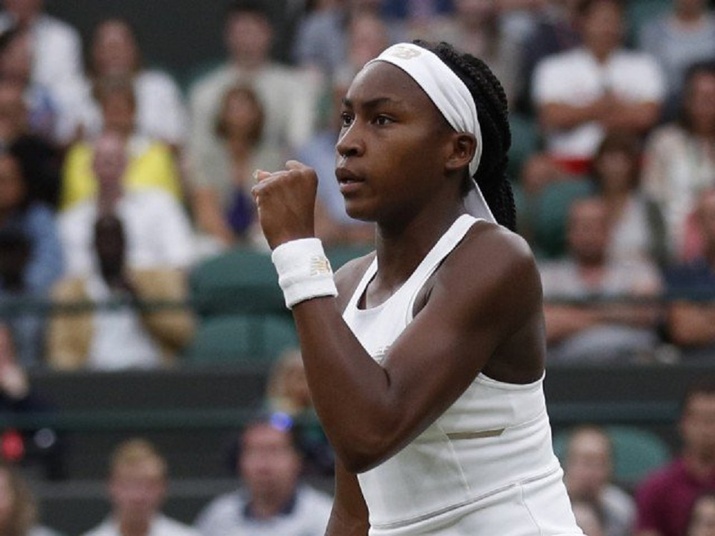 In many ways, Gauff's performance was by far superior to the first round. Against Williams on Monday, she weathered the nerves and the occasion so well, thriving in a completely unfamiliar setting, against her hero and on by far the biggest court of her life. But backing up a big victory is the hardest thing to do in this sport.
She backed it up against Rybarikova by playing even better. The 30-year-old Slovak seemed like one of the toughest opponents Gauff could face. At least Williams presented a conventional matchup with a flat ball throughout, but Rybarikova is a tricky opponent with guile and variety. Particularly at Wimbledon, she has taken scalps and previously reached the semi-final by varying every ball and capping everything off with a bullet serve.
Yet early into the match, it quickly became clear that the tricks that seemed perfect to trip up an inexperienced youngster simply weren't working. Gauff is lightning fast and chased down almost every dropshot. Even when Rybarikova hit incredible dropshots, Gauff was there, forcing her to play another lob, making the tactic increasingly dangerous. When Rybarikova moved to the net, she was frequently passed on big points. When she tried to suck the pace out of the point by initiating slices, Gauff was happy to respond with a slice or a consistent topspin forehand and it was stunning to see her win most of those exchanges.
The run is particularly striking because of how quickly it has all come together. On the Wednesday before the qualifying tournament, Gauff was sitting at home in Florida searching the internet for a nice dress to wear to a gala at the Mouratoglou Academy, where she would have met Serena Williams.
When the news dropped that she had received the Wimbledon qualifying wildcard that her team had applied for, she booked a flight that day and hustled straight to Roehampton, where she faced players who had already spent weeks building up on the grass. Gauff said that she was still getting used to grass in general, still falling around a million times. But she marched through the qualifying, another world away from the main site, and finished with a violent 6-1 6-1 win over Greet Minnen. The score was flattering for her opponent - Gauff had two set points at 5-0 in the first set and then she served for the match at 5-0 in the second set. It should have been a double bagel.
Throughout these 10 successive sets, it is that patience that has driven her success. Gauff has incredible gifts - brilliant movement, a searing backhand and an increasingly secure forehand that can whip heavy topspin and cause different types of problems. But this is not a 15-year-old swinging for the fences and, at her young age, having the audacity to actually make it. Throughout the run she has been happy to wait for the right ball, to soak up pressure then attack.
And so, on she goes. Gauff says that she has been working hard for all of this, and that her success is simply a reflection of this hard work. When asked for examples, she was clear, and her drive was evident.
"When they say 'practice over', [I say] 'let's do one more.' I've been like, telling my training partner Courtney, 'I need you to hit the ball harder, we need to do more rounds.' I didn't know this would happen. Looking back on these few weeks, I can see how maybe that little extra time definitely helped.
"I remember after some my practice, I would run, like a sprint a block, [just to] see how fast I could do it. Basically, I was running as fast as I could for three minutes after a lot of my practices, which was really challenging, considering Florida is, like, so hot right now." It's not hard to figure out why Cori Gauff is on fire.
(Photo Sources: Clive Brunskill/Getty Images Europe and AFP)